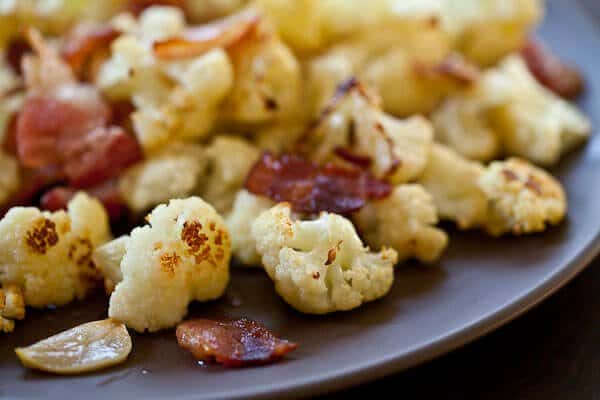 When a recipe calls for bacon, I instinctively double the amount to cook, because in our household, just-cooked bacon sitting on the counter (even those waiting to be incorporated into a yet unfinished dish) is fair game to steal. Even I can't resist the urge to take a little nibble here and there, and pretty soon there's no more bacon for the meal.
Cooking an extra batch solves the problem, doubles the delight and allows me to finish the dish properly. The unfortunate consequence is, of course the extra calories consumed, though I think some of you would reason that nibbles and crumbs don't really count.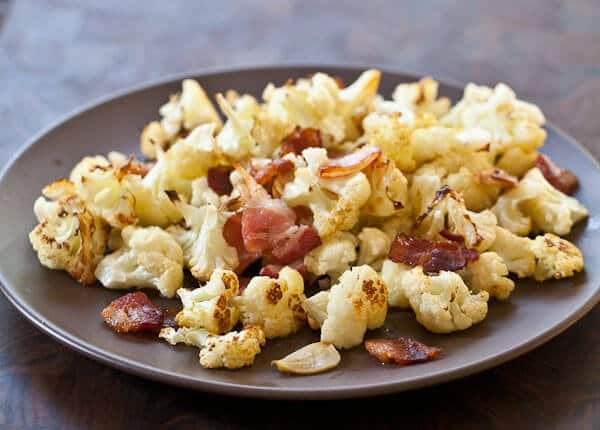 This recipe for Roasted Cauliflower with Bacon and Garlic is so simple that I even hesitate to write out a recipe. Toss cauliflower florets with olive oil, bacon and garlic. Roast for 20 minutes at 375F and then season with salt.
The bacon crisps the same time as the cauliflower cooks and the garlic get a nice toasting as well.
If you want, you can even finish it off with a good snowfall of freshly grated parmesan cheese.
But I think it's perfect as it is.
Roasted Cauliflower Recipe with Bacon and Garlic

Ingredients:

1 head cauliflower, cut into small florets
6 cloves garlic, halved
3 strips bacon, cut into bite sized pieces
2 teaspoons olive oil
salt to taste


freshly ground black pepper to taste

Directions:

Preheat oven to 375F. On a baking sheet, toss together the cauliflower, garlic slices, bacon and olive oil. Roast for 20 minutes until bacon is crisp and cauliflower is cooked through. Season with salt and pepper to taste.