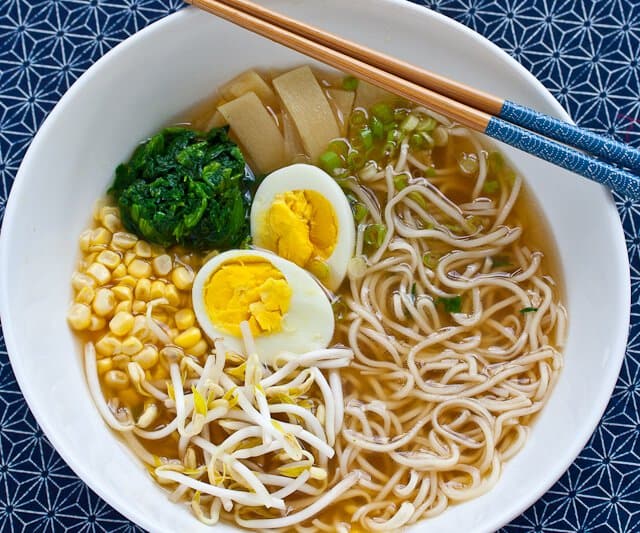 Since last summer when I posted my 15 Minute Udon Miso Soup recipe, I've gotten so many requests for a recipe for Miso Ramen that I've decided to post this recipe that appears in the Steamy Kitchen Cookbook. Though truthfully, the only part of this recipe that I follow is a) the miso soup base and b) cooking the ramen noodles. All other toppings in my Miso Ramen varies each time I make it depending on what's in my refrigerator, as most times when I'm craving this dish it's usually pretty darn close to midnight. Or 2am.
Ramen Noodles
These are dried ramen noodles, though the ones that are fresh are much better. But at 2am, I'll take the dried kind. I've also been known to rip open one of those 29 cent instant ramen noodle packages and use the noodles from the package, throwing away the spice pack. A couple times, as an emergency measure, I even used…..dried spaghetti pasta *covering eyes*
So I guess what I'm saying is, keep a package of dried ramen noodles in your pantry.
The Miso
White miso, or shiro miso is my favorite. It's more delicate and less salty than the other kinds of miso. This stuff lasts for 6 months in the refrigerator (just keep it well sealed and preferably in a plastic tub)
Not only do I use it for making Japanese style noodle soups, but if I'm making a whatever-soup that needs a kick of flavor, I'll stir in a big tablespoon of miso paste, which is a natural umami-master.
The Dashi
This is instant dashi, which like sand-colored tiny granueles. Dashi is Japanese bonito fish stock. Don't be intimidated if you've never used dashi – there's absolutely NO fishy taste at all. In fact, if you like miso soup, you like dashi. All miso soup is made with a dashi base.
This is always in my pantry too. Of course, you can make your own dashi from scratch from dried bonito shavings and seaweed – Fuji Mama shows you how.
The Toppings
Raid your freezer and refrigerator:
Fresh spinach – blanch, then squeeze all of the water out.
Frozen spinach – defrost, then squeeze all of the water out.
Corn – canned, fresh or frozen
Green onions – chopped
Bamboo shoots – Canned or fresh
Bamboo Shoots in Chili Oil – oh yummmm my favorite
Dried seaweed
Tofu – drained and cubed
Snow peas – blanched
Barbeque cha-siu pork
Enoki or shiitake mushrooms
Sliced Japanese fish cakes
Fresh bean sprouts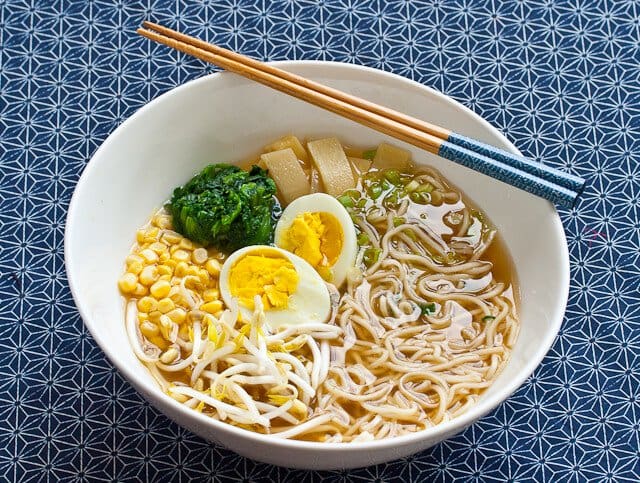 Miso Ramen Recipe

Miso and dashi are both gluten free (though please double check the label of whatever you purchase). Instant dashi does contain MSG, so if you're concerned about that, make the dashi from scratch or leave it out entirely and add in an additional teaspoon or so of soy sauce.

For the broth, use pork-based or vegetable broth. Chicken and beef are too strong in flavor for this soup.

Ingredients:

4 eggs
10 oz (285 g) dried ramen noodles
1/2 cup (200 g) fresh or canned bamboo shoots, sliced
1/2 cup (170 g) fresh or canned corn kernels, drained
1/3 cup (80 g) defrosted frozen or fresh spinach
8 cups (2 liters) store-bought or homemade pork or vegetable broth
2 teaspoons instant dashi granules
1 tablespoon soy sauce, or to taste
4 tablespoons fresh miso paste
1 cup (100 g) fresh bean sprouts
1 stalk green onion (scallions), finely chopped


4 teaspoons chili oil (optional)

Directions:

Place the whole, un-cracked eggs in a medium pot and fill with water to cover eggs by 1 inch (2.5 cm). Turn the heat to high and when boiling, turn the heat off and let the eggs sit in the hot water for 10 minutes. Promptly use a slotted spoon to remove the eggs and peel the egg under cold running water. Slice each egg in half.

Return the same pot of water to a boil. Add the ramen noodles and cook according to package instructions (most ramen noodles only take 3 minutes to cook.) Drain and rinse with cold water to stop the cooking.

Divide the noodles, hardboiled eggs, bamboo shoots, corn and spinach among 4 large serving bowls.

In a large pot, add the stock, instant dashi and soy sauce. Bring to a boil over high heat. Remove from the heat and stir in the miso. Taste the soup and add an additional 1 to 2 tablespoons of miso if you'd like. Ladle soup into each bowl. Top each bowl with fresh bean sprouts, green onions and a drizzle of chili oil, if desired.
The Shoot
As I was going through my old photo files for the Miso Ramen, I found a couple I'll share with you just for kicks. When I was writing the cookbook, I was teaching myself food styling and photography as I was going along. Basically, that means trial and *cough* lots of errors.
These photos were taken July 15, 2008 with my first dSLR camera, the Canon Rebel XT and the cheapy $100 lens, the 50mm 1.8. I was still really unsteady (oh handshake!) and 90% of the photos from the shoot were blurry and unusable. In fact, even the final shot wasn't as sharp as I would have liked.
I was just learning to shoot tethered, meaning hooking up my camera to my laptop so that I could see the photos better. I also had a $30 tripod that had a leg that kept buckling, which taught me never to buy a $30 tripod ever again. These days, I trust my heavy-duty Manfrotto tripod to hold up and support the Canon 5D Mark II camera with 24-70mm lens….basically a $500 tripod to hold up $5,000 worth of photography equipment.
On the day of the shoot, since the leg of the cheap-o tripod kept coming down, I grabbed a step stool and relied on holding the camera myself. I wanted an overhead shot. And yes, on the floor is my famous $3 foamboard. Cheapest photo studio around.
Let me try to explain the shot. I wanted the entire bowl plus lots of the gorgeous indigo-colored Japanese fabric as possible. The lens, the 50mm, is a 1:1 lens, meaning, what you see is what you get. It replicates what you see with your naked eye. Hold up your fingers to create a "frame" in front of your face. That's what the 50mm lens will shoot.
I placed the stool as close to the foam board as I could to get an overhead shot. However, when standing on the stool hovering above the bowl of ramen, I really couldn't get the entire bowl in the shot.
Problem: I'm short. The stool is short.
So then I had to move the laptop, stand on the ottoman which is a good 6-inches higher.
The ottoman was squishy, making it difficult to balance. To get a true overhead shot, I needed to lean waaaaay forward.
Problem: I'm still short. And have no balance.
The last shot as I was faaaaaaaalllling off the ottoman: