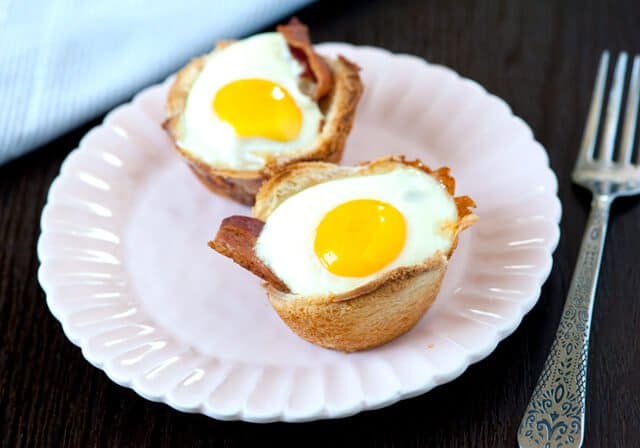 I'm not normally into cute food. I'd rather have my food look delicious and say, "Eat. Me. Now." Cute food makes me a little sad and guilty when I take that first bite, especially if the food has an adorable smiley face on it. Poor disfigured thing! Am I right?! 
But these Bacon, Egg, and Toast Cups are cute. But totally still scream, "Go ahead, take a bite." Well, we're certainly not the first to make these Bacon Egg, and Toast Cups – it's been all around the world and back.  But I hope that you'll find a happy, sunny Saturday morning to make these for your family. ~Jaden
How to make Bacon, Egg, and Toast Cups
Cook bacon slices in a large skillet or cast iron pan over medium heat for about 4-5 minutes, or until just crisp, the bacon will continue to cook in the oven.
Next, lightly butter each muffin cup.
Use your fingers or a rolling pin to lightly flatten each bread slice, then use a cookie cutter, glass top or cup to cut a 4-inch round from each slice of bread.
We used a cup and found it was easiest to use a knife to cut around it.
Now, cut each round of bread into two halves.
Press two halves of the bread into each muffin cup, the halves should overlap slightly. Then, use the remaining bread to fill in any gaps.
Brush the tops of the bread with melted butter.
Sprinkle some shredded cheese into the middle of each cup.
Then, place a piece of bacon in each cup.
Now, add one large egg to each muffin cup. Depending on the size of egg, some of the white may run out, just use a paper towel to clean around each muffin cup to make sure the egg cups will be easily removed once baked.
Season each cup with salt and pepper then bake in a 375 degree F oven for about 20-25 minutes; the whites should be just set.
Enjoy!
Thanks to Joanne and Adam for making these! ~Jaden
Bacon, Egg and Toast Cups
Servings: serves 6
Prep Time: 15 minutes
Cook Time: 35 minutes
Recipe adapted from Martha Stewart. When baking, you can place the muffin pan on a baking sheet for easy cleanup and to make it easy to get in and out of the oven.
Ingredients:
2-3 tablespoons unsalted butter, melted
8 slices sandwich bread
6 slices bacon
1/4 cup shredded cheddar cheese
6 large eggs
salt and pepper


Directions:
Preheat oven to 375 degrees F.
1) In a large skillet or frying pan, cook bacon over medium heat. Under cook slightly, the bacon will continue to cook once in the oven.
2) Lightly butter 6 standard-sized muffin cups.
3) Use a rolling pin or your hands to slightly flatten each bread slice then use a cookie cutter, jar top or cup to cut into 6, 4 1/4-inch, rounds.
4) Cut each round in half, then press two halves into each muffin cup, the halves will overlap slightly. Make use of extra bread to patch any gaps.
5) Brush the tops of the bread in each muffin cup with melted butter.
6) Lay one bacon slice into each cup and sprinkle with a pinch of shredded cheese.
7) Crack one egg into each cup and season with salt and pepper then bake until the egg whites are just set, about 20 to 25 minutes.
8) Run a knife around cups to loosen and serve immediately.