Dear Husband,
Mother's Day is on May 13th and as a just in case security measure, I've installed Microsoft Outlook's newest upgrade called "Outlook SANS 2.0" which stands for Spousal Automated Nagging System. How wonderful that Microsoft created such a thoughtful product dedicated to ensuring household chores and important dates like anniversaries, birthdays and holidays aren't forgotten!
Every day, from May 5th to 12th, a gentle "ding" reminder pops up: "Don't forget Mother's Day present!" Each day, the reminder box gets a little bigger, and the "dings" gets a little louder. The greatest feature of Outlook SANS 2.0 is that options like "Dismiss Event" and "Snooze" disappear and instead are replaced with "Buy Now" and "Make Dinner Reservations."
You know that I always *love* whatever presents that you give me, and if you want just a few hints,
Organic Flowering Tea Gift Set the tea opens up like a beatuiful flower $39

VivaTerra Veggie Parchment Bowls – made of vegetables pressed into hard parchment and hand shaped. both for $79

Cast Iron Japanese Hibachi Grill (they even have a video to show how it works!) $25
Baratza Solis Virtuoso Espresso Burr Grinder – because my cheapo grinder sucks $199

Baby Buddha or Udon Bowl $16
Jessie Steele Vintage Apron – I promise to bake you a meatloaf in this $28
Gourmet Salt Sampler in Bamboo Case – OMG I am so wanting to try the Bali Coconut & Lime Smoked Sea Salt and the Hiwa Kai – Hawaiian Black Lava Salt $114
Twig Flower Holders (they really need to come up with a better name for this gorgeous flower holder – its cast from real twigs and it makes you look like a flower decorator pro) $62
Soho Magnetic Spice Board A cook can never have too many spices$89
FungusAmongUs Balsamic Vinegar with White Truffles – I love their name! Anything with white truffles is good. $21

Smoky Root of the Earth Bowls Beautiful shape and carved from the root of Chinese Fir Trees $49

Eva Solo Set of Spoons & Spatula 4 spoons and a whisk arrange into a flower bud – great design

Laguiole Pearlized Ivory Steak Knives Because we should use really good steak knives if we're spending $11 a pound on NY Strip Steak $59

BloomingLilly Sherbet Ice Necklace One of my favorite jewelry designers $78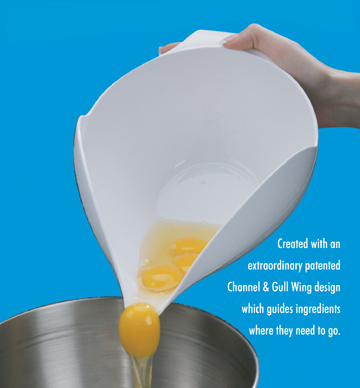 A set of Pourfect Measuring Bowls & Spoons They are idiot spill proof $29
Spice Appeal International Spice Gift Set – Comes with these spices: Greek Celebration, Cancun Holiday, Mediterranean Heat, Tandoori Seasoning, Beijing Adventure, Za'atar $30
Super Fast Thermapen So I don't burn your chicken anymore $85
Riedel Vivant Wine Glasses Riedel for $10 a glass at Target!
Eva Solo Garlic Press Because I hate cleaning out my garlic press with a toothpick – such a smart design $64

Set of Silver Fortune Cookie Placecard Holder Totally cute for less than $2 each

Normann Chef Very organic design – oak handles $50

Mono Giro Apple Slicer Put it on top of an apple, turn…apple spirals! Too cool! $32

New boobies Because I gave birth TWICE in less than 2 years $3,000 per boob