Before I even get into this addictive little snackity snack, I just want to say thank you for all the wonderful birthday wishes yesterday on Twitter and Facebook. You all are so thoughtful to send a little message of good wishes. I was sitting at the airport waiting for my flight home and everytime a new message came in, my phone would sound a happy little *ping!* They came so fast and furious, it just about sounded like I was having my own little Vegas jackpot moment on my phone!
I've been traveling nonstop for the past 2 weeks and my body sorta feels a little tired and laggy, so I thought I'd share with you a snack that's healthy (they're roasted, not fried), easy (5 minutes hands on time), easy (using canned garbanzo beans), addictive (you might as well double the recipe when you're making it).
The texture of Roasted Chickpeas is surprisingly crispy/crunchy – they make that lovely, loud crunch in your mouth like potato chips. And when you tell people that this recipe starts with 1 can of garbanzo beans, they won't believe you. Chickpeas and garbanzo beans are the same thing.
Just one warning. as I ate the entire batch by myself in one sitting: These Roasted Chickpeas are really are perfect as a little bar snack to nibble on with beer. And I emphasize nibble and little. As addictive as they are, they're still beans. And if you eat the entire batch…which is 1 can of garbanzo beans…well, let's just say I spent a lot of time saying 'xcuse me.
How to make Roasted Chickpeas/Garbanzo Beans
Four ingredients – salt, seasoning blend of your choice, garbanzo beans and olive oil
First drain the can of garbanzo beans.
You'll want to rinse the beans for a few seconds to rid the surface of the cloudy, starchy, slippery water it was packaged in.
Lay them out on a baking sheet lined with paper towel.
Pat dry with another paper towel.
You'll see that some of the beans have a thin skin on them…you can leave them on, or use the paper towel to rub them off.
Discard the skin.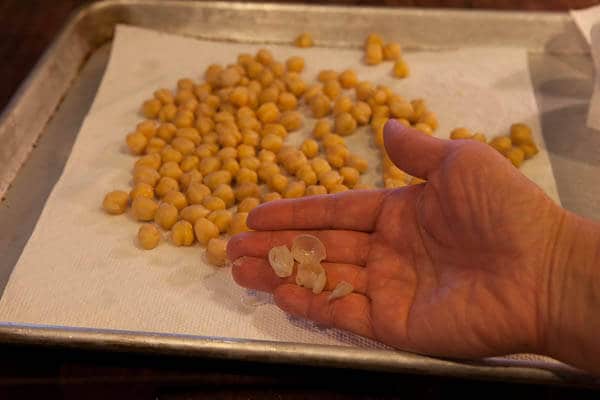 Now they should be completely dry.
Remove the paper towels and now drizzle just a bit of olive oil.
Toss them about to distribute the oil.
Ready for the oven!
400F for 25-30 minutes – until golden brown, crunchy (not soft).
Beautiful.
Season with salt.
Whatever spice blend you want.
That's it!
Crispy Roasted Chickpeas (Garbanzo Beans) Recipe
I highly recommend doubling a batch of Roasted Chickpeas, the bowl will be empty in 10 minutes! This is a one of the simplest snack recipes - four ingredients and it starts with a can of chickpeas pulled from your pantry. You can use any spice blend - I'm really enjoying Creole or Cajun seasoning, but don't limit yourself there! At the end of the post, I have a list of spice/fresh herb combinations that you can use.
Ingredients
1

15 oz can garbanzo beans

2

tablespoons

olive oil

Salt

Spice blend of your choice
Instructions
Drain the can of garbanzo beans in a strainer and rinse with water for a few seconds to clean off the beans. Shake and tap the strainer to rid of excess water. Lay paper towl on a baking sheet, and spread the beans over. Use another paper towel to gently press and absorb the water on the beans. Roll the beans around with the paper towel to also remove the thin skin from any of the beans. Discard the skins and the paper towels.

Drizzle the olive oil over the beans and use your hands or a spatula to toss around and coat. Roast for 25-30 minutes until the beans are a deep golden brown and crunchy, shaking the pan every 10 minutes. Make sure that the beans do not burn.

Season with salt and spice blend.
Nutrition
Calories:
472
kcal
Carbohydrates:
58
g
Protein:
19
g
Fat:
20
g
Saturated Fat:
3
g
Polyunsaturated Fat:
4
g
Monounsaturated Fat:
11
g
Sodium:
15
mg
Potassium:
619
mg
Fiber:
16
g
Sugar:
10
g
Vitamin A:
57
IU
Vitamin C:
3
mg
Calcium:
104
mg
Iron:
6
mg
More Roasted Chickpeas/Garbanzo Beans!
We Are Not Martha – this is where I first saw the recipe! They use a Moroccan spice blend
Kalyn's Kitchen: Moroccan spices
My Man's Belly: garlic powder, chile powder
Chez Us: curry powder
The Kitchn: list of 15 different flavors
Family Fresh Cooking serves 'em up in a cute popcorn container
Bitchin Camera: garam masala
Big Red Kitchen: cumin, cinnamon, smoked paprika
Anne's Food: cayenne, cumin
Life's Ambrosia: garlic seasoned