Giveaway: Alouette Cuisinart Griddler Grill Giveaway
Disclaimer: Products are provided to Steamy Kitchen for a thorough, honest review. We do not receive payment for reviews. Each review takes 5-10 hours of hands-on testing, writing and editing.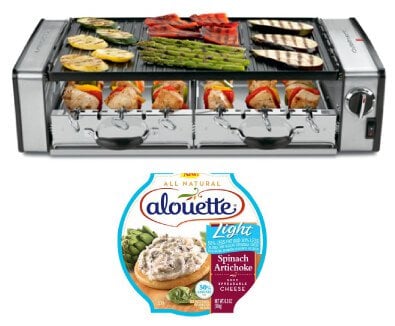 Today we are celebrating the summer with this Alouette sponsored giveaway.
Alouette Griddler Giveaway
From alouette:
Included in giveaway:
The Cuisinart Griddler Grill Centro features a top tier that converts from grill to griddle and a bottom tier that automatically rotates skewers at the same time!
Alouette Cheese: An introduction to the new Light Spinach & Artichoke with VIP coupons
Cooking Light Magazine Subscription
Cooking Light Cookbook: Grilling
Shipping included!
Giveaway sponsored by alouette.
How to Enter alouette giveaway
Fill in entry form below:
Congratulations to our winner(s)!
Karen Elsass