Artisan Steak Tasting Winner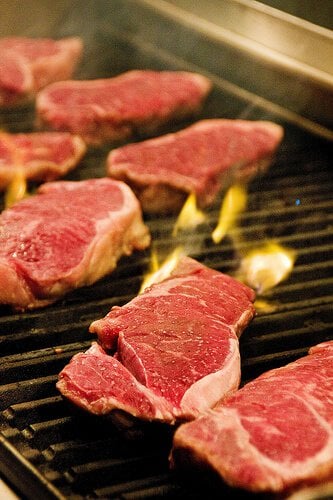 So, instead of using the normal random number generator generously provided by my psychic friends, I decided to choose the winner of the Artisan Steak Tasting Package a little differently. Cuz, I guess there's nothing random about having a psychic pick a number…there's no randomness when the psychic is three steps ahead and knows who has already won.
And really. Psychics are pretty fishy folks to begin with. That mysterious crystal ball? What you don't know is that it's plugged in directly to Google and Wikipedia.
Instead, to solicit my Twitter friends for help. Yesterday, I tweeted "QUICK! Give me a number between 1 and 475"
and within 15 seconds, I got a reply back from Matt (mmWine on Twitter) who is a "wine loving cigar smoking Mac using geek." Love him.

Here was his answer:
Just so you know, comments on my site are NOT numbered, so it's not like Matt went to the site and then chose who he wanted to win!
So who is the lucky winner of Oliver Ranch Company's Artisan Steak Tasting Package?
Betty Says:
October 30th, 2008 at 8:47 pm e

Oh, that was an awesome post!! I'm going to try and find that Bakersfield steak, I want to support local, but I would love to try them all.
Well, Betty, you will try them all!
Here's what you get:
Dry-Aged Charolais-Cross, Front Range Region, CO, Elliott & Ferris Family Ranches
Dry-Aged 100% Black Angus, Russell Country, MT, N-Bar Ranch, Dave Workman
Wet-Aged Holstein-Friesian, Imperial Valley, CA, 3 Brand Cattle Company, Bob Beechinor
Wet-Aged Wagyu-Angus Cross, Select Kobe Beef America Ranches, directed by R.L. Freeborn
Free Shipping Offer
For those who didn't win, come on over to Oliver Ranch Company – free shipping for any orders over $100! Offer ends 12/31/08