Grilled Asian Flank Steak
Not only does this recipe feature maximum eye appeal for a fat steak, but the method of scoring a steak is one of the easiest ways to get big flavor in little time.
My girlfriend (and chef) Kelly comes over every Monday to test recipes for the blog – and she spied this method in a recent Food and Wine Magazine. Unfortunately, I don't subscribe to the magazine, so I can't point you to which specific issue (but if you know – tell me in the comments!)
Normally, I marinate flank steak for several hours or overnight, but when you're outta time, this is the way to go. Score the flank steak (you can also go with sirloin as well) criss-cross and make a mixture of fresh herbs, garlic, ginger, salt and pepper. Rub this aromatic concoction all over the steak, getting it deep into the crevices. Basically, I'm telling you to massage your steak.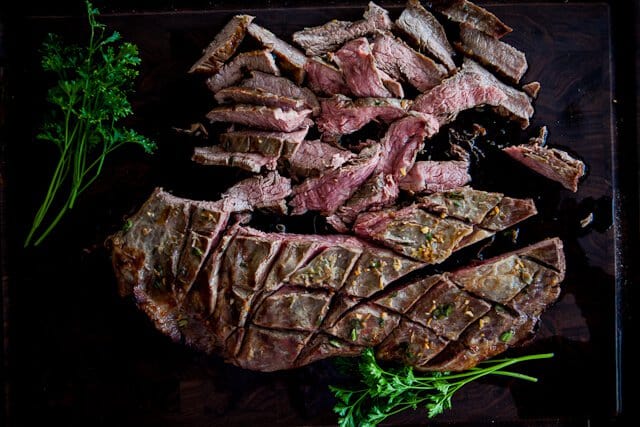 How to make Grilled Asian Flank Steak
With a sharp chef's knife, cut diagonal slices about 1/8″ deep and 1″ apart, all across the steak. Then go the opposite way. It will look like diamond pattern. You only need to do this on one side.
Make a mixture of chopped garlic, ginger, green onion, soy sauce, salt and pepper. Spread this all over the top of the steak. Rub it in good!!! No need to worry about the bottom of the steak.
Grill the steak herb-garlic mixture side up. Then flip and grill until cooked to your liking.
Let rest for a few minutes and to serve, slice the steak across the grain. If you're unfamiliar with how to slice across the grain of flank steak, I've got some photos to show you how in this Flank Steak on Goat Cheese Toast recipe.
Grilled Asian Flank Steak Recipe
Servings: 8
Prep Time:15 minutes
Cook Time:10 minutes
More great recipes

What goes great with grilled flank steak? A grilled cantaloupe salad!

If you love grilled flank steak, give grilled skirt steak fajitas recipe a try from T-Roy Cooks