Fighting over the Butt-Bowl + Winners
Two Christmases ago, I asked for a
Buddha Bowl, a beautiful and organically designed bowl that has a clever hook for your thumb so that it snuggles firmly in the palm of your hand. Perfect for eating a bowl of ice cream or drinking some warm miso soup while lounging on the couch, making good use of the extra $125 we paid to get the couch sprayed with Scotchguard stain repellent. I was very protective of my Buddha Bowl, certainly something with my god's name attached to it deserved some sort of exclusivity in my household, meaning ONLY I MAY USE IT since it was my little precious thing. Ok, so I wasn't quite aligned with the spirit of Buddhism, but hey, kitchen stuff trumps religion.
All year long I took care of that bowl, always hand-washing it, drying it thoroughly with a clean, lint-free towel and placing the bowl on one of my higher shelves where the boys couldn't reach.
Well, on New Year's Day, as you can see from the photo, Andrew insisted he wear his Halloween costume, Buzz Lightyear. Nathan wore his Incredibles costume and the combined forces of these two superheroes were just too much for my fresh hangover to argue with.
Because I didn't put up a fight about the costumes, this rush of fearless audacity overcame him and Andrew declared he was going eat oatmeal out of MY Buddha Bowl. I started objecting, and he pushed back with, "BUT I'M BUZZ LIGHTYEAR!!!" in that shrieking 6:17am morning after New Year's Eve sorta way. My inner hangover was no match for Buzz..
"FINE. Eat from the Buddha Bowl. Just slurp your oatmeal quietly and don't bang your spoon on the side of the bowl," as I handed him his breakfast.
Andrew set the bowl down on his little kiddie table, plopped in his little kiddie chair and ate as if this oatmeal was his fuel for household domination. After stuffing 4 straight spoonfuls, he took a moment to chew, reflect on his recent power the costume gave him and then just stopped with his eyes wide open.
"BUTT-BOWL!!! aaahhhaaaa! BUTT-BOWL!!! hhhaaahaaa!"
Nathan zipped over to see what Buzz was laughing about, "HAHAHAHAHAHAH! BUTT-BOWL! FUNNY!"
You may remember that my kids have a thing for saying BUTT really loudly and laughing uncontrollably as if that one word summed up the meaning of life and THEY were the only ones in on the joke.
Upon closer inspection, yeah, it did look like a butt, right where the bowl was pinched together to form the handle on the outside. Great mother of sea whales! How did I not notice this before? Surely I would have been grossed out eating out of a bowl with an TIGHT ASSHOLE staring at me!
ONE Butt-Bowl. TWO superheroes. Do you understand the problem here?
Everyday since New Year's, they have been arguing about who gets to eat from the famed bowl.
There is NO WAY IN HELL I'm going to spend $20 on another Tight Asshole bowl. But curious to see if the makers had an explanation for the butt, I went onto their site:
Enjoy a moment of Zen with the handmade Buddha Bowl. Nestled naturally in your palm, this bowl allows you to enjoy rice, soup, cereal and hot cocoa with ease. Its comforting shape washed in soothing color, this dish brings a touch of tranquility to your daily routine. Who knows-maybe you'll find enlightenment in your morning latte.
Hmmmm…maybe Buddha is hinting that "BUTT!!! HAHAHAHAHAH!!!!" really is the answer to life.
***
Spam Book + Steamy Kitchen Care Package Winners
I've got 2 winners. The first one is the random pick, Lisa of La Mia Cucina
Actually, you've already summed up the reasons why I just can not force myself to try SPAM, even though the Hubbs loves it (pan fried, between bread with mustard).

And I quote "STHLURP slithers STHLUNK quivering, solid, gelatinous mass"

Thank you and good night!
xoxo
The second winner is Sharon, whom I personally picked just because I thought her poem was so cool:
My favorite is Spam fajitas – slice the Spam, julienne it, add to sliced onions and green & red pepper strips and sautee, serve on tortillas with usual fajita accoutrements. Yum.
So you've had a couple of other poems in the comments – here's mine

Whenever mealtime's in a jam
I pull out my can of Spam
It gives me something I can munch
For a speedy kind of lunch

So when the cupboard's nearly bare
And you find a can of Spam in there
You can be rest assured for one
That your next meal is nearly done

If to Hawaii you should go
To learn to hula fast (or slow)
They'll never serve you eggs with ham
They'll say Aloha – have some Spam!

I eat Spam morning, noon and night
For any meal it's quite alright
I think it's truly very good
Have you tried a can of Spam? You should!

Sometimes the Spam runs out my ears
And I think I will live four hundred years
But I'll be happy as a clam
In my pantry with my cans of Spam.
Send me your full name and addresses so I can mail your prize to you!!  My email is jaden (at) steamykitchen (dot) com.
———- a little note from Overstock.com ———-
Cooking delicious food can be done with the help of the right cookware and cutlery. Sharp knives make cutting and chopping food easier and faster. Be sure to know your knife safety, especially if you have small children. Eating delicious food can be made even better with quality flatware that won't bend while you eat.
———- end of little note from Overstock.com ———-
Simple 10-Minute Miso Soup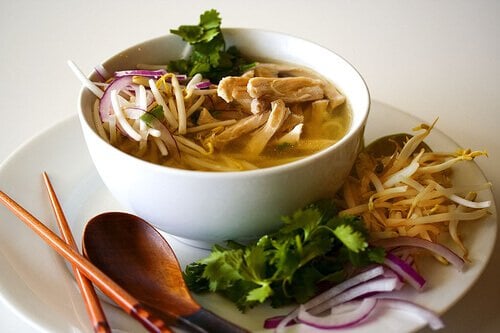 Vietnamese Chicken Noodle Soup – Pho Ga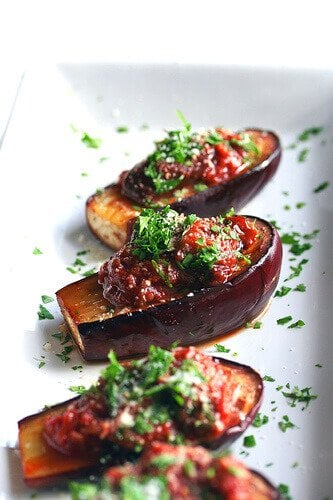 Roasted Baby Eggplant