Dear John….
Dear John….
To my dear Creative Loafing.…
We've had a whirlwind of a romance these past 6 months. You've been a wonderful partner but, sadly, I must go. I've found someone else. And no, I'm not fucking Matt Damon.
There's no easy way to break up, except to just tell the truth. He's older, more mature and…sigh…has a bigger masthead. I'd be lying if I told you that size doesn't matter, because right now at this stage in my life and career, it does.
I know what you're going to say. You're my type, he's not. You're the adventurous, authentic, flip-flop wearing, beach wandering, eating the best damn $4 burger type of guy. He's still cooking outdated "Oriental Flank Steak", which is a great recipe, but come on, it's like using the word, "Chinaman." But…with that masthead, I am choosing overlook his flaws and perhaps teach him to hang loose a bit, Steamy Kitchen style.
No matter what, it doesn't change how grateful I am that you've opened your door to me every single week, listening to me ramble about
feeding my kids furikake,
following my adventure in cracking open that "hair twat" coconut,
turning your head when I had my steamy affair with Scott's BBQ grill, and who could forget the
Ode to Spam in the Style of Seuss? We had some good times when I was just a nobody. A broke, struggling blogger with big dreams. You took me in and watched me blossom into super-star.
And now, as painful as goodbyes are, I will never forget you. But it's time for me to take a big step forward and see if I can hang alongside the big guys. Thank you for your love.
xoxo, Jaden
p.s. I'll leave you with a sweet ending, a beautiful, tropical Asian dessert to remember me by. One from the archives, but still a favorite.
Dear Blog-Readers
Ok, when I first posted this Dear John letter, I realized that some of you might think that I'm directing the Dear John at you….and NO! HELL NO! My dear readers, I would never abandon you! I'm Dear John-ing the weekly entertainment newspaper called Creative Loafing.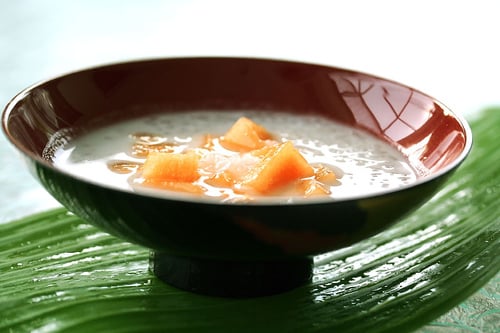 Tapioca Pearls with Sweet Coconut & Cantaloupe
You'll find tapioca pearls at the Asian market. They are NOT the instant tapioca found at regular grocery stores. They come in several sizes, ranging from 2mm to 1cm in diameter. I've used the smallest size in this recipe. Take care not to overcook the tapioca pearls. If you are using small 2mm pearls, 2 minutes is exactly the amount of time you need. If you use larger pearls, cook for a little longer, maybe 15-30 seconds more, taste it and adjust time. Use full fat coconut milk. I rarely use lite because it's just not worth it, as the taste is quite bland. Save your calories on something else, just not coconut milk! To judge the quality of coconut milk, shake the can. If it sloshes like water, it will be tasteless. If it schlunks like thick yogurt, it's good. The brands that I consistently reach for is Simply Asia (found at Sweetbay), Chaokoh or Mae Ploy.
Serves 6-8
2/3 cup 2mm tapioca pearls
1 cups whole milk
2 cups coconut milk
3 cups water
1 1/2 cups sugar
3 cups diced fresh cantaloupe or honeydew
1. Bring water and sugar to boil. Turn heat down to low, add the milk and stir. Once the mixture is almost back to a boil, turn off the heat. Add the coconut milk and stir. Remove from heat and cool in refrigerator.
2. While coconut milk mixture is cooling, soak tapioca pearls in cold water for 20 minutes. The pearls will expand a little and turn bright white. Bring 4 cups of water to a boil – and add the tapioca pearls. Stir constantly for 2 minutes. The pearls will turn translucent. Turn off the heat and drain the pearls in a fine sieve. Immediately use cold running water to rinse the pearls and stop the cooking process. Set the pearls aside until ready to serve.
3. When ready to serve, ladle the coconut milk into each bowl, add a spoonful of tapioca and top with diced fruit. Enjoy!