Healthy General Tso's Chicken
White meat or dark meat? I'm definitely a wing and dark meat gal, preferring the juicier, more flavorful, more tender and harder-to-overcook parts of the chicken. I think most Asians prize the dark meat (I know it's a gross generalization, but I've never met an Asian who didn't like dark meat!)
Scott, on the other hand, is breast meat all the way. When we first started dating, I had to re-learn how to cook chicken properly. All I used to care about was roasting, stir-frying or grilling the thigh, wing and leg portions perfectly, not even giving a second thought to the breast, which cooks faster than its dark brothas and sistahs. Most of the time, the breast meat and bones went into broth-making anyways. I also had a Jack Russell terrier who was spoiled with slightly overcooked and a touch dry chicken breast dinners.
The argument for eating chicken breast is that "it's healthier" – but just HOW MUCH healthier?
According to an article from Josh Ozersky on Time Magazine, the difference isn't as great as you might think.
From U.S. Department of Agriculture:
100 grams of white meat – 0.56 g of saturated fat and 114 calories
100 grams of dark meat has 1 g of saturated fat and 119 calories. 
To save .46 grams + 3 calories, I'll take the dark meat any day!
Men's Health article: "The extra fat in dark turkey or chicken meat raises your levels of cholecystokinin (CCK), a hormone that makes you feel fuller, longer."
Live Science: "A nutrient called taurine, found abundantly in poultry dark meat, significantly lowered the risk of coronary heart disease in women with high cholesterol, the study revealed. The researchers said that taurine also might help protect against diabetes and high blood pressure."
Slate: The Dark Side of the Bird: "Dark chicken meat is also nutrient rich, containing higher levels of iron, zinc, riboflavin, thiamine, and vitamins B6 and B12 than white meat."
Despite this research, Scott still prefers the breast. Which is just fine by me – we don't have to fight over who gets which part of the chicken! We each call dibs on our own section.
I've made a Healthy version of General Tso's Chicken – one of Scott's favorites – using white meat, of course – but feel free to substitute with boneless, skinless dark meat 🙂
Healthy General Tso's Chicken Recipe Video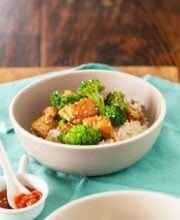 Healthy General Tso's Chicken Recipe
Servings: 4
Prep Time:10 minutes
Cook Time:15 minutes
Ingredients:
2 tablespoons soy sauce
2 teaspoons rice vinegar (or white vinegar)
1 tablespoon honey
1 to 2 teaspoons garlic chili sauce
1/2 cup chicken broth
3 teaspoons cornstarch, divided
1 large head broccoli, cut into small florets
1 pound boneless chicken meat, cut into 1-inch pieces
freshly ground black pepper
1-1/2 tablespoon of cooking oil
1 to 2 cloves garlic, finely minced
1 teaspoon ginger, finely minced (or grated on rasp grater)
4 stalks green onion, chopped
1 teaspoon roasted sesame seeds
Directions:
1. In a bowl, make the General Tso sauce: Whisk together the soy sauce, vinegar, honey, garlic chili sauce, chicken broth, just 1 teaspoon of the cornstarch. Set aside.
2. In a wok or large sauté pan over high heat, add 1/2 cup water and bring to a boil. Add broccoli to the pan and cover. Steam for 2 minutes or until broccoli has turned bright green and is crunchy-tender (just shy of cooked through.) Remove broccoli from pan, drain and rinse with cool water to stop cooking. Set broccoli aside. Empty water from wok or pan and dry well. Return wok or pan to stove.
3. In a medium bowl, add chicken, remaining 2 teaspoons of cornstarch, salt and pepper and stir to coat chicken evenly.
4. Heat the wok over high heat. When very hot, add cooking oil and swirl to coat. To get a nice crust on the chicken, you'll cook them in a single layer, giving them plenty of space to brown. Add half the chicken to pan in a single layer. Let cook undisturbed for 1-2 minutes, until the bottom of chicken is browned, flip chicken, cook until other side is browned. The chicken should be halfway cooked through - remove the half-cooked chicken pieces to a plate to set aside. As you take chicken pieces out, continually add in more of the raw chicken to the pan to cook.
5. When all the chicken have cooked, turn heat to medium. Let the pan cool a bit before adding the rest of the ingredients (so they don't burn). The pan should still have some cooking oil left from the chicken. To the pan, add the green onions, garlic and ginger . Stir fry until fragrant, about 30 seconds. Control your heat so that the ingredients don't burn.
6. Pour in the General Tso's sauce to pan and bring mixture to a simmer. Return the chicken and broccoli to the pan, toss and cook for 1 minute. The sauce should thicken and the chicken should be cooked through completely. Sprinkle with sesame seeds and serve immediately.