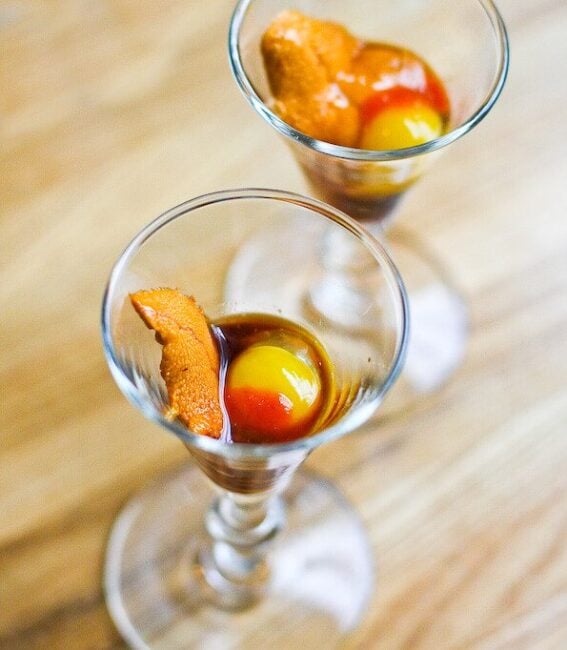 So, lets talk about Uni, or sea urchin. Thank goodness for my friend, Casson Trenor, author of Sustainable Sushi and an activist with Greenpeace. Through his book and through the Monterey Aquarium iPhone app, I can usually navigate through a sushi menu pretty well and choose to dine on delicacies that are sustainable. I wanted to call Casson and be sure though, since Uni's situation is a little more complicated.
Uni that we enjoy here in the U.S. comes from several places, Alaska, California, Canada and Maine, for example. Yes, it also comes from Japan but is extremely expensive, and usually out of pocket book reach of many diners… which is good because we know very little about the harvesting practices and regulations in Japan (pssst…pass on Japanese Uni until we know more information!)
According to Casson, Uni from Maine should be avoided at all costs. There is little regulation, management and stock strengths are at approximately 10% of what they once were. Uni from Canada is excellent, as they enforce strict quotas on the hand-harvesting of Uni. California is a good resource for the delicacy as well.
Uni Shooter with Ponzu Sauce
Simple uni shooter recipe. Use a shot glass or small martini glass. Store-bought ponzu sauce is easy to find, but I've also included ingredients in case you want to make your own.
Ingredients
1

piece

fresh uni

Sea Urchin from California, Canada-New Brunswick

1

quail egg

yolk only

1

drop

sriracha sauce

1

tablespoon

ponzu sauce

(equal parts soy sauce, mirin, rice vinegar, and splash lemon juice)
Instructions
In a shot glass or martini glass, layer the ingredients in the order that they appear in the list.