Friday Favorites
It's Friday Favorites…but on Thursday. Because I'm traveling to San Francisco for BlogHer Food tomorrow. I'll be speaking on a seminar titled "Your Blog is Great…now what? Letting your blog lead the way to new opportunity." with lovelies Amy Sherman (Cooking with Amy) and Helen Dujardin (Tartelette).

This week's Friday Favorites is written by Steamy Kitchen intern, Rachael of La Fuji Mama. I sent her off to NYC for a day to take my place at a fun little event with Food Network's Robin Miller. It's her first time in NYC — I wonder what kind of trouble she'll get herself into!??  😉

xoxo Jaden
I have a propensity to collect way too many cookbooks.  I can't say no to a beautiful cookbook.  Food & Wine has come up with a solution to my addiction by boiling down the best 25 cookbooks of the year into ONE volume!  Food & Wine Best of the Best Cookbook Recipes comes out next week featuring favs from Osteria, Art & Soul of Baking, A16, Secrets of the Red Lantern, At Home with Charlie Trotter, Big Night In, Osteria, 660 Curries and a few more.
It's a knife! It's a fork! Nope, it's a Knork! A Knork is a knife and fork in one.  Forget the labor intensive process of eating with utensils in both hands–we love knorks because sometimes you don't want to bust out a knife (who wants to wash extra dishes!?) Jaden has been using these on television – makes it easier to scoop a bite to eat on-air. Because it's awkward enough eating with 3 giant video cameras pointing at you…at least the Knork makes the process more elegant.
Have you seen the blog food & style yet? The gorgeous photos alone are worth a visit.
Classic, elegant, beautiful. Take a look at these: Yellow Watermelon Margarita with Chipotle Rim, Okra Shoestring Fries, Green Gazpacho. Many of her recipes include a how-to video that will walk you through the recipe. Viviane is also on Twitter @foodandstyle. I know Jaden has a blog-crush on her!
KEEP GOING! There are 6 more Friday Favorites!
What do you get when you take 2 hidden cameras and a group of little kids? Give each kid a marshmallow, promising them that if they don't eat it until you come back that you'll give them another one, and then leave the room? Watch the hilarious video called Oh, The Temptation to find out.
I'd be the kid at the end of the video who pops the marshmallow into her mouth before the tester has even left the room.
Only in America, the land of Big Macs and Whoppers, would someone come up with the idea of using 185 pounds of ground beef and spend 15 hours baking it to make the world's biggest hamburger!  Rather than appetizing, this burger made by Mallie's Sports Grill and Bar in Southgate, Michigan, looks more like something out of an old-school horror film.  I can see the headlines now, "Giant hamburger wreaks havoc on the streets Southgate! People die of coronary heart disease in its wake!"
Do the words undisclosed beef quality, mechanically separated chicken, and lactic acid starter culture make you hungry?  Wired Magazine recently published an article listing those items as some of the ingredients in a Slim Jim.  If you're brave go and read.
But seriously. That stuff is NASTY. But I guess…what the heck was I expecting from a Slim Jim anyways?
During a recent visit by the Dalai Lama to Taiwan, his hotel created a Dalai Lama Latte in his honor.  I want to know if the Dalai Lama went and ordered a "Holy Latte" just to watch the barrista paint his profile with foam.
Sipping Dalai Lama's face just seems like it would bring bad juju.
We should meditate on that.
New York Magazine explores the world of ice cream innovation with it's article Chemistry in a Cone.  Did you know that Cold Stone Creamery recently came out with a no-melt ice cream?  There's something that strikes me as inherently wrong about ice cream that doesn't melt.
Isn't the fact that you've got to eat your ice cream before it melts part of the fun?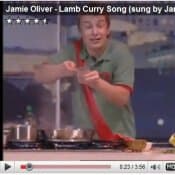 Jamie Oliver's song, Lamb Curry–Give it to me hot!, which gives the recipe for his lamb curry, is way more impressive when you watch Jamie cooking that curry in real time, and keeping up with his song.  What's even crazier is the reaction of the audience.  By the expression on their faces you would think he was expounding on the proper methods for emptying out the dryer lint trap.