Roasted Brussels Sprouts with Cranberry Pistachio Pesto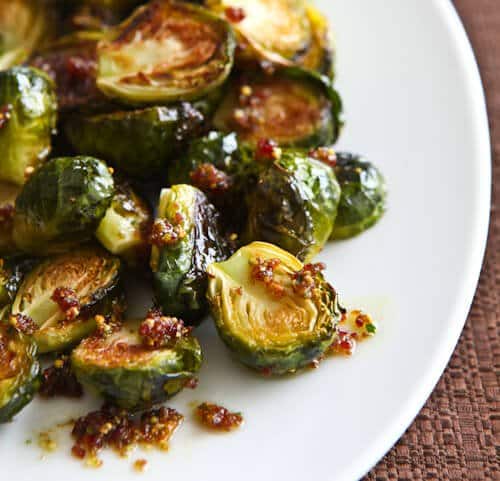 Brussels sprouts are one of the most controversial vegetables, right next to artichokes and mustard greens. You either love it or hate it.
I love it.
My husband hates it.
But he ate these brussels sprouts!!! Scott is pretty darn picky about the vegetables he eats (sigh) and i'm always on a quest to create the perfect recipe, you know, THE recipe that would convert him. So far, I'm 127 to 2.
127 fails and 2 wins, and this is one of them.
The Cranberry Pistachio Pesto is a recipe from Chef Todd of Checkers Restaurant in Downtown Los Angeles, right inside the Hilton Hotel. NO…not the Checkers Hamburgers…I'm talking about the sleek Checker's Restaurant totally unrelated!
I asked Chef Hotness about this recipe:
In addition to serving this pesto with roasted brussels sprouts, Chef Todd also pairs this with an Open Faced Grilled Chicken Sandwich with Baby Arugula:
and Roasted Beets and Humboldt Fog Cheese (AMAZING!)
How to make the Cranberry-Pistachio Pesto
Ingredients:
Add all ingredients except for the olive oil into food processor and let that baby run until the ingredients are finely chopped. Keep the motor running and add in 2 tablespoons of the olive oil.
Here's the important part – stir in the remaining olive oil by hand.
Roasted Brussels Sprouts with Cranberry Pistachio Pesto Recipe
Servings: 4
Prep Time:
Cook Time:
From Chef Todd at Checkers Restaurant at the Hilton Los Angeles
Ingredients:
For Brussels Sprouts
1 1/2 pounds brussels sprouts
3 tablespoons olive oil
3/4 teaspoon kosher salt
1/2 teaspoon freshly ground black pepper
1/4 cup Cranberry Pistachio Pesto (see below)
For Pesto
1/2 cup toasted pistachios
1/2 cup dried cranberries
3 cloves roasted garlic
2 sprigs fresh parsley
1/2 cups olive oil
salt and freshly ground black pepper to taste
Directions:
Preheat oven to 400F degrees.
Cut off the knobby end of the brussels sprouts and pull off any loose outer leaves. Cut the brussels sprouts in half, lengthwise. Toss with olive oil.
On a baking sheet, spread the brussels sprouts evenly and roast for 25 minutes, until you begin to see a bit of browning on the brussels sprouts. The interior should be fork tender.
Place the pistachios, cranberries, garlic and parsley into a food processor and process until very finely chopped. While the food processor is running, slowly drizzle in 2 tablespoons of the olive oil. Spoon out the pesto into a bowl and stir in remaining olive oil. Season with salt and black pepper to taste. The pesto should be slightly sweet and salty.
Season the brussels sprouts with salt and pepper and spoon the Cranberry Pistachio Pesto on top.