We're building a community farm!
In early February of this year, I was invited to the famous Rancho La Puerta spa in Tecate, right over the border in Mexico. I was part of a retreat for social media gals, and at the end of the week, Laura Silvan, the director of Rancho La Puerta's nonprofit foundation, took the 16 of us gals on a little trip to see some of the community projects that they were supporting in the city of the Tecate, such as their educational center and a 28-acre park with a public sports field.
Our last stop was at the very edge of Tecate. Our van rumbled over the unpaved rocky roads, flimsy homes were supported by just rotting columns, playgrounds were bare with rusty equipment….and there wasn't much else. This part of poor, rural Tecate is downriver — waste and sewage collected here, making it unsafe for their children.
A group of women in the community, headed by Dona Carmen, decided to stand up and do better. The "Rain Women" cleaned up their community, started a recycling business and begin an organic garden.
The fence around the garden was not to keep their produce safe, but it was to keep people from stealing their clean water.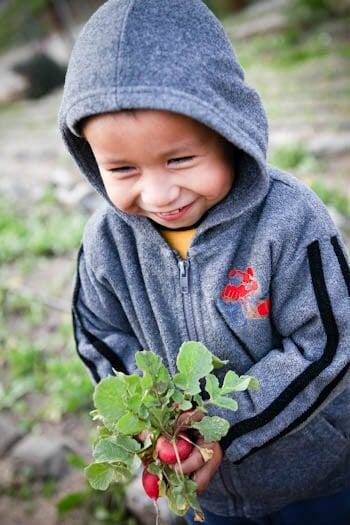 This little boy just won my heart. He has barely anything, yet eats organic vegetables every day. His mother is part of the "Rain Women" group, and he was just such a happy, healthy boy.
I started crying.
When my own son, Andrew was 3-years old, about the same age as this little boy, I asked him, "Where do oranges come from?"
And my son replied, "a truck!"
*thump* oh. dear.
You see, I live in Florida and every day we see large semi trucks piled to the max with oranges just picked up from the groves and heading towards the interstate.
And so when I saw this little boy in Tecate, that's when I knew I had to do something in my own community, as there were other kids in my town who thought corn was plucked from the ground and potatoes came from flakes in a box.
I wanted to build a children's garden and teach kids about where food really comes from. I wanted a place for kids to play in the dirt, touch real food, learn to enjoy their vegetables.
Just look.
This little boy in Tecate grows organic radishes.
We grow ch-ch-ch-chia pets.
The community that we live in is family-oriented, full of soccer moms, minivans and top-notch education.
Parents dedicate themselves to providing for their children, shuttling them from school to baseball to ballet to karate practice. Yet, by the end of the day, the parents are so tired and have run out of time, that they stop by McDonald's to pick up dinner. I am guilty of being in the group too, as even Nathan wrote a recipe for his classroom cookbook about Mommy making pizza in a box.
And right there is the paradox.
Parents spare no time, expense or energy to give their kids an enriching life with activities and best education, but think nothing of feeding them crap.
I MUST DO BETTER FOR MY KIDS. I must do better for my community.
A team was assembled with Irwin, Ngan, Tara, Patty…and few weeks ago, we pitched the idea to Rex Jensen, CEO of of Schroeder Manatee Ranch, the owner of the land that our community sits on.
Here we are at my home, our after dinner topic of conversation was the garden blueprint. Rex is the gentleman on the right in the blue shirt. Of course, I fed him and his wife very well before we even began to pitch!! That's the right way to begin any business meeting!
Well, a funny thing happens when an idea just feels so right. People become absolutely passionate and the project begins growing a life of its own.
What once was a small, cutesy children's garden….all of a sudden became a 5 acre community FARM. Oh wait, not just a farm, but a "Community SmartFarm™" where we teach and utilize technology such as aquaponics (growing fish and plants together in same tanks), solar energy and efficient crop growing.
There's a farm stand to sell the produce that we grow, a children's garden with a story stage for performances/book readings/teaching,  a classroom to teach families how to grow their own gardens, and my favorite element is an elegant, enclosed Pole Barn with a teaching kitchen that's tricked out with studio lighting to record cooking shows. We also have a henhouse, a compost pile and an orchard for fruit trees. An equipment and seed barn to store the wheel barrels and shovels and an apiary for bees.
Rex loved it.
We knew he would.
Next hurdle: meetings to pitch the concept to his Board of Directors and his management team.
They loved it too.
We knew they would. That's Tara back there – she's the one who designed the farm plans.
But would the original founders of Schroeder Manatee Ranch love it too? Would this match their vision of what the land would transform into?
It's a deal, Ms. Magaretha, we will plant peas in your honor.
So let me introduce the future home of the Lakewood Ranch SmartFarm.
I think there's a total of 11 acres here…we'll start with 5 acres…and it's located five minutes from my home.
And next to an elementary school even! Free little weeders!
We are partnering with Discovery Health to showcase the project from beginning to end on their site. Oh, we're planning to build this SmartFarm in THREE DAYS in October of this year.
Yes we're absolutely crazy.
Hey, if Extreme Home Makeover can build a home in a week, we certainly can build a farm in 3 days! Of course, a lot of work has to be done to prep the project, such as fundraising, planning, permitting in gathering all of the troops necessary to make it happen.  But the hard part, getting the land, is done and the rest is a piece of cake, right?! 😉
I'm so fortunate that we've got a rockstar group to lead this project (I'll intro them in separate post!), thankful for Schroeder Manatee Ranch for believing in us and thrilled that Discovery Health will give us a spotlight!
Part of our plan is to document every step of the way, show you the plans, journal the ups (and the downs) so that maybe you can build a SmartFarm in your community too. Would you like to join the team? More information at our Lakewood Ranch SmartFarm website.

Now, if you'll excuse me, I must figure out where the children's chia pet garden will fit in the plans….