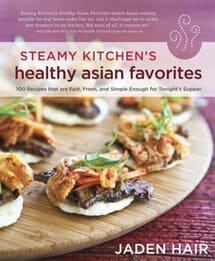 The Steamy Kitchen's Healthy Asian Favorites speaks to a new wave of healthy eating without the sacrifice. Author Jaden Hair, whose Steamy Kitchen website and blog offer home cooks quick and easy recipes, has developed a collection of dishes that are flavor-packed, naturally gluten-free, and include little to no meat. In addition to explaining how to do away with the goopy sauces and high-calorie counts we've grown accustomed to with Asian cuisine, Jaden offers bright, interesting, and unquestioningly unique recipes inspired by food from across Asia, such as Malaysian Mango Pickle, Indonesian Gado Gado Lettuce Wraps, and Japanese Blackened Tofu with Ginger Ponzu Sauce. Her use of fresh orange juice and vinegar as a sweet-and-sour sauce, and loads of fresh herbs and citrus, packs in flavor without the extra calories.
For sale at Random House, Amazon, Barnes & Noble, iBookstore and Google Books.
Healthy Asian Favorites Cookbook Raves
"Jaden's wonderful tales of eating and sharing great food, along with her incredibly flavorful recipes, will whet your appetite."
—Ming Tsai, restaurateur and author of Blue Ginger
"Asian food is one of my favorite cuisines, and leave it to Jaden Hair to make it healthy while retaining the vi-brant, exciting flavors that I love. And all simple enough so anyone can master them. Get your chopsticks ready!"
—David Lebovitz, author of Ready for Dessert
"Jaden's latest concoctions embody both tradition and innovation. The recipes are fresh, intentionally healthful, and just indulgent enough to need to sneak back into the kitchen for second and third helpings."
—Joy Wilson, author of Joy the Baker Cookbook
"The thing I love most about this book is Jaden's emphasis on bright flavors, fragrant spices, and fresh pro-duce. Her enthusiasm is infectious, and translates into a substantial book filled with heart and achievable weeknight inspirations."
—Heidi Swanson, author of Super Natural Every Day
"I love Jaden! She's the Queen of Fun. Now she's bringing the party to your kitchen with her new spin on clas-sic Asian dishes. The recipes are completely doable for the home cook, utterly delightful to eat, and as an added bonus, easy on the waistline."
—Elise Bauer, creator of Simply Recipes
"Jaden Hair's Healthy Asian Favorites showcases her love of food and her desire to share the many tricks and terrific recipes she's mastered. Jaden's recipes are snappy and approachable, and she wisely leaves the "healthy" part implicit, focusing instead on the pleasure—the fun!—of Asian cooking."
—Amanda Hesser, co-founder of Food52.com and author of The Essential New York Times Cookbook
"Steamy Kitchen's Healthy Asian Favorites makes Asian cooking possible for real home cooks like me, and it challenges me to tackle new frontiers in my kitchen. But most of all, it inspires me."
—Ree Drummond, The Pioneer Woman, from the foreword
"Should we ever tinker with the classics? Absolutely! In her Healthy Asian Favorites, Jaden Hair offers every Asian food lover and home cook one hundred new recipes that are lighter, healthier, and more reflective of today's taste and lifestyle. On behalf of my ten thousand taste buds, I say: Thank you!"
—Martin Yan, master chef and host of Yan Can Cook
"Hair gives readers exactly what they've come to love on her website steamykitchen.com : colorful, accessible dishes that can be made with ingredients found at everyday grocery stores."
—Food Matters

Healthy Asian Favorites recipe Meyer Lemon and Cucumber Salad with Mint featured in the Vancouver Sun.
"What am I going to cook for dinner tonight?" It's a common lament for everyone, and the answer too often is something unhealthy, unappealing, or both in the form of expensive take-out. Jaden Hair comes to the rescue in The Steamy Kitchen Cookbook, a fantastic new cookbook stuffed with dozens upon dozens of foolproof Asian recipes that are quick and easy to do – all in time for tonight's supper!
Author and food blogger, Jaden Hair (steamykitchen.com) reveals her secret ingredient to create take-out favorite Broccoli Beef, shows you step-by-step in photos how to roll perfect Vietnamese Spring Rolls, how to make Thai Curry in less time than it takes to drive to a restaurant and teaches how, with only three main ingredients, you can fry up the crowd-favorite Firecracker Shrimp. With her irresistible sense of humor and accessible style, Jaden will have you running into your kitchen to start cooking!
Paperback for sale for $16.36 at Amazon.com, and BarnesandNoble.com.
Hardcover for sale for $20.95 at the Steamy Kitchen Store and Amazon.com.
Steamy Kitchen Cookbook Raves
"Hair (www.SteamyKitchen.com) is a home cook-turned-food blogger-turned-cookbook author. She shares recipes drawn from her mother's kitchen, other food bloggers, and her own delightful archives. Her focus is mostly simple Asian dishes (from China, Vietnam, Japan, and Thailand), with several more complicated ones thrown into the mix. She veers from the current trend of Asian fusion cuisine by trying to uphold the integrity of each country's unique flavors and ingredients. This focus is what makes her book distinctive. Hair also provides great kid-friendly dishes like eggrolls, Chinese broccoli and beef, and crispy chicken with citrus teriyaki sauce. Desserts are appealing and include the much loved bubble tea and an innovative grilled banana-and-chocolate treat. VERDICT For home cooks of all levels of experience seeking to expand their repertoire of Asian recipes, Hair has written an extremely accessible cookbook that blends great recipes with mouthwatering photographs she took. Highly recommended."
-Library Journal, September 15, 2009
"Jaden Hair-in print, on television, on SteamyKitchen.com and in her own steamy kitchen-is a force of nature, and this book captures that exuberant spirit with compelling recipes and great techniques on a wide range of Asian dishes."
-Michael Ruhlman, author of The Soul of a Chef and Ratio: The Simple Codes Behind the Craft of Everyday Cooking
"Jaden Hair delivers beautiful, simple and delicious food that will bring family and friends to your table. She is the real deal who learned from the best, her mom."
-Martin Yan, Chef and host of Yan Can Cook
"Jaden has great energy and a fantastic spirit, and that comes through in her beautiful food photography and recipes in "Steamy Kitchen." You'll love having her teach you the joys of Asian home cooking."
-Ming Tsai, host/executive producer of Simply Ming and chef/owner of Blue Ginger
"Jaden Hair speaks passionately to a new audience of Asian food enthusiasts, luring them into the Steamy Kitchen with her helpful hints and exciting recipes."
-Andrea Nguyen, author of Into the Vietnamese Kitchen and Asian Dumplings
"Steamy Kitchen is one of the most popular sites at www.food.alltop.com. This book is positively orgasmic."
-Guy Kawasaki, founder of www.Alltop.com; author of Rules for Revolutionaries and Reality Check