The Ultimate Guide To
Buddha Bowls
Buddha Bowl recipes help you to repurpose leftovers and use every last bit of produce in your fridge with a simple formula to build a meal. Check out our complete guide to building your own buddha bowls and the philosophy behind our Buddha Bowl Method!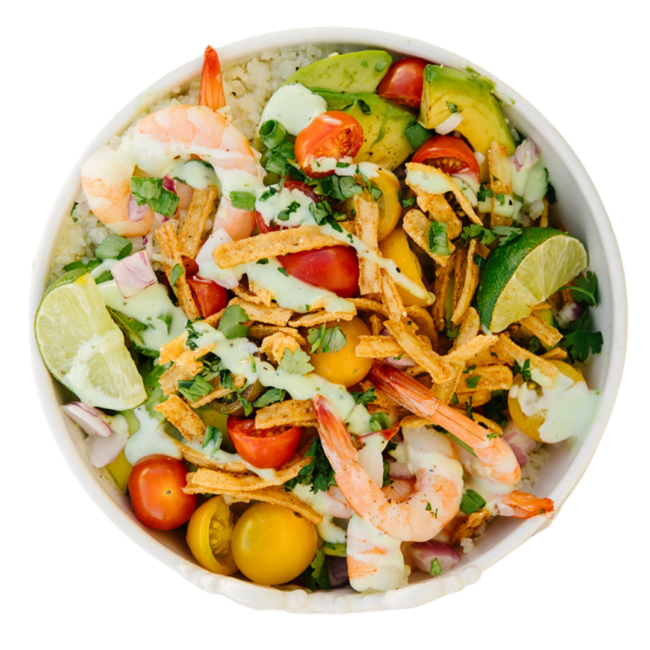 Buddha Bowls help you reinvent boring leftovers and use every last bit of vegetables

in the fridge drawer.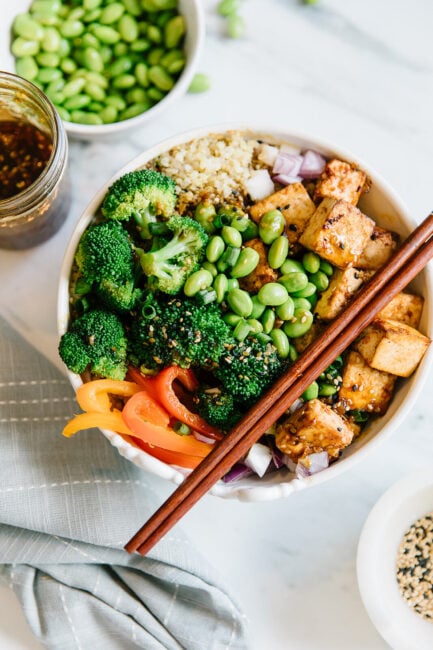 Buddha Bowls are a healthy and colorful one bowl meal everyone needs in their back pocket. This nourishing meal is the perfect bite of everything in your bowl.
This simple method of cooking and eating has helped so many reduce food waste and save money!
Buddha Bowls may have started as a more plant forward food trend, but don't limit yourself here! These bowls focus on eating macrobiotic, a diet focusing on vegetables and whole grains with a healthy source of protein. You can add just about anything you can cook up, whether its plants or animal proteins. The real prep comes from making your dressing, but when we say prep, we really only mean just a few minutes!
Planning ahead of time and learning how to reinvent your leftovers will help prevent food waste and save you money! Buddha Bowls allow you to get creative with what you already have instead of going to the store everyday to buy something brand new.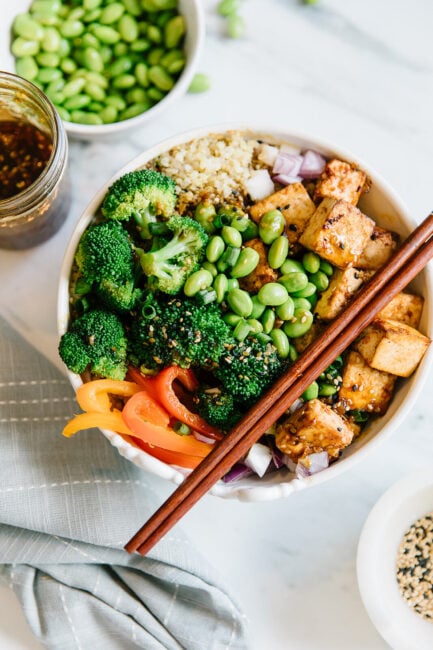 Add your unique flavorful sauce
Pick your base: greens or grains
Add Colorful Veggies From The Fridge – Raw or Cooked!
Finish off with a fun crunchy topping!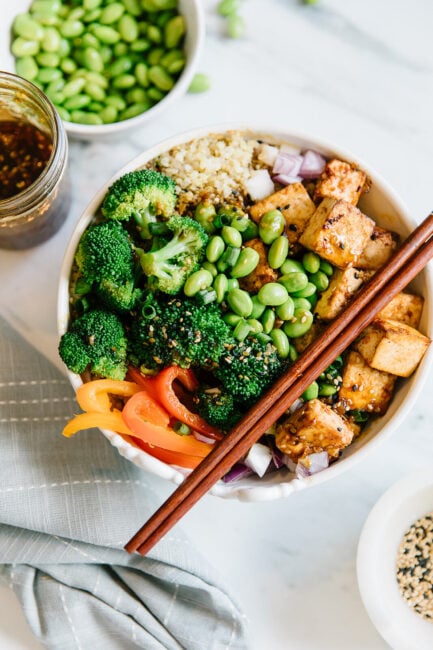 Pick your base: greens or grains
Add Colorful Veggies From The Fridge – Raw or Cooked!
Add your unique flavorful sauce
Finish off with a fun crunchy topping!
signature buddha bowl Recipes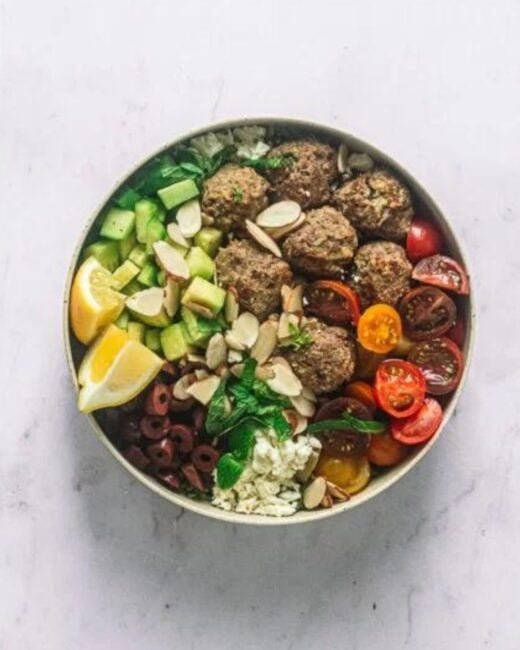 Ever dream of a sun-soaked journey through the Mediterranean, where the scent of fresh herbs fills the air and the sound of the Aegean sea plays in the background? Bring that dream to your dinner table with our Greek Meatball Bowl with Lemon Tahini Sauce. Every bite...
Why is it Called a "Buddha Bowl"?
Despite what you've seen of the "Buddha" statues of a chubby man, Buddha was actually quite thin. Buddhist Monks have been eating a certain way for thousands of years. The rules aren't really centered around what you eat, but when you eat it. Buddha's main rule was centered around only eating at certain times of the day and this included a lot of what we know now as intermittent fasting. As far as the "bowl" aspect, Buddha would walk through the villages daily with his bowl and local villagers would place food in his bowl as donations and anything they were able to share. At the end of his walk, Buddha would eat whatever he had been given. Pretty cool, huh?
Buddha Bowl vs. Salad vs. Nourish Bowl vs. Power Bowl
Not all bowls are created equal, but these top three share so many common qualities that the terms are often used interchangeably. When folks talk about Nourish Bowls, the building blocks are focused on nutrient density. The goal is to pack as much of the key nutritional macros in as you can, while layering flavors. A top notch Nourish bowl will include tons of veggies, healthy fats, whole grains and "clean" & lean proteins. Like all these bowls, the flavor profile for your Nourish Bowl can head in whatever direction you're craving.

If you're like me, you have likely noticed "Power Bowl" shops (think Acai Bowls) popping up all over your neighborhood recently. That's cool, but most are super expensive and some of these bowls are more calorie laden then we realize. Making a power bowl at home is super quick, inexpensive and way, way better for you. While both Nourish Bowls and Power Bowls are very similar, we often think of the Power Bowl as focusing on "upping our protein game". Science has shown clearly that quality protein, be it animal or plant based, fuels both muscle building and recovery, thus offering us more Power to get through our day and our workouts.
Now to the King (Uh, Buddha) of all Bowls…. We like to think of the Buddha Bowl as the perfect hybrid of our Nourish and Power Bowls.
Are Buddha Bowls Healthy?
The answer to this lies in your choice of ingredients. Since Buddha Bowls can be plant-based, vegan friendly, or a carnivore's delight, the key to keeping them healthy can be found in the origins of the Buddha Bowl- East Asian medicine and nutrition. Both Chinese and Japanese diets are built on ingredients which are credited with naturally lowering inflammation in our bodies, thus reducing many chronic conditions. So, if you stick to ingredients focused on nutrient density, your bowl will be healthy. Make one of our many Buddha Bowl sauces from the Buddha Bowl Basics Recipe Book for a delicious and healthy addition.
These are a great option to keep you on a path to health.
In our Buddha Bowl Basics Recipe Book you will find 170 Buddha Bowl basic recipes including proteins, grains, vegetables, sauces, and toppings. In this Ebook, we equip you with the knowledge of how to build a Buddha Bowl, Buddha Bowl Worksheets so you can build your own and have a plan, Weekly Meal Plan Worksheets that will help you make extras of your favorite things and what to turn them into!
As you know, the base of all Buddha Bowls is a grain like rice, noodles, millet, or quinoa, or a bed of your favorite leafy greens. Some of our favorite grain-free options include riced cauliflower and broccoli, and zucchini, cabbage, or carrot noodles. We typically cook our grains ahead of time, as they store and reheat very well. As you're prepping for your meals ahead, choose three grains or greens that you'd like to have on hand to make Buddha Bowl building easy throughout your week!
So, are grains healthy?
Whole grains have been a part of the human diet for a very long time. However, we can't digest them raw. Grains must be sprouted, cracker, popped, or puffed before being consumed. Whole grains contain tons of fiber that is a critical component of optimal health. Keep in mind, if you are intolerant or need to eat grains sparingly, do what works for you! Whole grains are the whole thing. There is no enriched flour, wheat flour, or pieces of the grain. Buddha Bowls are one of the best ways to eat daily as you eat less processed food. Healthy grains and greens are optimal choices for the base of a bowl!
Learn how to cook perfect rice in the microwave every single time HERE!
In the Buddha Bowl Basics Recipe Book you will find tried, tested, and perfect recipes for any grain you can think up! We have given you options for stove top cooking, microwave cooking, and pressure cooking so you aren't limited at all. For anyone who is low carb or unable to eat grains as a base, we have plenty of vegetable heavy options for you too!
A few you might find are, Kale, Spaghetti squash, Cauliflower and Broccoli Rice, and Vegetable noodles! Raw kale can be a little tough to eat, as-is, so we suggest giving it a quick rubdown with salt. This will help break down the kale and result in a silky tender green. When making cauliflower or broccoli rice for Buddha Bowls, the goal is to reduce the moisture as much as possible so the rice is able to absorb the best flavors from the bowl! The keto and paleo trend of replacing noodles with vegetables isn't going anywhere so let's lean into it! Enjoy your veggie noodles raw, or you will find use one of our variety of cooking methods.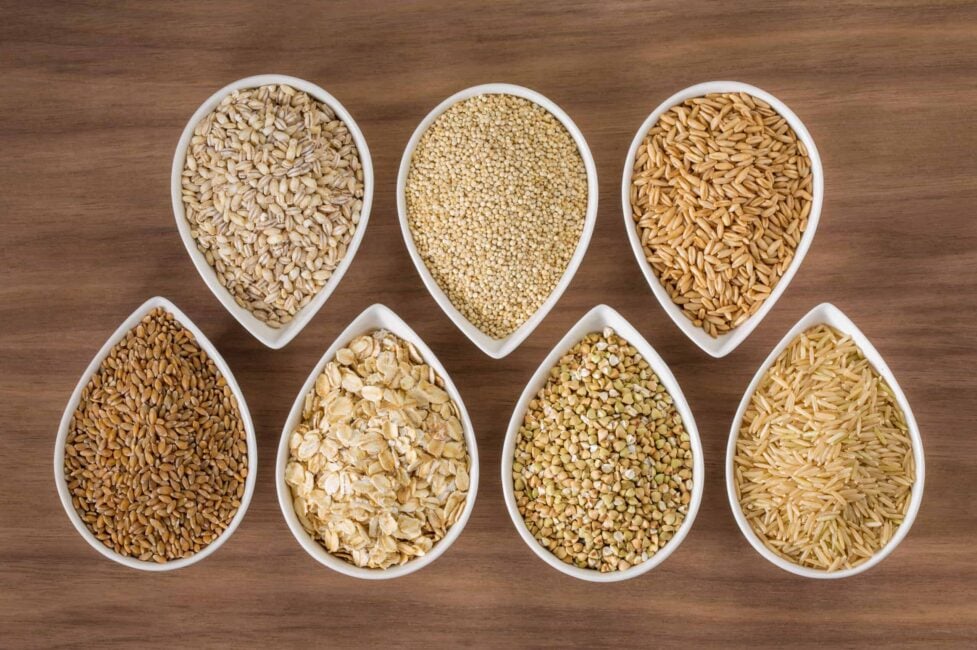 Buddha Bowl Grain Recipes
Use leftover turkey to make one of the easiest, fastest meals to throw together: Thai curry. From the minute you hear your stomach grumbling and you check out the fridge to see what's there, it'll only be ten minutes until you sit down to a bowl of...
Bookmark this recipe for how to cook quinoa the classic way - on the stovetop! Not only is it gluten-free by nature, quinoa's also more nutrient-dense than any grain: all the more reason it belongs in your regular recipe rotation. At Steamy Kitchen, we like to build...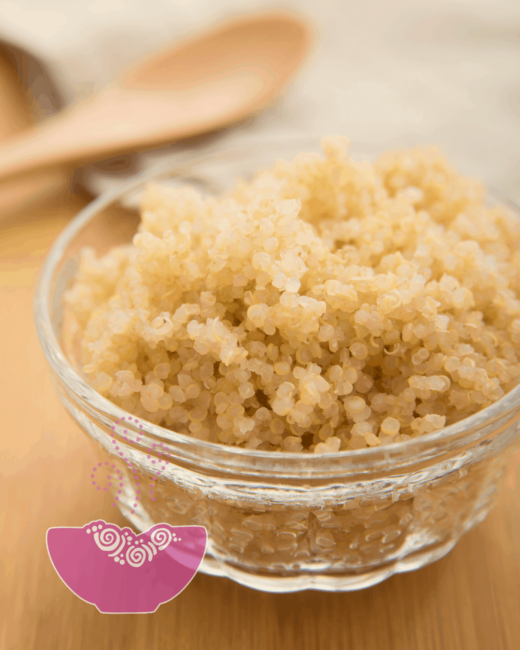 Master this easy recipe for how to cook quinoa in a pressure cooker, whether you have an Instant Pot, or other brand. It'd be an understatement to say that electric pressure cookers have changed the game. Cooking grains (or seeds, in the case of quinoa) offers an...
Now that we've covered our bases, no pun intended, let's chat about repurposing your already cooked vegetables to transform them into something new! This is a huge opportunity to use up those leftovers. Make it pretty, use as many colorful vegetables that have an array of textures to keep it fun and interesting!
We know you need it, so here are some of our best tips for taking care of vegetables – but you can find even more in the Recipe Book!
Storing – Store your prepped vegetables in an airtight container with a label that notes what date the veggies were prepped and what meals you're going to make with them. Make sure that before you put the lids on the containers, you cool the contents of the container completely so that the condensation doesn't affect the textures of the vegetables and make them mushy.
Freezing – To freeze prepped vegetables, lay the cooked and cooled vegetables out on a sheet tray. Freeze the veggies, then transfer them to a container that is clearly marked with the date and some ideas you have for using the vegetables!
Reheating & Defrosting – The easiest way to reheat and defrost frozen vegetables is in the microwave. Simply add the frozen vegetables to a microwave safe bowl and zap them until they're warm. If you don't have a microwave, you can also defrost frozen vegetables by immersing the container of frozen vegetables in a large bowl of cold water. Rotate the container a few times and change out the water so it is fresh.
If you are unsure how to cook any of the vegetables, we have created an incredibly detailed vegetable cooking cheat sheet inside of the Buddha Bowl Basics Recipe Book. Not only is there a cheat sheet, but we walk you through how to cook just about any type of vegetable imaginable and the different methods to cook said vegetables. If you've noticed on Steamy Kitchen, our favorite way to cook vegetables is in the microwave, so here is a quick rundown on how we like to do this. To steam vegetables, all you need is prepped vegetables, a bowl, and a plate. Grab our favorite microwave safe bowl set for easy steaming.
Steaming Tip: Make sure that the vegetables are cut into even pieces. That way, when one is done, they'll all be done and you won't have any mushy pieces! But of course we don't limit you to only steaming. Sauteing vegetables is a great way to add a charred, flavorful zing to vegetables for Buddha Bowls! Tray Roasted Vegetables is another Steamy Kitchen favorite too! Roast the vegetables of your choice on a sheet pan on Sunday to have cooked vegetables to add into your buddha bowls throughout the week! You can also add on your protein for a one pan meal prep!
Tray Roasted Vegetable Flavor Variations:
Apple cider or Balsamic Vinegar, fresh rosemary, olive oil, salt & pepper

Dijon mustard, apple cider vinegar, dried thyme, salt & pepper

Soy sauce, sesame oil, garlic powder, ground ginger

Maple syrup, olive oil, salt & pepper
To make sure your vegetables are even more top notch, we've included recipes for some of our favorite and most delicious flavored butters, also known as compound butter. This is one of our favorite ways to spice up plain vegetables and will be sure to wow anybody who tries it!
Compound butter is so easy – all you need to do is soften the butter, finely chop any herbs you're using, and then use a wooden spoon to stir the herbs and spices into the butter. Store the butter in the fridge and use it in your cooking for as long as it lasts! We have six incredible compound butter recipes in the Buddha Bowl Basics Recipe Book that you will be making time and time again.
Buddha Bowl veggie Recipes
The quickest oven roasted asparagus method is very high heat + olive oil. Find the fattest spears you can to make this recipe. Fastest way to roast asparagus Pre-heating the baking sheet in a high-heat oven at 500F and plenty of olive oil can cook perfect...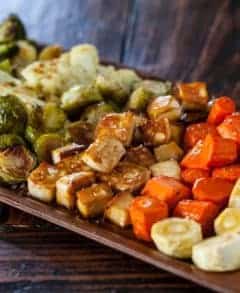 Roast a variety of vegetables along with tofu in the same oven session. The trick is use two sheet pans - tofu on upper rack, vegetables on lower rack. Tossing the vegetables in a store bought salad dressing is our shortcut to incredible flavor. Coating the tofu in a...
Learn how to cook whole sweet potatoes in the microwave, ready in just 10 minutes compared to your normal 1 hour in the oven! The microwave makes cooking sweet potatoes quick, simple, and energy efficient. Add your microwave cooked sweet potatoes to virtually any meal...
In the Buddha Bowl Basics Recipe Book we built out a large section for lean proteins. This can generally make or break a meal depending on whether it's satisfying or not. We like to call it our flexitarian section, because protein is entirely flexible! For meat eaters, adding protein is easy. From fish and seafood, to steaks, chicken, and all kinds of ground meat, the options are pretty endless.
But make no mistake, Buddha Bowls are the perfect whole foods meal for vegans and vegetarians alike! Tofu, chickpeas, an assortment of beans, and even nuts and seeds! Having a protein cooked ahead of time will make building a Buddha Bowl smooth sailing.
In our lean protein section we like to start from basics to a little more intermediate. We walk you through how to properly break down an entire rotisserie chicken, how to use the legs and wings, and ways to use the breasts. Once that's covered, you will be given easy to follow steps on how to break down an entire raw chicken.
Oftentimes this is the cheapest way to buy chicken, whole. You will become an expert in grilling, roasted, sauteing, pressure cooking, and even poaching every single part of the chicken. We warned you, it's an in depth section that you won't want to skip!
Let's move onto steaks! There are a few simple things we want you to always remember about cooking steak:
Let all cuts of steak rest at least 5 minutes before slicing against the grain

Keep in mind, steak temperatures rise an additional 5 degrees while resting

Beef does best coming to room temperature 30 minutes before cooking

Cooking times will vary on thickness of meat
So, how do you know when your steak is at optimal temperature? Use a meat thermometer! This will save you from guessing and over cooking or under cooking your meat, potentially wasting money.
Our biggest tip: Slicing steak calls for some precision. The goal is to slice against the grain. The grain are the little muscle strands that run lengthwise along you cut of meat. Slice across those strands instead of parallel to them.
Be sure to slice at a 90-degree angle across the grain as thin as you can, ¼ inch or even thinner is best. In some cuts of steak, it's a bit harder to tell where the grain lies, but once you become comfortable, you will have no trouble picking out the grain on any cut of meat.
From flank steaks, sirloins, and ribeyes, we have got you covered on the best ways to cook each cut of meat. By the end of the Buddha Bowl Basics Recipe Book, you will have the knowledge to sear, grill, and roast meats to perfection every time!
We even have you covered with pork! Get comfortable roasting, grilling, and searing different cuts of pork with our guidance. You will end up with succulent and perfectly cooked pork every single time.
Well, what about seafood?
One of our favorite 'can't miss' protein options is shrimp. Shrimp can be a super simple addition to Buddha Bowls because they are quick cooking and the flavor is mild. We even suggest grabbing a tray of cocktail shrimp or frozen cooked shrimp for an easy protein. If you have fresh shrimp, more power to you! You will find tons of ways to cook it to buttery perfection no matter which way you do cook it off.
Now, for my veg heads. Tofu is so underrated and we understand that if it's not cooked well, it can either be mushy or rock hard. Tofu is mild in flavor and can be marinated in literally anything to give it the flavor you do want – even a bacon flavor! Think of tofu as a blank slate. We love using different marinades (any of the sauces and vinaigrettes in the Buddha Bowl Basics Recipe Book), and letting the tofu slices or cubes soak in the flavors before cooking. Learn how to roast, grill, smoke, and bake tofu so you actually enjoy the protein packed vegan option.
Buddha Bowl protein Recipes
It's a pretty spectacular thing when you can create restaurant quality food at home, such as poached eggs. This style of cooking eggs often requires a technique when cooking on the stove top, but with this simple microwave poached eggs recipe, you will have eggs...
Ground beef is a great base for so many meals from Buddha Bowls, bolognese, to tacos, and so much more! Learn how to cook ground beef in the microwave in just a few minutes for a great protein all week long! This method is great for making the base of any hearty...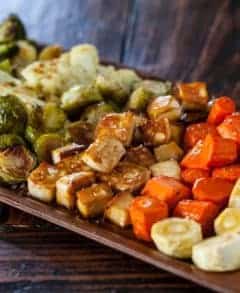 Roast a variety of vegetables along with tofu in the same oven session. The trick is use two sheet pans - tofu on upper rack, vegetables on lower rack. Tossing the vegetables in a store bought salad dressing is our shortcut to incredible flavor. Coating the tofu in a...
We think the two most incredibly important steps to create a show stopping, delicious Buddha Bowl is with a creative homemade sauce and fun crunchy toppings. We understand that prepping a lot of food can seem like you will be eating the same thing all week long, but with backpocket sauce recipes and loads of ideas for fun crunchy toppings, you can be sure every Buddha Bowl will have its own direction and flavor.
In the Buddha Bowl Basics Recipe Book there are a ton of homemade sauce recipes with simple ingredients with a three minute throw together time. If you have a store bought sauce you love, use a little store bought sauce and build off of that to make an even more exceptional and likely healthier sauce!
You will find simple and fresh vinaigrettes, blender sauces and dips, and creamy dressing.
With so many different sauce options, every single Buddha Bowl will truly stand out.
The second step to make your Buddha Bowl really pop is crunchy toppings. Humans crave texture and having a bowl of only soft foods is never fun, so that's why we love using crunchy toppings on each of our bowl recipes! From nuts, crispy crunchies like panko and roasted chickpeas, sweet toppings like coconut and dried fruit, to a plethora of Asian inspired crunchy toppings like furikake and crispy rice noodles we have a healthy dose of crunchy options for you! You will even find fun recipes to flavor some of your favorite toppings!
Buddha Bowl SAUCE Recipes
There's an art to crafting the perfect sauce. It's a delicate dance of flavors, textures, and aromas that can elevate any dish to a gourmet experience. This spicy peanut sauce is my ode to those balmy nights spent in bustling Asian street markets, where every bite...
Ah, Spicy Mayo Dressing, the superstar condiment that has a reserved spot in my fridge! Whether I'm dressing up my sushi rolls, drizzling over grilled seafood, or simply jazzing up a salad, this creamy, spicy kick of a dressing never disappoints. Made with the...
This crazy flavorful Korean Gochujang Drizzle sauce is made with a few staple pantry ingredients and can be whipped up in minutes. It's as easy as putting all of the ingredients into a mason jar and shaking it up! You won't be able to stop making this sauce! Korean...
Shop our buddha bowl and meal plan products
Low Carb Buddha Bowl Recipe Book
Buddha Bowl Basics Cookbook
Buddha Bowl Basics Cookbook
Low Carb Buddha Bowl Recipe Book