Chef Cory York of award-winning Deep Blu Restaurant in Orlando teaches us how to make the very best mashed potatoes recipe without milk. There are only 2 ingredients: potato and butter…or no-milk butter subtitute for a dairy-free option. Fluffy, buttery and just pure flavor. This is the most popular side dish at his restaurant!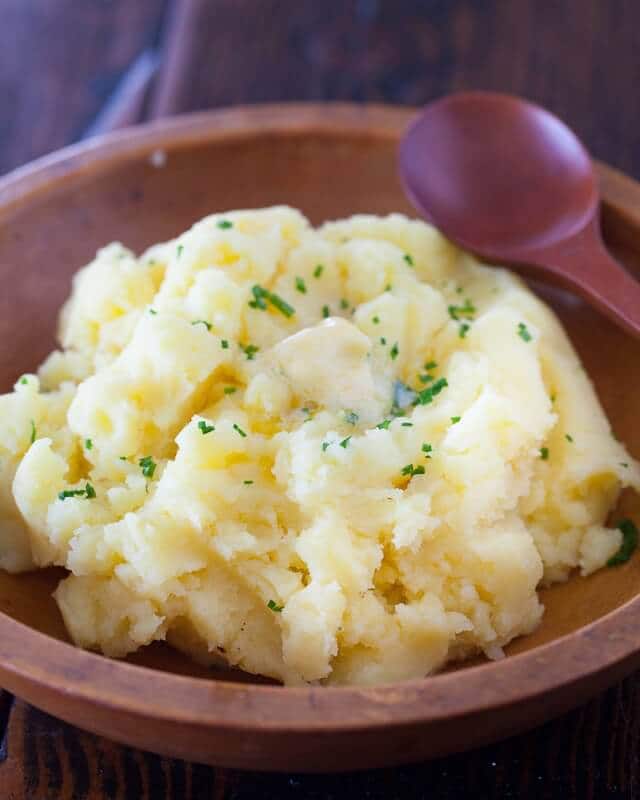 Why this Mashed Potatoes without Milk Recipe works
Easy to make – only two ingredients!
The most tender and smooth mashed potatoes
No milk or cream needed when you use the right potatoes and a potato ricer.
Can be made dairy free with Earth Balance or other non-dairy substitute
Ingredients for Mashed Potatoes without Milk
1 1/2 pounds Yukon gold potatoes
Salted butter (or dairy-free butter substitute)
Optional: fresh chives and garlic
The best potatoes to use for mashing
To make the creamiest, smoothest mashed potatoes, I recommend waxy-skinned Yukon potatoes.
This is the type of potato that Chef Cory York uses and recommends. They are naturally buttery and smooth, without being mealy or gritty. If you don't want to use yukon gold potatoes, regular russet potatoes can also be used.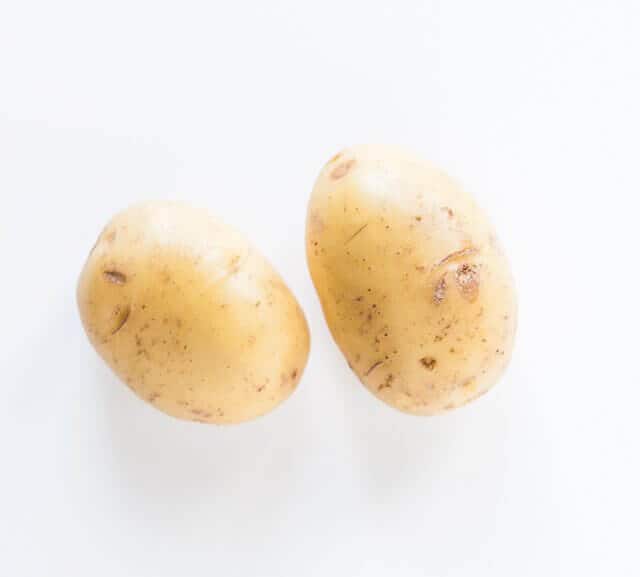 Why is the second ingredient butter?
Melted butter provides the perfect liquid and creaminess. There's no need for milk or cream in this recipe. You can use dairy-free butter as a substitute.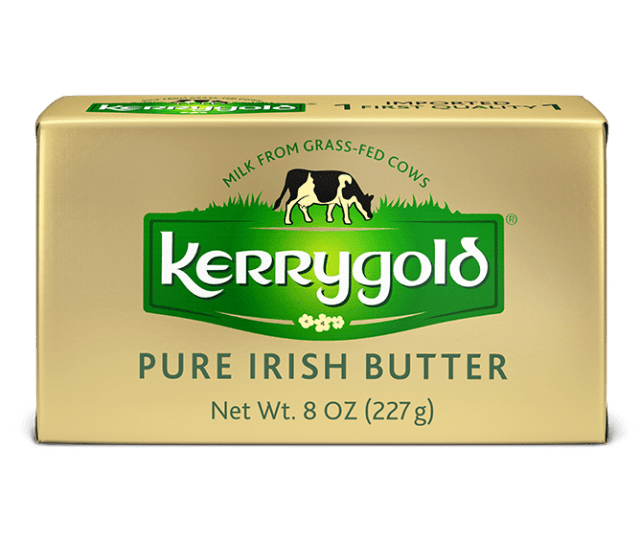 Since this recipe only uses two ingredients, I want my butter to be the very best that I can find. Look for salted butter.
Chef Cory York says, "the best tasting mashed potatoes doesn't anything more than potatoes and butter."
Non-Dairy Substitutes
The very best non-dairy substitutes for butter is Earth Balance. It's vegan and consistently named one of the best butter substitutes.
The secret to smoooooth mashed potatoes without milk
Use a potato ricer. I don't recommending using any electronic gadgety gadgets to mash the potatoes – Just keep it simple. A good ol' fashioned potato masher works too – but the ricer will give you the best smooth texture.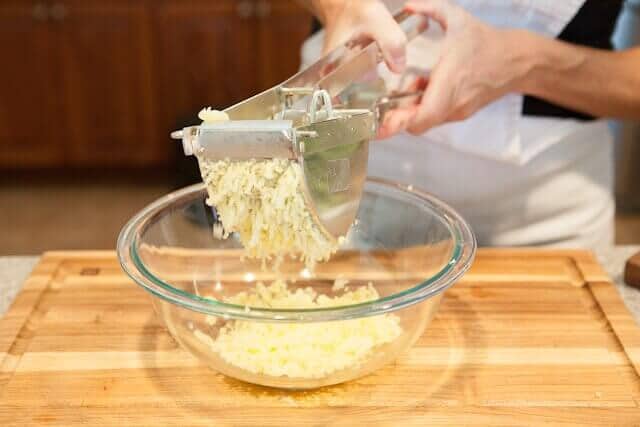 Potato ricers that I recommend
The potato ricer that I am using in the photo above is this one.
PROS: The chute is one of the largest – it can process a large potato.
CONS: It's not the most comfortable to use. It's made for commercial use and will last a long time.
Another potato rice that I recommend is this one.
PROS: It comes with 3 interchangeable disks. The interchangeable disks means you can have more flexibility in the size of the puree. The smallest disk is great for puree-ing fruits. The handle is super comfortable with cushioned silicone.
CONS: The chute is smaller, so you might have to cut your potatoes smaller to fit in.
Use a large spoon, not a mixer for the creamiest mashed potatoes
Mix in salted butter with a wooden spoon. Again, no electronics here – mixing too fast (like in a mixer) will make the mashed potatoes gummy and glue-y. Mix in enough salted butter for a creamy, smooth consistency.
Optional: Top with fresh snipped chives.
Want it creamier? More butter!
Check Out These Other Delicious Mashed Potato Recipes
Have you tried these Mashed Potatoes without Milk recipe? Feel free to leave a star rating and I'd love to hear from you in the comments below!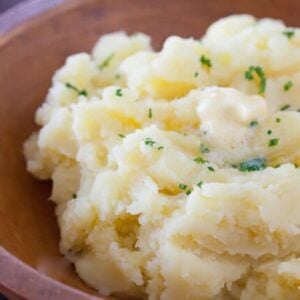 Best Mashed Potatoes without Milk Recipe
For non-dairy, I recommend Earth Balance Buttery Sticks or Smart Balance (both are vegan). You can add in 1/2 tsp garlic powder OR 1 clove fresh garlic very finely minced and snipped fresh chives.
Ingredients
4

large yukon potatoes

about 1 1/2 pounds

4

tablespoons

salted butter

or dairy-free butter substitute

salt

to taste
Instructions
Peel the potatoes and place them in a large stockpot. Fill water to 1-inch above the potatoes. Bring the water to a boil, then turn the heat to a simmer. Cover the pot, and cook for 15-20 minutes. Check for doneness by piercing a potato with a fork. Drain.

Let potatoes cool. Process through potato ricer or use a potato masher.

Stir in the butter and season with salt. Taste and adjust with additional salt and/or butter if needed. If the mashed potatoes isn't quite creamy enough, add more butter.
Nutrition
Calories:
173
kcal
Carbohydrates:
21
g
Protein:
4
g
Fat:
8
g
Saturated Fat:
5
g
Cholesterol:
22
mg
Sodium:
91
mg
Potassium:
702
mg
Fiber:
4
g
Vitamin A:
260
IU
Vitamin C:
19.4
mg
Calcium:
54
mg
Iron:
5.5
mg