REVERSE MEAL PLANNING
Shop From Your Kitchen First!
Our meal planning system begins OPPOSITE of what other plans do! Instead of starting with recipes and a grocery list, we want you to use what you have FIRST.
We give you all the resources, tips and recipes to inspire you to start your meal prep from your fridge first!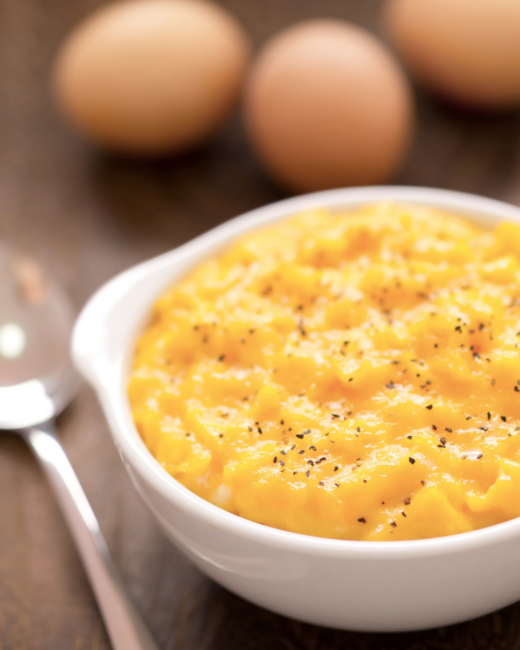 Breakfast in one minute sounds like the ultimate way to start your morning. When i'm ready to have a productive morning I love starting with a protein boost, but don't love taking the time to cook. This easy microwave scrambled egg recipe is done in one minute and is...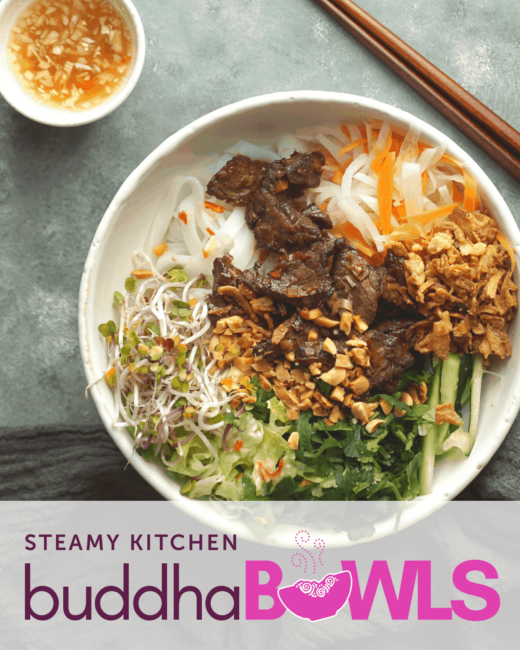 If you love Vietnamese food, you'll love this easy rice noodle Buddha Bowl recipe with Vietnamese dressing over lemongrass beef and crispy veggies. All About Buddha Bowls: When you layer all the colorful, nutritious elements of a meal into a beautiful bowl with its...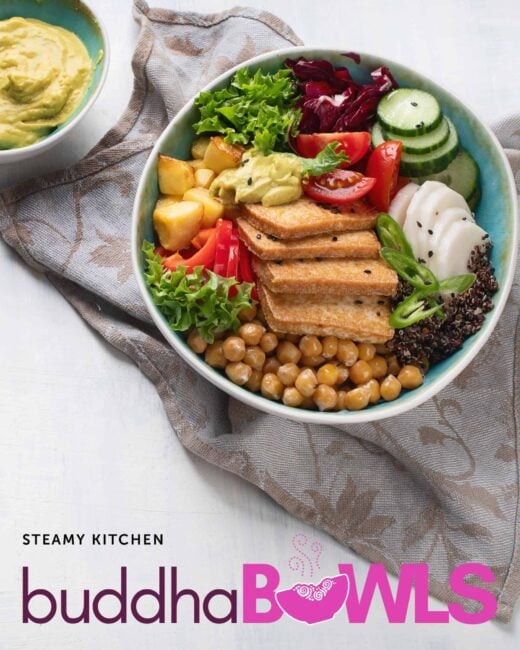 Enjoy the best of Japanese plant-based cuisine in this Crispy Tofu Buddha Bowl starring pan-seared tofu flavored with homemade ponzu sauce and topped with nutty sesame seeds. What are Buddha Bowls? When it comes to eating sustainably and colorfully, we've started...
Sarah Tiong teaches us how to make authentic thai Proper Pork Larb. This Proper Pork Larb has a hint of sweetness packed with the savoury nuttiness of glutinous rice and pork. This recipe is courtesy of Sarah's new book, Sweet Savory Spicy: : Exciting Street Market...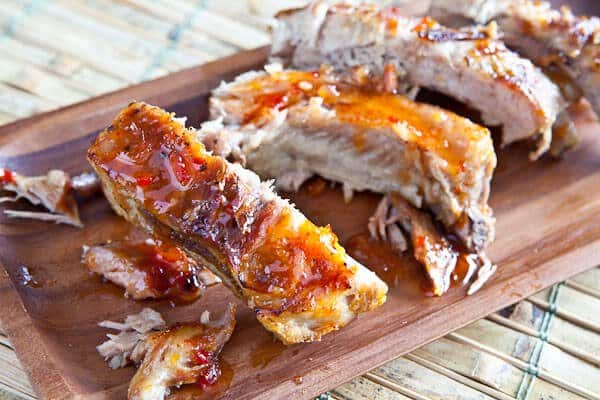 There aren't very many recipes that can boast "2 ingredients" and taste better than fall off the bone Tender Baby Back Ribs, smothered in sweet, sticky Thai chili sauce. Which, by the way, isn't really all that spicy despite the name. Two ingredients, 10 minutes...
Recipe for Pork Chops with Apricot Brandy Sauce with step by step photos by cookbook author Jaden Hair.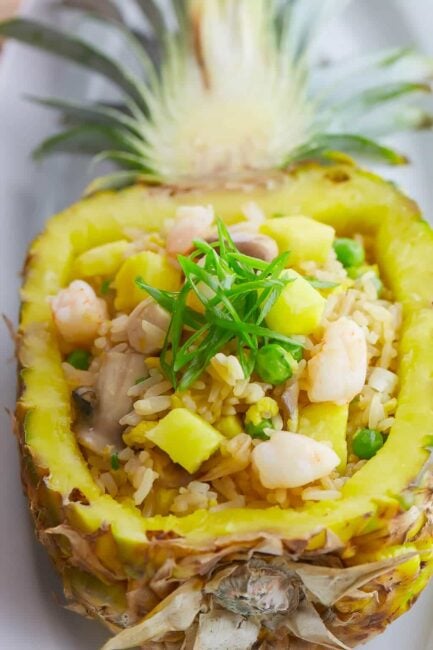 In this Pineapple Fried Rice recipe, you'll learn: How to prevent soggy, heavy, goopy fried rice. How to easily cut a whole pineapple to use as a pretty serving bowl. Why cooking certain ingredients separately is essential to the best Pineapple Fried Rice. Pineapple...
Want a Free Veggie Cooking Time Cheat Sheet?
Happy Monday Steamy Kitchen, today we are giving away a 10-in-1 Steam Mop Cleaner! This mop cleans literally everything and has a detachable handle to reach all of the dusty spots in your home that never a good cleaning. Mop Cleaner 10-in-1 with Convenient Detachable...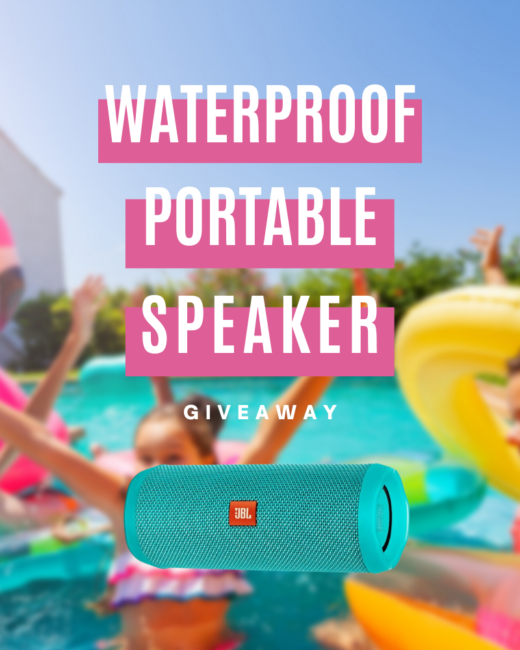 Steamy Kitchen is giving away one JBL waterproof speaker that you can keep by your side at the pool or the beach this summer. This speaker is perfect for setting the mood, play summer time tunes during hot the day and some soft songs in the warm evening. Listen to our...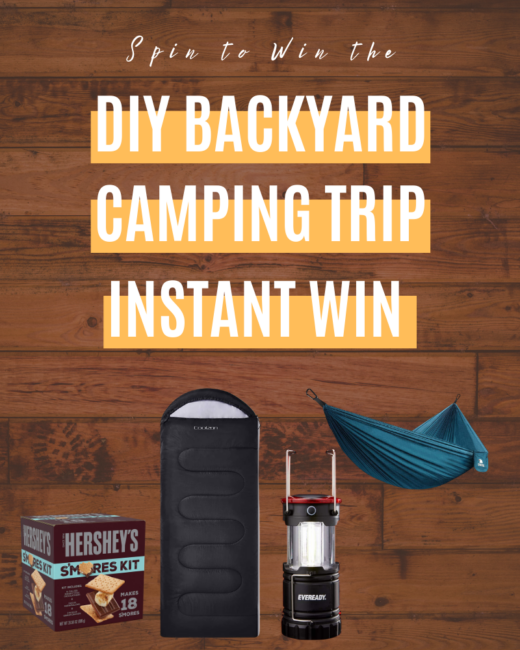 Happy Friday Steamy Kitchen! To kick off the start to the summer of 2021, we're giving away 4 different prizes and some tips that can be used for a DIY backyard camping trip. DIY Backyard Camping Trip Tips 1. Load up on pillows and blankets, the house is only a few...
Happy healthy Monday Steamy Kitchen! Today the theme of our giveaway is self-care, wellness and good health. Taking care of your body and mind is a form of good health and we want to encourage that lifestyle on Steamy Kitchen! We are giving away one $100 gift card to...
This giveaways is for all of the cold brew coffee lovers out there! This amazing Vinci Cold Brew Machine will whip up a rich cup of cold brew coffee in minimal time. Normally, cold brew takes 24 hours to make because it is necessary to steep the beans in cold water...
Happy Friday Steamy Kitchen! Today we are giving away ten $10 Target gift cards plus one lucky winner will receive a $50 Target Gift Card. Target always has everything you need and I don't know about you, but I LOVE going to Target. It's one of my favorite...