STEAMY KITCHEN
BUDDHA BOWL PHILOSOPHY
Buddha Bowl recipes help home cooks reinvent their boring leftovers with a simple formula to build a meal. A Buddha Bowl is simply a one-bowl meal:
Grains/Greens
+
Lots of Veggies
+
Lean Protein
+
Yummy Sauce
+
Fun Crunch
We want you to use up all the veggies in the drawer, last night's leftover grilled shrimp and rice! The key to creating bold, exciting, new flavors is in the YUMMY SAUCE and the FUN CRUNCHY TOPPING.
Did you know…
25% of the food bought in American households gets thrown away. For a family of four, that wasted food costs an average of $1800, or $150 per month.
This is equal to 20 pounds of food, per PERSON!
The biggest loss comes from food spoilage of fruits and vegetables. The next biggest loss is caused by people cooking or serving too much, causing waste in uneaten leftovers.
Buddha Bowls transforms your leftovers!
Stop being bored with the same old recipes and tired leftovers. Buddha Bowl recipes will help you use every bit of your groceries and add life to your leftovers.
The secret is in bold, flavorful
YUMMY SAUCE RECIPES and
FUN, UNEXPECTED CRUNCHY TOPPINGS!
Create a brand new meal that tastes completely different with just a new sauce and an unexpected crunch. Your leftovers won't taste like boring leftovers, and you have a use for every last bit of veggies in the drawer.
Steamy Kitchen Ceramic Buddha Bowl
I don't know about you, but with all of the baking and cooking I do, I have a ton of spices laying around. From cinnamon sticks to cardamom pods, my cabinets are full of bags of extra spices that are taking up space and in the way. But here at Steamy Kitchen, we never...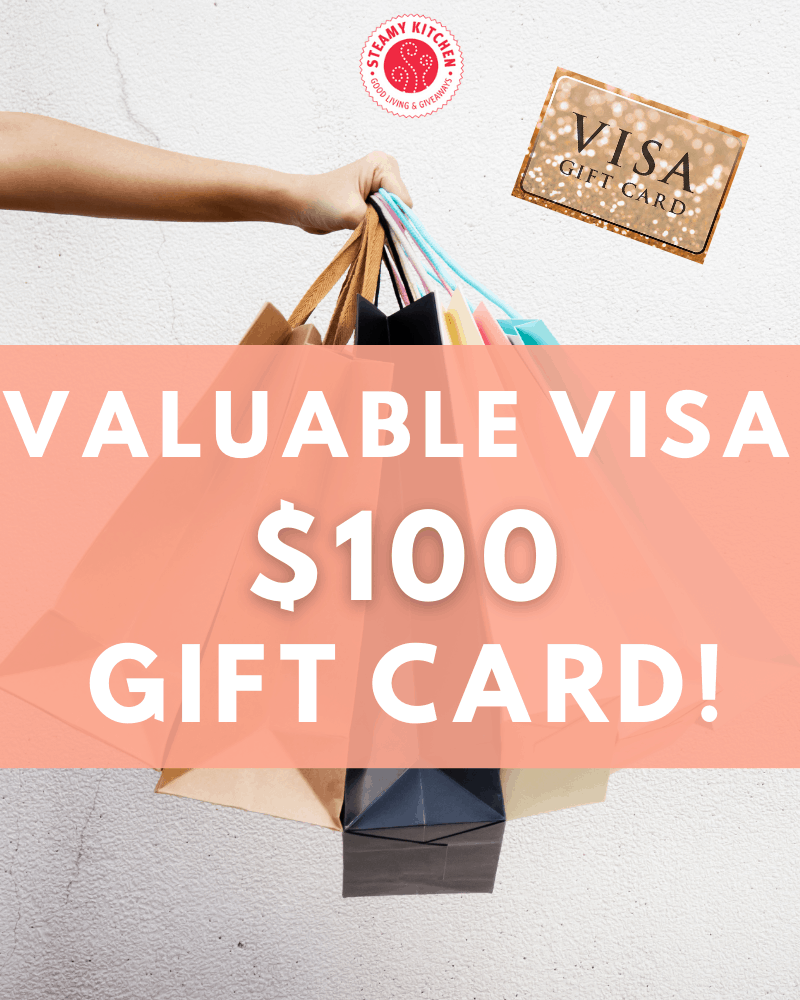 We're giving away $100 Visa Gift Card that can be used to buy anything that you desire! Use to shop your favorite stores online, go grocery shopping – whatever you want! That is why we love doing these kind of giveaways because you can pick exactly what you...
Hello and Happy Friday! Let's revamp our home decor and house shopping with a chance to win a gift card to Home Goods! This is one of my favorite stores for shopping home goods - such cute stuff and great prices! Shop for fun seasonal items like fall and thanksgiving...
We are giving away one $100 Thrive Market Gift Card! Stock up your pantry with yummy organic foods for the whole family. Order online and have it shipped directly to your doorstep! $100 Thrive Market Gift Card A better market offers food as it should be: made of real...
We are giving away one JBL Flip 4 Bluetooth Speaker. Take this speaker with you anywhere for high quality sound on the go – it's even waterproof! JBL Flip 4 Waterproof Portable Bluetooth Speaker Wirelessly connect up to 2 smartphones or tablets to the speaker and take...
We are giving away one WaterPik! Use this electric dental flosser to deep clean your teeth and make sure that your smile shiny white. Waterpik WP-663 Electric Countertop Water Flosser EASY & EFFECTIVE: The Waterpik Aquarius water flosser is the easy and most...