Ok, I've finally written down my recipe for Killer Cajun Shrimp – which is now the ONLY reason I would ever move back to California. (My other reason
is no longer valid!) Los Angeles is home to the famous, Killer Shrimp, a restaurant that only serves 1 dish…Killer Shrimp. But you do have choices. You can order Killer Shrimp with Bread, Killer Shrimp with Rice or Killer Shrimp with Pasta. Its a rich, divine broth spiced with the most 'killer' concoction of peppers and spices. Nestled in the broth is a mountain of massive shrimp that you peel, swirl in the brew and eat. Take a slice of french bread<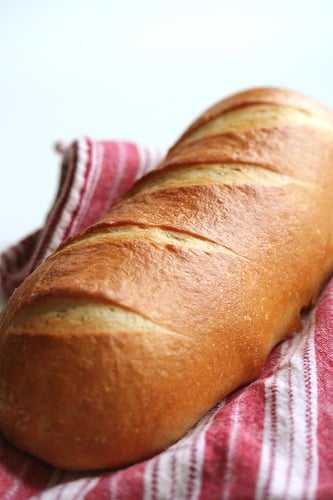 , dip it in the broth to mop up all the goodness. You don't want to leave one drop behind.
How spicy is it? Hmmm….how to describe? Well, its not sharp spicy hot like biting into a habenero, this type of spicy is the slow, complex, lingering heat that you don't feel until 10 minutes into the meal when you notice that your nose has little beads of sweat.
Beware: its highly addictive and this will probably affect you for the rest of your life. Be prepared to acknowledge and satisfy your cravings for the next 15 years. Keep lots of napkins nearby and don't expect to have table conversation. Have a few beers handy. If one of your guests don't like spice, well, then I suggest that they grab a Happy Meal on their way to your house. Don't be scared off by the bright red broth – the color doesn't come from the hot peppers, it comes from tomato paste. You can adjust the heat factor based on your taste by using less pepper (but why would you do that?!)
So, what would make this recipe even more KILLER? A version with Crawfish of course!
The recipe itself is very simple. Active time is only 15 minutes, but you'll want to simmer the concoction for 1 hour (or more if you have the time)

Yum
Killer Cajun Shrimp or Crawfish

Ingredients:

-- THE AROMATICS:

½ small onion, diced

1 celery rib, diced

5 cloves Garlic, minced

1 stick of butter

-- THE SPICES:

2 T Dried or fresh rosemary

2 tsp Dried thyme

1 T Dried fennel

2 tsp Celery seed

1 T Crushed red pepper flakes (less if you don't like it too spicy, you can always add more later)

2 tsp Black Pepper (again, use less if you're a wimp)

2 tsp kosher or sea salt

-- THE BROTH

1.5 quarts Chicken broth (low sodium and organic – because you already got a whole stick o' butter in it already, might as well add some sort of health benefit to this dish)

16 oz Bottled Clam juice

1/2 lemon (cut in half just throw both pieces in the broth)

3 oz. Tomato paste

1 cup White wine

-- THE SHRIMP OR CRAWFISH:

2 lbs Shrimp or 4 lbs Crawfish

Directions:

The Aromatics:
Fry onion, celery, garlic in the butter until fragrant and soft

The Spices:
Place all in a morter and smash (or just quickly run knife through the herbs on cutting board) You want the herbs to still stay whole, but you need to smash them to release its flavors. Add spices to the pot.

The Broth:
Add the broth ingredients, simmer on low for at least 1 hour. Taste, add more salt if needed
1.5 quarts Chicken broth (low sodium and organic – because you already got a whole stick o' butter in it already, might as well add some sort of health benefit to this dish)
16 oz Bottled Clam juice

The Shrimp or Crawfish:
Just before serving, add and simmer until done (how long depends on how big your shrimp or crawfish are. start with 3 minutes for Shrimp and 7 minutes for Crawfish. Check and adjust with more time if needed)

The Bread:
1-2 loaves French bread, sliced – you can make your own loaves very easily! I always have 2 loaves on hand, 9 times out of 10 we grab the pot with leftover broth and dig in with the second loaf