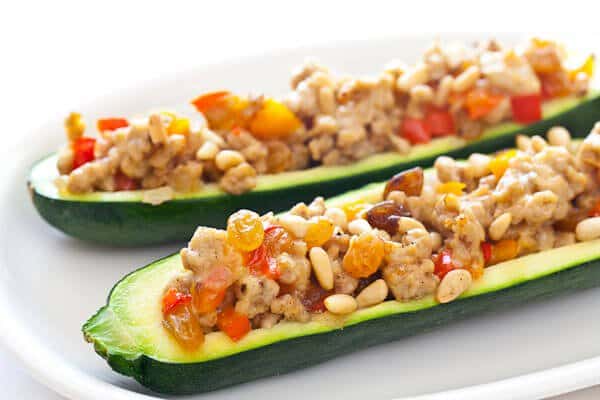 There are a gazillion things to do with zucchini, but making stuffed zucchini boats are has got to be the most fun way to eat, and that's by unanimous vote from all members of the family.
This recipe, ripped out from Family Circle magazine, has been tacked on my refrigerator for a few weeks and I finally got around to giving it a whirl. For our family of 4, we served these as the main course and threw in a salad to round out the meal. The raisins, cinnamon and pine nuts are what gives it a Middle Eastern slant. Substitute ground turkey or lean ground pork for the chicken (but pssst…the ground chicken is really good!)
How to Make Stuffed Zucchini Boats
First things first, you've got to make the boat. Slice each zucchini in half, lengthwise. Use a teaspoon and start at the big end of the zucchini. Carefully dig your spoon in without piercing the skin.
Now turn your wrist as if you were using a melon baller and scoop out just one section.
It should look like this.
Continue doing one scoop at a time – be gentle and don't worry about scooping every single bit out – just a good chunk of flesh. Don't worry about it being even either, we'll take care of that later.
Make sure you leave about 1/4″ of space all around. Careful not to go through the skin, otherwise your zucchini boat will sink (well not really, but….)
I've scooped 4 times. Now it's time to make the zucchini boat even.
Hold the zucchini boat and turn the spoon over and gently scrape to even out the hollow. Scrape out all the seeds.
It should look like this.
The key to this dish is to first microwave the zucchini with some water until it's almost cooked through. I used a glass Pyrex dish – microwave and oven safe so that i don't have to transfer dishes.
Cover with plastic wrap, leave an opening and microwave.
In the meantime, saute the bell peppers, onion, garlic, ground chicken. Add the cinnamon, salt and pepper.
Don't forget the raisins.
And of course the cheese. The cheese helps the mixture stick together as well as give it a great flavor.
Mix it all around and now the stuffing is done.
Fill the cooked zucchini with the stuffing.
Oh yum. Can you smell that?
Top with pine nuts and bake for 10 minutes.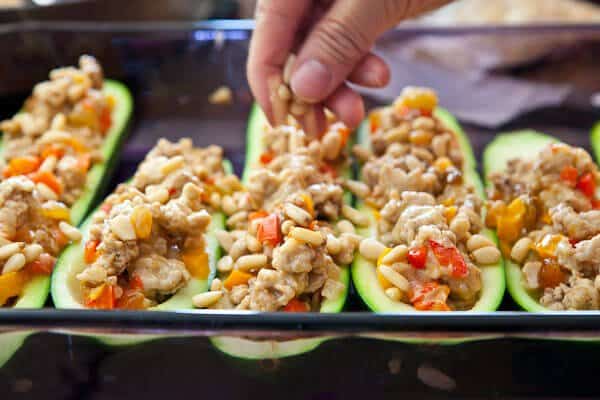 Please promise me you'll make this recipe!?? You'll love it. It's fun to eat (my kids just picked up the entire boat and ate by hand), savory from the cheese and chicken, sweet from the raisins and nutty from the pine nuts.
Middle Eastern Stuffed Zucchini Boats Recipe
Recipe adapted from Family Circle, August 2010 Issue
Ingredients
4

medium zucchini (about 6 ounces each)

1

tablespoon

olive oil

1

red or yellow bell pepper, seeded and chopped

1/2

medium-size onion, chopped

2

cloves

garlic, finely minced

1

pound

ground chicken

1/4

cup

golden raisins

1/2

teaspoon

salt

1/4

teaspoon

black pepper

1/4

teaspoon

ground cinnamon

1/2

cup

shredded cheddar cheese

2

tablespoons

pine nuts
Instructions
Cut zucchini in half lengthwise. Using a small spoon, carefully scoop out flesh and seeds, leaving a 1/4-inch-thick shell around edges. Discard flesh and seeds.

Place half of the zucchini, cut-side down, in an 11 x 7 x 2-inch glass baking dish. Add 1/2 cup water and cover with plastic wrap, venting one corner. Microwave 4 minutes. Place cooked zucchini in a large baking dish. Repeat with remaining zucchini.

Meanwhile, heat oven to 400 degrees F. In a large nonstick skillet, heat oil over medium heat. Add bell pepper, onion and garlic; cook 5 minutes, stirring occasionally. Crumble in chicken. Stir in raisins, salt, pepper and cinnamon. Cook 5 minutes, stirring occasionally. Turn off heat and stir in cheese.

Fill each zucchini half with about 1/3 cup stuffing, then sprinkle the pine nuts over tops. Bake at 400 degrees F for 10 minutes or until the zucchini is cooked through.
This is a sponsored review from BlogHer and Tamron.
Tamron AF18-270mm F/3.5-6.3 Lens Giveaway
Alright, my lens-lovin friends! What I love about this lens is that it's got the world's largest zoom ratio of 15X zoom, which means the lens covers an angel of view equivalent to that of a 28mm wideangle to a 419mm ultra telephoto with just one lens.
This is a great travel and food lens – because you can take a panoramic shot of the beach as well as closeup shots like the zucchini (take a look at the 2nd shot of finished dish).
The Tamron AF18-270mm F/3.5-6.3 Lens also has built-in vibration compensation – no tripod was used for the final shot, though I did use a tripod in the kitchen (I only have 2 hands!)
There's a lens for Canon as well as Nikon and retails for $629, but there's currently a $150 rebate so you can grab this baby for $479. More info on the lens at Tamron's site.
GIVEAWAY CLOSED — Congrats to Taylor of Taylor Made!