Oh yeeaaahhhh, its Friday and you know what that means on Steamy Kitchen! Spin to instantly win one of these four products to totally zen out at home.
The holidays can be stressful times, take a load off with these products and check out our DIY relaxation tips.
Self care is trending for a reason–its important to your well being! Take some time to yourself to sit back and relax.
Bobolyn Ceramic Electric Wax Melt Warmer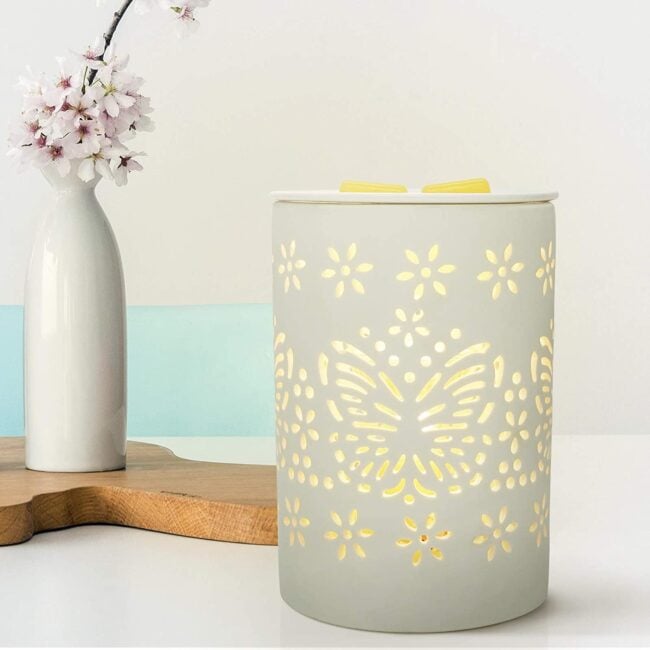 he carved ceramic with multiple artistic circles is eye-catching whether it's on or off, making it a perfect addition to any contemporary home, office, gym, spa or studio. Freshen up your room, home, office, garage, kitchen, basement, or any of your other frequently visited spots. Stop accepting bad smells and attack them head on with fragrance oils, beautifully smelling candles, & pressed wax cubes.
Timoo Dried Eucalyptus Branches
Pure natural eucalyptus leaves, hand-picked by farmers, naturally dried, retaining the original beauty of the eucalyptus. Dried eucalyptus leaves have calming and hypnotic effects, fresh air, and a nice smell to relax you and release stress.
The Connecticut Home Company Soft Fluffy Warm Shag and Sherpa Throw Blanket
Cuddle up with this ultra soft and cozy shag throw blanket; designed with silky soft shag and plush sherpa for the ultimate experience in luxurious comfort. Made with a dual layer of high quality, shag on the topside and thick sherpa on the underside; double the thickness and double the warmth.
XYCING Shower Head
Built with stainless steel panel water outlet, it's micro nozzle technology makes this high pressure booster shower head with steady water flow, up to 30% water saving and 200% water speed increasing beside ordinary shower heads.
Tips for Stress Relief
Zen Out Instant Win Game
Spin to win below!