Hello Steamy Kitchen! Welcome to our new and exciting Soup N Grill HotPot and Grill Giveaway!
Soup N Grill Version 2 is the perfect hotpot grill starter kit for you!
Read more about this Cuisinart Soup N Grill HotPot and Grill and enter below:
About the Soup N Grill HotPot and Grill Giveaway
New & Improved Version 2 and has a 2 IN 1 Function. This Indoor Electric Grill comes with multiple temperature control to separate heater levels for the indoor grill and electric pot. Individual knobs to control the Korean BBQ grill and table hotpot.

New indoor grill smokeless pot to cook all types of Asian Cuisines! Make Chinese soup, Japanese BBQ, KBBQ, the options are unlimited! Perfect as an indoor smokeless (start at low heat!) grill with a dual hotpot to accompany it! Bone, Herbal, Tomato, Chicken, Kimchi, whatever soup you decide. However the hotpot is not removable.

This non stick fast BBQ smokeless grill indoor electric grill has a Non-stick coating on cast aluminum grill pot and safe and easy to clean.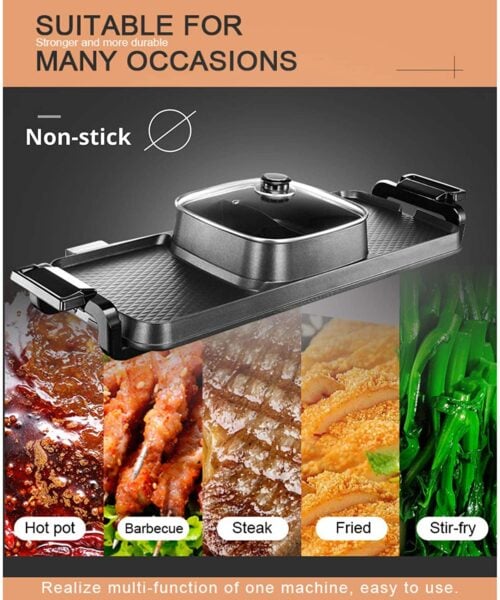 Automatic oil connection design, the frying pan oil is automatically dropped to the oil tank through the oil discharge port, which is easy and clean. Cast aluminum alloy material with environmental friendly and healthy non-stick coating, safe to use while maintaining its durability.
This hot pot with grill comes with free extra long chopsticks, BBQ tongs, 3 pack microfiber cloth, and 2 shabu shabu strainer scoopers! No need to buy any other add-ons, this hotpot grill combo is the perfect starter kit for families, friends, and loved ones. Cook together, eat together, and laugh together
Thank you for supporting Steamy Kitchen!
Starting your Amazon shopping at this link helps our small family business! We get a small commission from Amazon and it helps keep this site running free. Thank you! Jaden
Soup N Grill HotPot and Grill Giveaway!
Enter the giveaway below