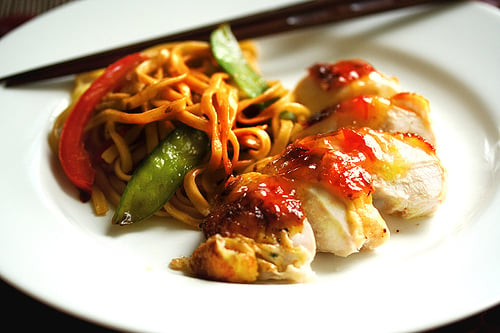 As you can tell, I'm going through a de-cluttering phase, basically purging my home because I know that in order to make room for shiny new crap I have to get rid of all the old crap and tschotchkes , which I think is Yiddish for "shit I don't need." Ok, really, my husband threatened to fwithhold all of my holiday gifts until I go clean my room and stop unnecessary purchases.
I don't label myself a compulsive shopper because that would require medication and an extra monthly expense that I'd just rather spend on alcohol. Let's just call it "model consumerist and creative cabinet stuffer."….continued…
The process of clearing house required prep work, so I consulted Martha Stewart, 5 books and purchased $189.22 of organizing supplies. I even bought an appropriate outfit to get the job done, because you can't accurately guess exactly where the crap ends and how long it will take. I wanted to be sure I was adequately dressed for sun, rain, sleet and the Armageddon. Don't look at me like that. It's a deep kitchen cabinet.
So how did I end up with so many uni-taskers like the dehydrator, chopper-bopper, swirly-twirly, sucker-pucker, pasta-prestos and a Pocket-Rocket? Well, I'll tell you exactly why. Because you never know what surprises life hurls through your window and smacks you in the ass. What if tomorrow a herd of elephants tornadoes through my home and the only thing that would save my family is salad shooter, rusty whisk and a snow globe!?
Sometimes I wonder why I consume myself in this just-in-case mentality, torturing my family and friends with fantastical scenarios. I guess when I was a kid, flipping between episodes of Inspector Gadget and McGuyver was an unhealthy thing.
Last month when my husband questioned why I needed a portable oven when I already have a new built-in GE Profile AND a $1300 micro-convection-halogen-triple-deluxe oven, I just stood there dumbly with my mouth wide open and my pouty bottom lip just dangling helplessly. My quick-wit and words failed me. Damn it! I had no good answer for the appliance redundancy and stomped away as my hair erupted into spontaneous flames. Common sense had won again. Curse you!
Before I give up my portable oven, I'm using it one last time for Roasted Chicken with Sweet Plum Sauce. Of course, I've included the recipe for making this in a regular oven.The sweet plum sauce can be found jarred at most supermarkets in the Asian section. It's sweet, sticky and highly addictive.
Oh, and the Pocket-Rocket <–pssst….that's not an immersion blender. That's duct taped under the dining table in case I'm stuck with boring guests and drab dinner conversation. Mighty fine entertainment on the evenings when I forget to drape a tablecloth over the glass. I guess that's where the nickname, "O"-stess with the Mostess came from!
***
Caption this photo:
I call this new cooking technique, "_______________"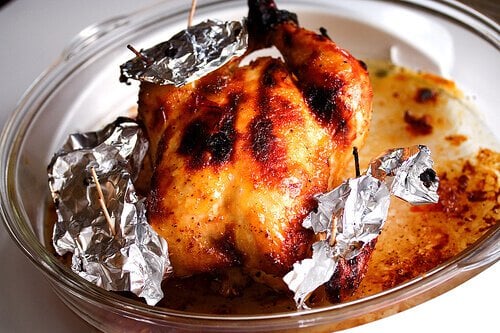 oh but this Roast Chicken with Sweet Plum Sauce is juicy…moist…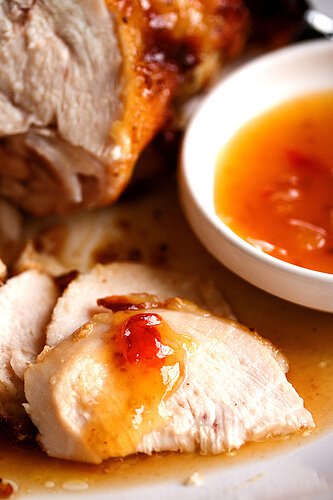 and for you roast chicken dark meat fans:
Roasted Chicken with Sweet Plum Sauce
Ingredients
4

pound

whole chicken

1/4

cup

sweet plum sauce

1

head

of garlic, halved

1

lemon, quartered

salt & pepper

3

tablespoons

butter, softened

kitchen twine

1/4

cup

sweet plum sauce to serve at table
Instructions
Rinse chicken and cut away extra fat. Pat dry with paper towels inside and out. Place in shallow baking dish and rub softened butter all over chicken, tucking just a bit under the skin of breast.

Season generously with salt and pepper outside and inside cavity.

Stuff with garlic and lemon. Tie legs of the chicken together, slather sweet plum sauce all over chicken.

Set breast side down. Let sit 30 minutes at room temperature. Preheat oven to 450F. Roast chicken 20 minutes. Turn breast side up, lower temperature to 375F and return to oven. Continue to roast another 60-70 minutes, brushing with additional sweet plum sauce towards the end. You may have to loosely tent with tin foil if skin is approaching maximum crispiness (i.e. don't burn the skin.)

Chicken is done when juices run clear as knife tip is inserted into chicken thigh. Thickest part of thigh without touching bone should register 170F. Let chicken rest 10 minutes before carving. Serve with a side of sweet plum sauce for dipping.

Note: During roasting, cover with foil if chicken skin starts to burn, using the _____ technique as illustrated above with bits of foil and toothpicks.
The side dish in the first photo is my 15 Minute Asian Noodles (see below)
***
15 Minute Asian Noodles
Chino Latino Wings
Chinese BBQ Pastries