Coconut Curry Shrimp with Coconut Rice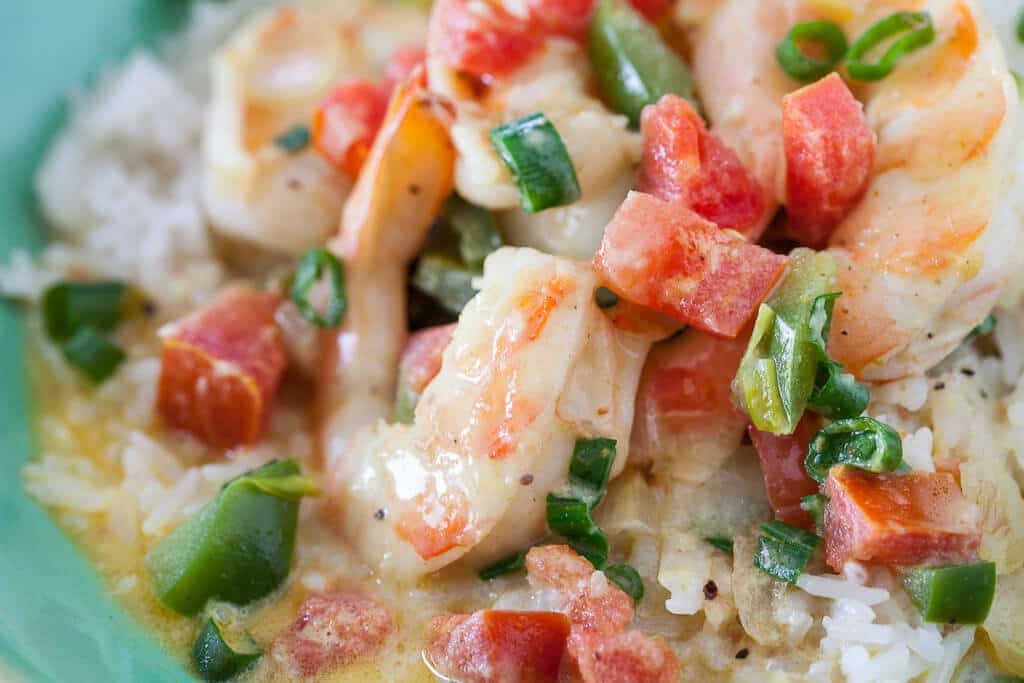 There isn't a curry that I don't like. Well, as long as the spice level is is not outrageously crazy! This is a seafood curry that I made recently on television, and it's a Caribbean Creole curry from the cookbook, Flavors of Belize (I made Beef Satay with Habanero Peanut Sauce from the book too).
I learned something new from cookbook author Tanya McNabb – Caribbean Creole is different from Louisiana Creole! Their cuisine features lots of seafood and use of coconut, so this recipe for Coconut Curry Shrimp with Coconut Rice is a perfect example of a Creolean speciality.
Not only does the recipe take only 20 minutes to make (the rice takes 20 minutes, the curry really only takes 7 minutes), but the spice level is mild, perfect for kids too. The curry flavor comes from yellow curry powder and ground green cardamom, so it's warming and comforting. Of course, you can add more chile sauce if you wish!
The shrimp can be replaced with sea scallops or chunks of fish (grouper would be fantastic). The television crew loved it so much that we ate the entire dish minutes after filming!
Coconut Curry Shrimp with Coconut Rice Recipe Video
***
Coconut Curry Shrimp with Coconut Rice
Servings: 4
Prep Time:20
Cook Time:30
Ingredients:
For the Coconut Curry Shrimp
1 pound shrimp, peeled and deveined
2 tablespoons coconut oil
2 cloves garlic, minced
1 teaspoon grated fresh ginger
1 onion, diced
1 cup green bell pepper, deseeded, diced
2 tomatoes, deseeded, diced
2 cardamom pods, crushed
1 tablespoon curry powder
1 teaspoon freshly ground black pepper
2 teaspoons hot sauce, to taste
2 cups seafood or chicken stock
2 cups coconut milk
2 tablespoons fresh cilantro, chopped
For the Coconut Rice
2 cups white rice
2 cups coconut milk
1 cup water
1 teaspoon salt


Directions:
To make the Coconut Curry Shrimp:
In a large cast-iron pan or frying pan over medium-high heat, heat the coconut oil. Add the garlic, ginger, onion, bell peppers and tomato. Cook until tender, about 5 minutes. Add cardamom pods, curry powder, black pepper and creole pepper sauce and stir well. Add shrimp and saute for 5 minutes. Remove shrimp and set aside. Add stock and coconut milk to sautéed vegetables and reduce over medium heat for approximately 10 to 15 minutes. Return shrimp to stock, add fresh cilantro and simmer for an additional 5 minutes. Serve on a bed of freshly cooked coconut rice.
To make the Coconut Rice:
In a large saucepan over high heat, bring rice, coconut milk, water and salt to a boil, cover and simmer for 20 minutes or until liquid is fully absorbed and rice is fully cooked.