Kale Salad with Mushroom Omelet
What you'll learn:
A healthy, hearty salad fit for a meal with warm mushroom omelet, crunchy walnuts, salty shavings of parmesan cheese
How to transform tough, rough, thick raw kale into soft, buttery lettuce-like texture
How to customize salad with different ingredients
I've just gotten back from a 48 hour jaunt to Los Angeles to shoot a video for my YouTube channel (Dark Chocolate Sea Salt Cookies!) – it's currently in the magical hands of a professional video editor over at Kin Community.
It's fun what I can squeeze into a L.A. trip – my must-do's include staying at the Hotel Erwin right in the heart of Venice Beach – the muscle men, surfers, roller bladers, strange cast of characters, and the gorgeous sunset are free entertainment outside my window. Another must is the downstairs restaurant, Barlo and their breakfast menu which includes Squash Benedict – "poached eggs|Cajun thyme squash pancake|avocado|hollandaise."
Around the corner and across the street is Hama Sushi, one of the rare L.A. restaurants that have remained in business since I was a Californian (Go Bruins!) over 20 years ago. I managed to snag Gaby of What's Gaby Cooking for a spontaneous sushi dinner.
The very last "must" is embarrassingly at the airport. I know, I know, it sounds strange. But if you've ever flown Delta in/out of LAX, you might recognize Lemonade, a deli that I wish was in every single major airport. Heck, I wish I had one in my hometown. Calling itself "Seasonal Southern California Comfort Food," they feature nearly 20 super-fresh salads at the bar. Some of my favs:  kale salad with mushrooms and kumquat vinaigrette | Butternut squash, radicchio, scotch bonnet sauce, sriracha pepitas | Sun chokes, fennel, orange, pickled red onions, hazelnut. Check out their menu.
I grab a to-go box and have them fill it up with 6 different salads, order a Watermelon-Rosemary Lemonade and get on the plane. I'm in my own little paradise in seat 19C.
When I opened Joe Yonan's new cookbook, Eat Your Vegetables: Bold Recipes for the Single Cook, and spied the Kale Salad with Miso Mushroom Omelette, I immediately thought, "LEMONADE!" This is just one of those salads that reminds me of the freshness and creativeness of the deli.
Oh gosh, I hope Joe has been to Lemonade before, otherwise would he be offended that I associated airport food with him?!
Secret Kale Tip!
I've modified his recipe to suit our family's taste and size (serves 4 instead of 1) – and I urge you to try this salad with a new technique that I learned from Joe….massaging the kale.
Yes. MASSAGE YOUR KALE.
It transforms an otherwise tough, rough, chewy raw leaves into soft, silky, pleasant greens. Watch the video to see the difference!
Kale Salad with Miso-Mushroom Omelet Recipe Video
***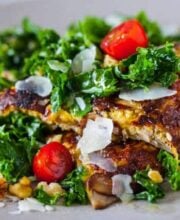 Kale Salad with Mushroom Omelet Recipe
Servings: 5
Prep Time:10 minutes
Cook Time:8 minutes
Ingredients:
FOR THE SALAD
1 tablespoon miso paste (or 1 teaspoon soy sauce)
4 eggs
1 tablespoon olive oil
2 cups chopped mushrooms of your choice
8 big handfuls chopped kale, tough stems discarded
1/2 teaspoon kosher salt
1/3 cup unsalted chopped raw pecans or walnuts
3 ounces grated Pecorino Romano cheese



FOR THE LEMON-CHILE VINAIGRETTE: (makes about 1 cup)
1 clove garlic, finely minced
1/2 teaspoon kosher salt
1/3 cup freshly squeezed lemon juice
1 teaspoon chile oil or chile sauce (optional)
2 tablespoons extra virgin olive oil
2 teaspoons Dijon mustard
2 teaspoons honey
freshly ground black pepper


Directions:
1. Make the salad dressing by combining the vinaigrette ingredients in a jar with a tight fitting lid (like a mason jar) and shake well to combine. Taste and add more salt as needed.
2. Whisk the miso paste with the eggs. Heat a frying pan over medium-high heat and swirl in the olive oil. Add in the mushrooms and sauté for 2 minutes, or until mushrooms softened. Add in the egg and turn the heat to medium. Let cook for 2 minutes. Cover and let cook for an additional 1-2 minutes or until eggs are set.
3. While eggs are cooking, place the kale in a large bowl. Sprinkle with salt. Using massaging motion, rub the kale leaves together to break up and soften the kale.
4. When ready to serve, slice omelet in strips. Toss kale with some of the dressing (I used about 1/4 cup of the dressing), chopped nuts and Pecorino Romano cheese. Serve with omelet.
Reprinted with permission from Eat Your Vegetables by Joe Yonan, copyright © 2013. Published by Ten Speed Press, a division of Random House, Inc. Food Photography credit: Matt Armendariz © 2013