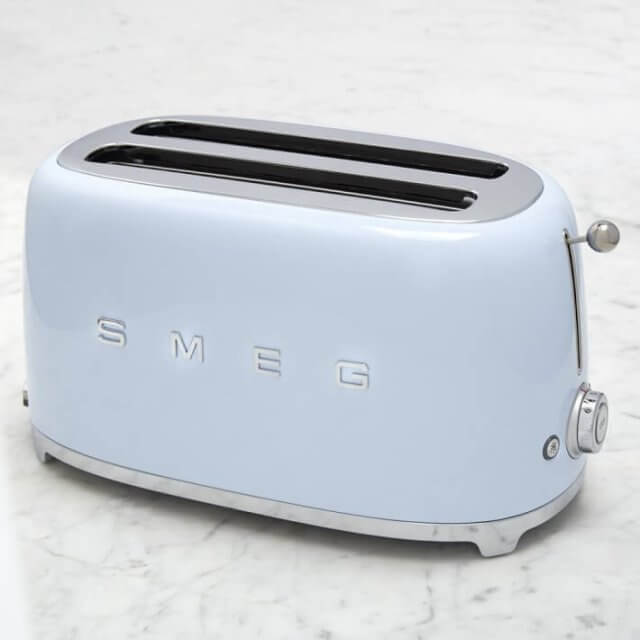 Smeg Toaster Review
I can't remember the last time I had a real toaster – I think it's been at least 22 years. In the past, we've used a toaster oven. But when we remodeled our kitchen, I didn't want to clutter my counter top with an ugly black toaster oven. So, we've been without, and making toast the most inefficient way possible, by sliding our rack to the top position and using the broiler function. 50% of the time, I burn my toast and the burnt smell lingers in the house for days!
Smeg sent a toaster for us to review – this toaster is a beautifully designed 50's retro style. It's won the coveted Good Design Awards in 2014 by The Chicago Athenaeum: Museum of Architecture and Design and iF Design Award in 2015.
This is a toaster that I'd be proud to have in my beautiful kitchen. It features a powder coated steel body, polished chrome base, stainless steel ball lever knob, and a backlit chrome knob.
Every aspect of making toast has been well thought out. the stainless steel knob slides effortlessly, the finished toast pops up quietly. The slots are extra wide, so that you can fit thicker pieces of bread or a bagel in perfectly. We love the removable stainless steel crumb tray for easy cleanup and the ability to hide the cord when not in use.
These days, it may seem luxurious to own a one-job appliance, but when the appliance does that one job so well, it's worth it. The Smeg Toaster browns bread evenly, from edge to edge. There are 6 browning levels and even a "defrost" setting in case you're going from freezer to table. We often buy a bag of bagels, freeze half to make it last longer.
With 6 fun colors to choose from, you are sure to find one that matches your decor.

About Smeg
The award-winning Smeg company was founded in 1948 by Vittorio Bertazzoni, Sr. from Guastalla, a town near the city of Reggio Emilia in Northern Italy. They specialize in kitchen appliances, all with design as a main focus alongside superb functionality.
Smeg Toaster Giveaway
Giving away 1 Smeg Toaster