Amazon Fire Tablet Giveaway
Disclaimer: Products are provided to Steamy Kitchen for a thorough, honest review. We do not receive payment for reviews. Each review takes 5-10 hours of hands-on testing, writing and editing.
Happy Summer!!
Congrats to Tammy Randolph for winning our last Amazon Fire Tablet giveaway! (here's our full list of winners from every single giveaway we've hosted)
We're giving away our third Amazon Fire Tablet this year. The Tablet is 7-inches, includes 8 GB of storage and 1.3 GHz quad-core processor (it's fast!)
This new version of Fire includes Alexa, the cloud-based "assistant" to ask for the latest news, the weather outside or to play music.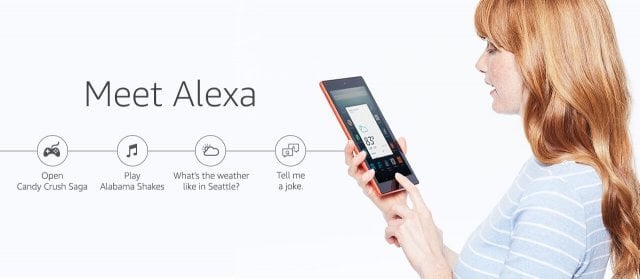 With the Fire, you can watch thousands of shows from HBO, Netflix, Amazon Prime, Hulu and even ESPN. Listen to your favorite music from Pandora, or audiobooks from Audible.
Of course, from the store, you can download games galore (we love Clash of Clans and SpellTower).
Thank you for supporting Steamy Kitchen!
Even if you don't buy the product shown, starting your Amazon shopping here helps our small family business. We get a small commission from Amazon that helps keep this site running free!
Amazon Fire Giveaway
Giving away one Amazon Fire 8GB tablet (or an Amazon gift card for the amount of the tablet).
---
Giveaway Ends: 2017-09-28
Number of Prizes Available: 1
Max Entries Per Day: 1
** Please add hello@steamykitchen.com to your contacts to help prevent email notifications from going into spam folders.
Never miss another Steamy Kitchen Giveaway!
Subscribe to our Giveaway Notifications
to keep up to date on all of our giveaways! We will even throw in a special gift when you confirm your subscription!
List of
Past Winners.
DISCLAIMER & OFFICIAL RULES: The giveaway product is provided by the sponsor of the giveaway and will be shipped from them directly. No purchase necessary to enter or win. Sweepstakes is open only to who are 18 years of age at time of entry. Steamy Kitchen and its sponsors only ship physical prizes to United States and to Canadian addresses. However, Steamy Kitchen reserves the right to provide an Amazon gift card for the value of the prize in lieu of shipping physical product due to shipping costs and logistics. Steamy Kitchen assumes no responsibility for late or misdirected entries due to SPAM, technological, or e-mail filtering issues or for prizes lost in transit. For this giveaway, entrants can enter the designated number of times per e-mail address per day. The use of any system, robot, agent, or software to automatically submit entries in connection with this Giveaway is prohibited. See rest of the Official Giveaway Rules.