This is a Cusibox Blender Review, including both PROs and CONs. – jaden
Cusibox Blender Review
The Cusibox professional blender features a 1,450 watt motor and a 68-ounce capacity container. It is sold by Tobox, a retailer who has direct relationships with kitchen supply factories, to bring you quality products without the middlemen mark-up.
This blender sells for just over $100 on Tobox.
Just for size comparison, here is the Cusibox next to my Vitamix (1500-watt) blender. The base is similar in size (the Vitamix is heavier).
Both units have similar metal drive systems that connect the base to the blade.
The Cuisibox blade is affixed in the blender – which is a good thing – I find that blenders with removable blades do not last and leak often. The blade is sharp, with 2 of the blades serrated for better cutting.
The lid fits tightly on the container. I like that it is thick and fits snug, to prevent spilling and leaking while blending.
A handful of frozen blueberries, peaches and a little water.
It's a powerful blender with 1450 watts.
After 30 seconds, a perfect smoothie.
Cleanup is simple.
Add water and a drop of liquid dish soap. Turn on for 15 seconds.
Completely clean!
It's a good blender for smoothies, or blending anything soft. I had some trouble with making nut butters and got uneven grind of coffee beans. The BPA-free container is dishwasher safe. So, if you're just blending fruits and veg for your morning smoothies, it's a good blender. I do like the all-metal drive and stainless steel blade.
Tobox – get kitchen products up to 40% cheaper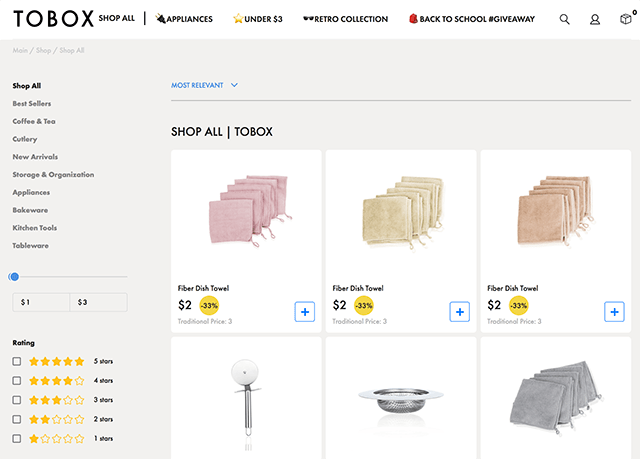 What I do like Tobox for is the little kitchen stuff. They have a section on their site for products under $3. Take a look! They also have a cute selection of retro designed toasters that are super cute.
Cusibox Blender Giveaway