This is a Hestan Nanobond Essential Pan Review, including both PROs and CONs (and a giveaway at the end) – Jaden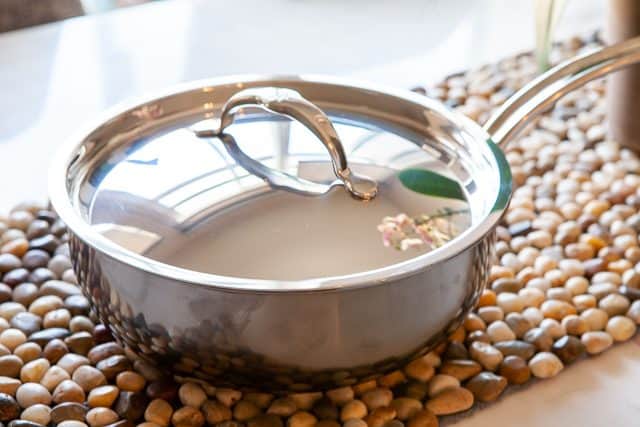 Hestan Nanobond Essential Pan Review
We've been cooking with the Hestan Nanobond Essential Pan for the past 3 weeks. It's appropriately named…as I found myself reaching for this pan over all my other pieces of cookware. The size and shape of the pan makes it suitable for braising pork, making clam chowder, sautéing green beans, cooking carne asada and even a stir-fry for 2.
3.5 -Quart Hestan Nanobond Essential Pan:
10″ diam., 3 1/2″ high (4 3/4″ high with lid).
5-qt. cap.
4 lb. 9 oz. with lid.
5-Quart HestanNanobond Essential Pan:
11 1/2″ diam., 3 1/2″ high (5″ high with lid).
5-qt. cap.
4 lb. 9 oz. with lid
I have the 3.5 Quart HestanNanobond Essential Pan:
What is Hestan Cookware?
The Hestan NanoBond surface is stainless steel bonded with thousands of titanium and chromium-based alloys. There are no chemicals used in this cooking surface. That means a cooking surface that's environmentally friendly and incredibly durable….4x harder than stainless steel. The cookware is so innovative, that Hestan owns 14 global patents for the fit and finish.
Cooking with the Hestan Nanobond Essential Pan
Tonight, we're making carne asada tacos for me and my son.
I like the long, ergonomic handle. It fits my hand well.
Steak browns evenly. I really like the shape of the Essential Pan, the high sides allow you to stir, flip, toss your food without it spilling.
The Nanobond technology provides a very dense, extremely durable cooking surface. Food doesn't stick. You can use metal utensils.
Since I also have the Hestan Frying Pan, I'll show you how amazing this surface is. I'm warming up tortillas with cheese. Even if I sprinkle shredded cheese on the surface….
….it releases cleanly.
Tacos for my son….
And for me….
Cleaning the Hestan Nanobond Essential Pan
Just a regular scrubby side of the sponge and dish soap.
I did find that after multiple uses of the pan, I needed to use Barkeeper's Friend (liquid version, not the powder) to keep the surface shiny and new. Hestan also includes their own special cleansing polish, which works amazing.
One of my favorite features of the pan
The inside rivets are flush to make scrubbing the pot easier.
However, the outside of the pan, near the handle is really difficult to clean well, especially when grease and food bits get stuck between the pan and the bottom of the handle.
Does it scratch?
The Hestan cookware that gets the most abuse in my kitchen is the Hestan wok. Because of the nature of wok cooking, lots of movement in the pan, lots of moving the wok on and off the cooking grates, and well…because I'm also kinda hard on my cookware, I thought I'd show you comparison between two woks.
My old kitchen has heavy cast iron grates that tend scratch up all cookware.
This is the bottom of an almost $300 wok that's 8 months old.
This is the bottom of the Hestan wok that is also 8 months old….but used more often. A few minor scratches, but barely noticeable.
Both pans were cleaned with Barkeeper's Friend (liquid version, not the powder) right before I took the photos.
Hestan is expensive
Hestan cookware is sold at Williams Sonoma. It's pricey. The 10-piece set is $1,500 on sale (though the price is comparable to other high-end stainless steel cookware, like All-Clad d5 or copper lines.)
The 3.5 quart Hestan Nanobond Essential Pan with lid is on sale right now for $299. The larger 5-quart pan is $399. I have the 3.5 quart pan, and I found it the perfect size.
There is a lifetime warranty, and the cookware is made in Italy. I'll add one more PRO to this cookware – it's very lightweight. You can use a pan even this large with just one hand.
If I were to just get ONE Hestan cookware piece, it would be the 3.5 quart Hestan Nanobond Essential Pan. It's such a versatile size and shape. I've been using Hestan cookware line for over a year now. The pans still look brand new.
This was my first piece, a frying pan, 1 year old (and used weekly). It still looks brand new. Note that I always hand-wash my cookware, and also use the Hestan polishing paste about once every few weeks.
You can purchase Hestan cookware at Williams Sonoma or direct from Hestan's website.