NutriBullet NBR-1201 12-Piece High-Speed Blender/Mixer Giveaway
Effortlessly pulverizes fruits, vegetables, and superfoods for nutritious protein shakes and green smoothies
High-torque power base and 600-watt motor
Powerful, patented stainless steel blade design with cyclonic action
Includes power base, 1 tall cup, 2 short cups, 1 flat blade, 1 emulsifying blade, 2 re-sealable lids, pocket nutritionist and manual with recipes
Includes 1-year warranty and access to hundreds of smoothie recipes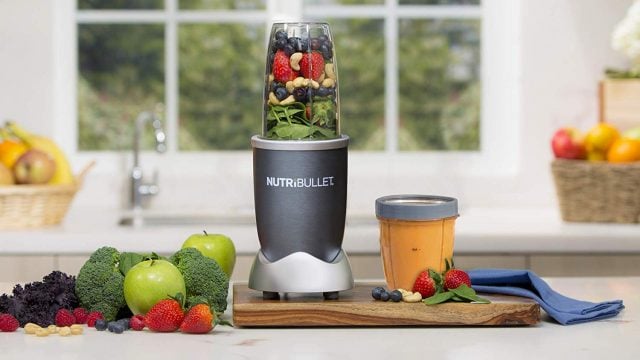 The Original Nutrient Extractor
The fastest & easiest way to get your daily servings of fruits & vegetables.
What is Nutrient Extraction?
Unlike juicers and blenders, Nutribullet nutrient extractors break down the cell walls of fibrous plant foods, releasing important vitamins and minerals contained within. At the same time, they reduce beneficial fiber, pulp, seeds, and skins into a smooth-as-silk texture, delivering food to your body in an easily digestible, easily absorbable form. More than juicing, more than blending, and more than chewing, nutrient extraction allows you to receive the highest degree of nutrition your food has to offer.
-Cracks through fibrous stalks.
-Bursts open seeds.
-Rips apart pulp.
-Shreds through the skin of fruits & vegetables.
ast Prep Time
Prepare a balanced meal with perfect nutrition in seconds. Ideal for those with busy lifestyles.
Powerful Motor With Cyclonic Action
Breaks down even the toughest of ingredients for the silkiest smoothies.
Hassle-Free Cleanup
Simply twist off the blade and rinse with soap and water. The cups are top rack dishwasher safe!
NutriBullet NBR-1201 12-Piece High-Speed Blender/Mixer Giveaway
---
Giveaway Ends: 2019-09-30
Number of Prizes Available: 1
Max Entries Per Day: 1
** Please add hello@steamykitchen.com to your contacts to help prevent email notifications from going into spam folders.
Never miss another Steamy Kitchen Giveaway!
Subscribe to our Giveaway Notifications
to keep up to date on all of our giveaways! We will even throw in a special gift when you confirm your subscription!
List of
Past Winners.
DISCLAIMER & OFFICIAL RULES: The giveaway product is provided by the sponsor of the giveaway and will be shipped from the sponsor directly. No purchase necessary to enter or win. Giveaway is open to people who are 18 years of age at time of entry and open to people worldwide. Steamy Kitchen and its sponsors only ship physical prizes to United States addresses. However, Steamy Kitchen reserves the right to provide an Amazon.com or Amazon.ca gift card for the value of the prize (at time of publishing) in lieu of shipping physical product due to shipping costs and logistics, especially for our international winners. Steamy Kitchen assumes no responsibility for late or misdirected entries due to SPAM, technological, or e-mail filtering issues or for prizes lost in transit. Winner will be notified by email, and must respond within 5 business days, otherwise winner will forfeit the prize and another winner may be drawn. For this giveaway, entrants can enter the designated number of times per e-mail address per day. The use of any system, robot, agent, or software to automatically submit entries in connection with this Giveaway is prohibited. Winners of giveaways are published on Steamy Kitchen, and winner's name and city/state/country are announced in Steamy Kitchen email newsletters. See rest of the Official Giveaway Rules.