We are excited to be giving away a Sifely Keyless Entry Door Lock! This door lock allows you to share a passcode with someone that needs to enter a house. It will create a password for you to share with that person and then you can send it to them via text message and grant them access from anywhere.
Sifely Keyless Entry Door Lock
🔓【Rental Hosts & Homeowners】Sifely smart door lock is a great solution for airbnb short-term rental hosts, rental property management, and self-housing resident. Generate passcode remotely and share it to your visitors.
🔓【Multiple Ways To Unlock】Advanced 5-in-1 Keyless Entry Smart Door Lock: Fingerprint + Code + Fob + Smartphone + Key.
🔓【Easy To Install】Easy to install in minutes with just a Phillips screwdriver by following short installation video. No Drills Needed. No Locksmith Needed. Door handle is reversible for both left and right handed door.
🔓【Remote Control】Paired with Sifely WiFi Gateway (Optional Add-on, Sold Separately), you can lock/unlock your smart door lock anywhere anytime, set up codes remotely and check real-time access logs.
3rd Gen Fingerprint Access Technology
The Sifely Door Lock uses new technology to identify your fingerprint and allow only you access into your home. Everyone's fingerprint is unique and no one can steal it from you. A scratch proof, dust proof and waterproof sensor is applied to make unlocking easy and secure. Unlimited fingerprints can be enrolled!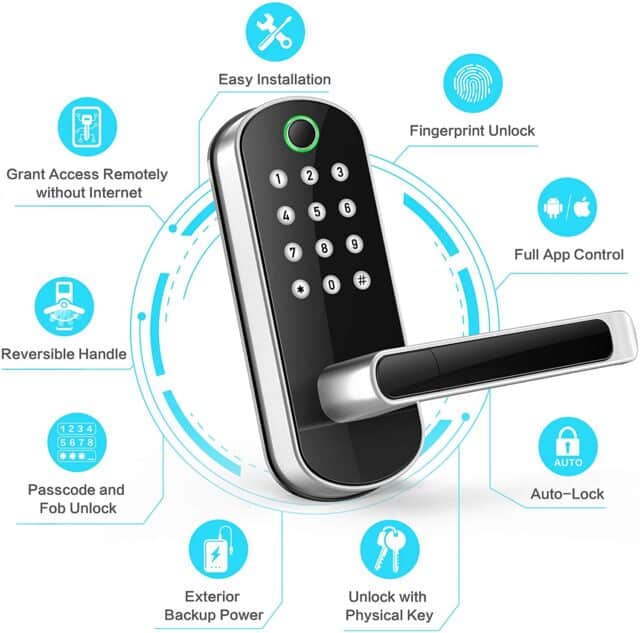 Passcode Access
There are five types of passcode can be generated remotely without internet: Timed, Permanent, One-time, Cyclic and Custo. It is a great solution for rental property management, airbnb short-term rental hosts, and self-housing resident. No needed to exchange physical key present at the property. Save you tons of time!
Sifely provides you with a secure smart lock solution for your family. Replacing your traditional keys with keyless entry by code, fingerprint, fob or smart phone app. Best of all, all door locks come with 2 physical lock keys, just in case you aren't entirely ready to ditch your door keys!
Thank you for supporting Steamy Kitchen!
Starting your Amazon shopping at this link helps our small family business! We get a small commission from Amazon and it helps keep this site running free. Thank you! Jaden
Enter the Giveaway below.