We are giving away a Gysker Telescope! Explore all of the stars and the moon with this telescope. It even has a smart phone adapter so that you can view and take pictures of what is in the sky.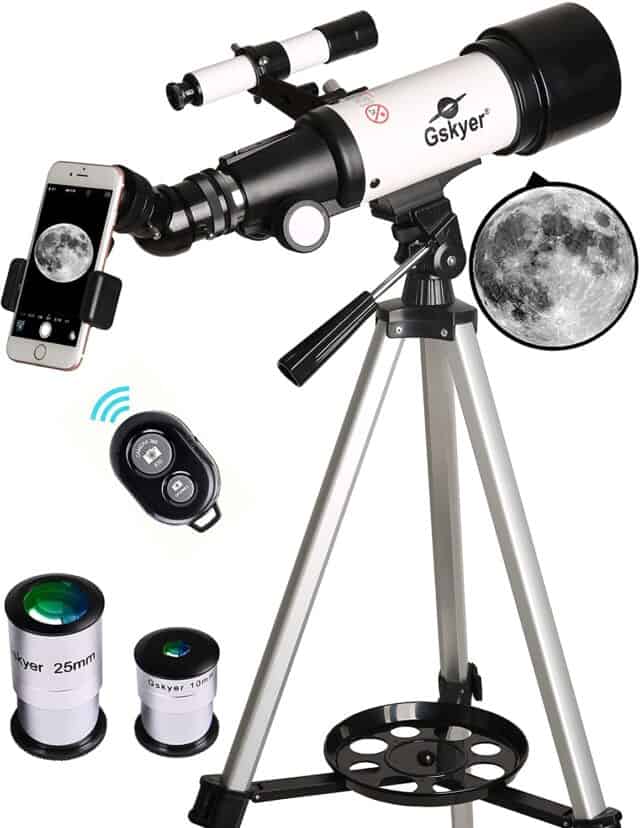 Gskyer Astronomical Refracting Telescope
Quality Optics: 400mm(f/5.7) focal length and 70mm aperture, fully coated optics glass lens with high transmission coatings creates stunning images and protect your eyes. Perfect telescope for astronomers to explore stars and moon.
Magnification: Come with two replaceable eyepieces and one 3x Barlow lens.3x Barlow lens trebles the magnifying power of each eyepiece. 5×24 finder scope with mounting bracket and cross-hair lines inside make locating objects easily.
Wireless Remote: Free includes one smart phone adapter and one Wireless camera remote to explore the nature of the world easily through the screen and take amazing celestial images.
Adjustable Tripod: This telescope allows for many different viewing positions with a adjustable aluminum alloy tripod and a carry bag, the telescope and tripod can fit inside the bag for easy traveling and storage.
A 3x Barlow lens, 25 mm, 10 mm eyepiece and finderscope all offer varying levels of magnification. The magnification from 16x to 120x and provides clear, up-close images of birds, wildlife, distant treetops, as well as the moon, planets, and some star arrangements. It comes with everything you need to get started with astronomy.
You can see the sky right on your phone and record the beauty! All you have to do is:
Open the clip and secure the phone, then align the phone camera and adapter.
Lock the eyepiece into the threaded sleeve, and tighten the threaded sleeve to the bracket.
Press the eyepiece into the Bottom of the focuser.
Adjust focuser to get a clear image. Use the zoom function to enlarge the image.
Lenses are easily swapped, and the focused uses a standard rack-and-pinion system, allowing fine-tuning to produce a vibrant image. Wide angle and latest generation of HD Gskyer eyepiece are more comfortable to see objects without eye fatigue and dizziness.
Thank you for supporting Steamy Kitchen!
Starting your Amazon shopping at this link helps our small family business! We get a small commission from Amazon and it helps keep this site running free. Thank you! Jaden