Easy roasted cauliflower "steaks" take center stage in this healthy Buddha bowl recipe with grilled fish, mixed greens, and a simple dill dressing served over lemony couscous.
Buddha Bowl – say what?
When it comes to eating sustainably and colorfully, we've really embraced preparing simple, nutritious one-bowl meals.
Essentially, a Buddha bowl is a one-bowl arrangement of nutritious foods. The term comes from the appearance of the bowl, packed so full of goodness that it resembles the rounded belly of Buddha!
It starts with a base of grains or greens. Then you scoop in two big handfuls of vegetables. Add in a lean protein. Finish it with a savory sauce or dressing plus a sprinkle of crunch.
Use this handy breakdown: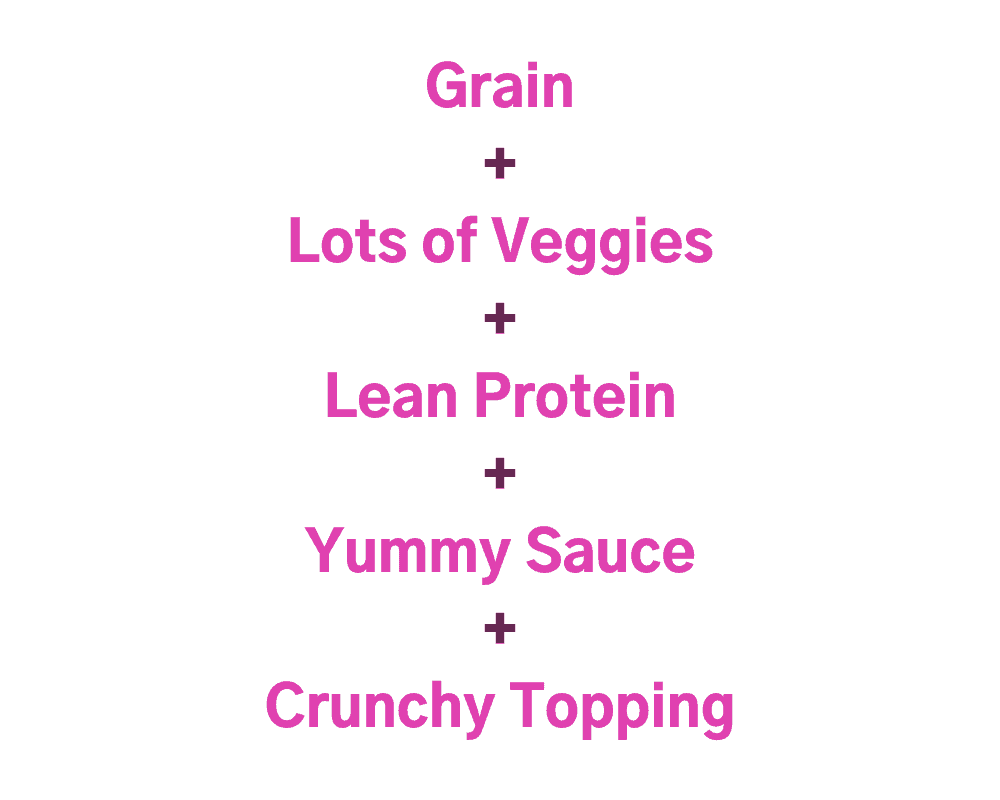 Which brings us to this Roasted Cauliflower Buddha Bowl
For GRAINS: Couscous serves as a soft and bouncy, pasta-like background for the roasted cauliflower to shine in all its nutty bittersweetness. You also can't go wrong with rice, or a similarly tender grain.
For VEGETABLES: Consider yourself lucky, because cauliflower is a vegetable, after all. We'll teach you how to make it! In addition, try throwing some mixed salad greens, in all their rawness, to contrast with the drier cauliflower.
For PROTEIN: Reel in any fillets of fish you have on hand, whether they're leftovers, fillets you can easily cook, or simply canned sardines. Lemon is the leading flavor here, so any of the many other protein sources that get along with it are fair game.
For SAUCE: We'll teach you how to make a creamy dill dressing that brings the whole Buddha bowl together, as well as a non-creamy version that's just as easy.
For CRUNCH: Keep it simple with some chopped toasted almonds! Or pick toasted croutons if you like–it's hard to mess this part up.
A preview of this Buddha Bowl:
Let's talk about Couscous.
In the wild, you'll most likely run into three kinds of couscous:
Moroccan – The smallest in size, this type cooks in about 10 minutes. You might see it labeled "instant."
Israeli – Pellets the size of peppercorns, these usually take more than twice the time to cook but can be shortened if you toast them first.
Lebanese – Often the size of a pea, these take the longest to cook.
A quick comparison of finished couscous dishes:
Relax – I'm going to go easy on you today! For the sake of ease and simplicity, we'll default to Moroccan couscous.
See also: This quick and easy recipe for Israeli couscous
Whichever variety you go for, use 1 1/4 times the amount of water, or broth, for every cup of couscous.
Start it off like you would pasta; get the water boiling, add some salt, but just a pinch or two, and add the couscous. After that, you'll just cover the pot and remove it from the heat.
Let the couscous steam until tender. Add a little water if it's getting too dry before it's even done!
When done, mix in some lemon zest if you wish. Hint: that lemon will come in handy for the rest of this recipe!
Roasting the Cauliflower
Take the whole head of cauliflower and slice it lengthwise through the core to make a couple of large slabs. Let's go ahead and refer to them as "steaks."
You'll brush them with oil, lemon juice, garlic, red pepper flakes, and whatever else you like. Keep it to stuff that doesn't burn too easily! Feel free to coat the steaks fully now, or brush more on halfway through cooking time.
Roast at 400 degrees F until tender, 30 to 35 minutes, while you move through the rest of the recipe.
Finally, the Creamy Dill Dressing.
Remember those supporting characters for the cauliflower? It's encore time! We're bringing most of them back to make this light but creamy yogurt-based dressing. Simply combine:
1/2 cup plain yogurt
1 clove garlic, minced
2-3 tablespoons chopped dill
Squeeze of lemon juice
3 tablespoons olive oil
Salt and fresh black pepper
Play with any herbs you prefer – basil, chervil, chives, cilantro, or parsley, anyone? – and feel free to add heaps more! Keeps in the fridge for 2-4 days.
But if you're not digging dairy or eggs right now, don't worry. For a quick and easy vegan version, try this formula:
Handful of dill, chopped
1 garlic clove, roughly chopped
1 1/2 tablespoons apple cider red or white wine vinegar
1 teaspoon Dijon mustard
5-6 tablespoons mild olive oil
Salt and fresh black pepper
Pinch of sugar if needed
See also: Four Homemade Salad Dressings
Inspirations for this Cauliflower Buddha Bowl recipe
Grains:
Veg:
Roasted Cauliflower Buddha Bowl Recipe with Dill Dressing
Easy roasted cauliflower "steaks" take center stage in this Buddha bowl recipe with grilled fish, mixed greens, and a simple dill dressing served over lemony couscous.
Ingredients
For the Vegetables:
2 1/2

tablespoons

cooking oil

1

tablespoon

lemon juice

2

cloves

garlic, crushed

1

pinch

red pepper flakes

Sea salt and freshly ground black pepper

1

large

head cauliflower

stem on, sliced lengthwise into 4 "steaks"

2-4

cups

mixed salad greens

or other raw vegetables
For the Grain:
2 1/2

cups

water

or broth

1 1/2

cups

Moroccan couscous

Salt to taste

Lemon zest

optional
For the Dressing:
1/2

cup

plain yogurt

1

clove

garlic, minced

2-3

tablespoons

chopped dill

Squeeze of lemon juice

3

tablespoons

olive oil

Sea salt and freshly ground black pepper

Water as needed
For the Crunch:
½

cup

toasted almonds, chopped

or slivered almonds
Instructions
Preheat the oven to 400 degrees F (200 degrees C).

Mix oil, lemon juice, garlic, red pepper flakes, salt, and pepper together. Coat each cauliflower "steak" on both sides with the mixture. Transfer steaks onto a lined baking sheet.

Roast in the preheated oven until golden and fork-tender, flipping halfway, 30 to 35 minutes.

Meanwhile, bring water to a boil in a pot and add salt. Stir in couscous, cover with a lid, and remove pot from heat. Let steam until couscous is tender, 5 to 10 minutes. Fluff grains with a fork if they stick together and season with lemon zest if desired.

Whisk the dressing ingredients together, adding 1 tablespoon of water at a time to thin it out into a pourable consistency.

To assemble the bowls, divide couscous among 4 large bowls. Top each with a cauliflower steak, a fillet, and a handful of greens. Drizzle dill dressing over the bowl and top with almonds. Garnish with any extra dill or lemon zest.
Notes
Refrigerate dressing in an airtight container and use within 2-4 days.
Nutrition
Calories:
581
kcal
Carbohydrates:
68
g
Protein:
18
g
Fat:
28
g
Saturated Fat:
3
g
Cholesterol:
4
mg
Sodium:
98
mg
Potassium:
943
mg
Fiber:
10
g
Sugar:
6
g
Vitamin A:
273
IU
Vitamin C:
108
mg
Calcium:
156
mg
Iron:
2
mg