We are excited to be giving away one STRATA Men's Golf Club Set Giveaway! Have fun spending the day on the beautiful golf course and playing golf with friends
STRATA Men's Golf Packaged Sets
Woods: Lightweight 460cc forged driver that has a large sweet spot, a titanium head, and provides more forgiveness to help you hit it farther off the tee. An oversized 3 wood is forgiving with a more aerodynamic head shape for long, high flying shots
Hybrid: A 5 Hybrid is a great alternative to difficult long irons that gives you more confidence on a variety of shots
Putter: A mallet putter with alignment to help give you incredible accuracy
The Strata 12 piece set is designed for maximum performance right out of the box; The set includes: Driver, 3 Wood, 5 Hybrid, 6 9 Iron, PW, Putter, Stand Bag and 2 Head covers
Irons/Wedge: Stainless steel irons (6 9 irons, PW) offer a great combination of forgiveness and control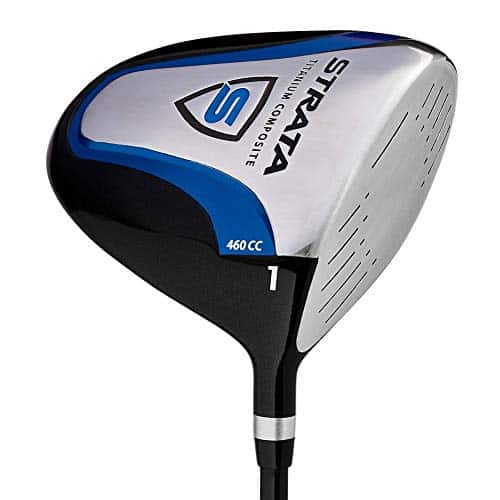 The Strata 12-Piece Set is designed to give you maximum performance right out of the box for more confidence from tee-to-green. The lightweight 460cc forged driver, fairway wood, hybrid, irons and putter make up a set that provides a great combination of distance, forgiveness and control, and is very easy to hit.
Driver
A lightweight 460cc forged golf driver that has a large sweet spot, a titanium head, and provides more forgiveness to help you hit it farther off the tee. (Headcover Included)
Fairway Wood
This oversized 3 wood is very forgiving and has a more aerodynamic head shape for long, high flying shots. (Headcover Included)
Hybrid
A 5 hybrid is a great alternative to difficult long irons that gives you more confidence on a variety of shots.
Irons/Wedge
These stainless steel irons (6 – 9 irons, pitching wedge) offer a great combination of forgiveness and control.
Putter
A mallet putter with alignment to help give you incredible accuracy.
This set also includes a stand bag. A lightweight and durable stand bag that comes with five convenient pockets, an additional cooler pocket, a rain hood and a backpack strap system.
Thank you for supporting Steamy Kitchen!
Starting your Amazon shopping at this link helps our small family business! We get a small commission from Amazon and it helps keep this site running free. Thank you! Jaden
STRATA Men's Golf Club Set Giveaway
Enter giveaway below.