Hello Steamy!
Welcome to our new and amazing WaterPik! Use this electric dental flosser to deep clean your teeth and make sure that your smile shiny white.
Waterpik WP-663 Electric Countertop Water Flosser
EASY & EFFECTIVE: The Waterpik Aquarius water flosser is the easy and most effective way to floss, removing up to 99.9 percent of plaque from treated areas and is up to 50 percent more effective than floss for improving gum health; perfect for braces, implants, and other dental work
TESTED & TRUSTED: Waterpik is clinically proven and the only water flosser brand to earn the American dental association (ADA) Seal of Acceptance. Enjoy healthier gums and brighter teeth in just 1 minute a day
ADVANCED TECHNOLOGY: features massage mode for gum stimulation, plus enhanced pressure with 10 settings ranging from 10 to 100 psi for a custom clean. Built in timer/pacer pauses briefly at 30 secs and 1 min to help track flossing time. Delivers 1400 water pulses per minute
HIGH VOLUME RESERVOIR AND FLOW CONTROL: Holds 22 ounces and provides 90 seconds of water capacity: no refilling required. Reservoir is top rack dishwasher safe for easy cleaning. Easily control water flow with the convenient on/off handle switch
7 TIPS FOR MULTIPLE FAMILY MEMBERS AND NEEDS: 3 Classic, 1 Orthodontic, 1 Plaque Seeker for implants and other dental work, 1 Pik Pocket for periodontal pockets, 1 Toothbrush Tip. Tips rotate 360 degrees for easy access to all areas of the mouth
Compact and convenient, the advanced design of the Aquarius Water Flosser includes pulse-modulation technology for maximum plaque removal (Floss Mode) and enhanced gum stimulation for improved circulation (Hydro-Pulse Massage Mode).
It includes a 1-minute timer with 30-second pacer to ensure thorough water flossing of all areas, and a water on/off button is built into the handle.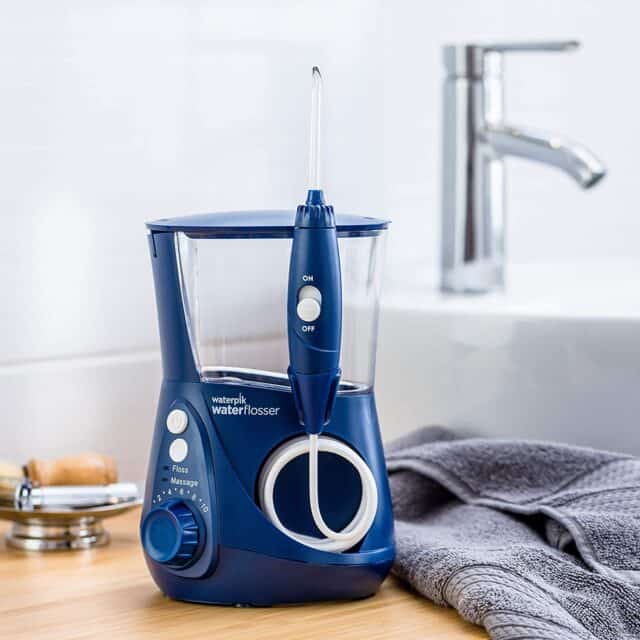 Just brushing leaves plaque and food debris behind, which can lead to gum disease, tooth decay, and bad breath. The Waterpik Aquarius Water Flosser cleans deep between teeth and below the gumline where brushing and traditional flossing can't reach.
Thank you for supporting Steamy Kitchen!
Starting your Amazon shopping at this link helps our small family business! We get a small commission from Amazon and it helps keep this site running free. Thank you! Jaden
WaterPik Electric Dental Flosser Giveaway