We are doing a review and giveaway on the TaoTronics Humidifier that has a warm mist and a cool mist! Keep this humidifier in your bedroom or in the open and add essential oils to fill your house with wonderful scents.
TaoTronics Humidifier (6L), Warm and Cool Mist
WARM & COOL MIST HUMIDIFIER: The Air humidifier provides both cool mist and warm mist (550ml/hr output, 1.2m mist height) to keep your sinuses and skin hydrated, perfect humidifier for bedroom, baby kids room, nursery and nightstand.
AUTOMATIC HUMIDITY MONITORING: The ultrasonic humidifier will automatically work to maintain comfortable indoor humidity (55%-65%) based on the environmental humidity. The cool mist humidifier will turn off or on automatically when the desired humidity is reached or dropped.
EASY TO CLEAN & ESSENTIAL OIL DIFFUSER: Top-Fill Humidifier with a wide opening makes it a breeze to refill or thoroughly clean the empty tank with a wet cloth; drip essential oils into the tray to infuse the air with your favorite fragrances.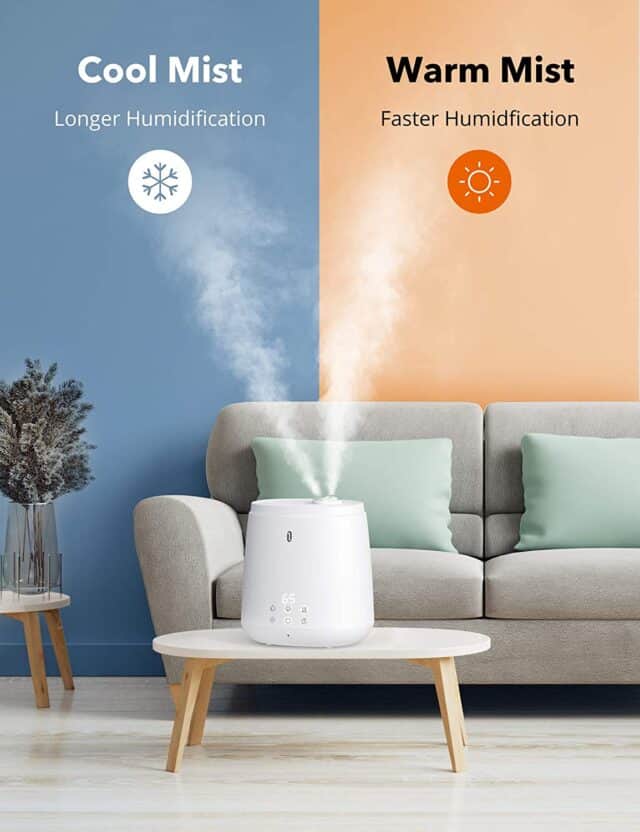 PERFECT HUMIDIFIER FOR LARGE ROOM: Extra-large 6L/1.58Gal water tank produces up to 60hrs of continuous cool mist to moisturize dry air in a 753ft² / 70m² room, frees you from refilling water frequently.
HUMIDIFIER WITH REMOTE CONTROL: Handy remote gives you control over all settings – 3 mist levels, 3 mist temperatures, humidity levels, timer, sleep mode, auto mode – modify as you relax on the couch or bed.
QUIET HUMIDIFIER FOR BEDROOM: Low noise operation, LED display turns off in sleep mode and waterless shut off function create a relaxing atmosphere for sleep without disturbance.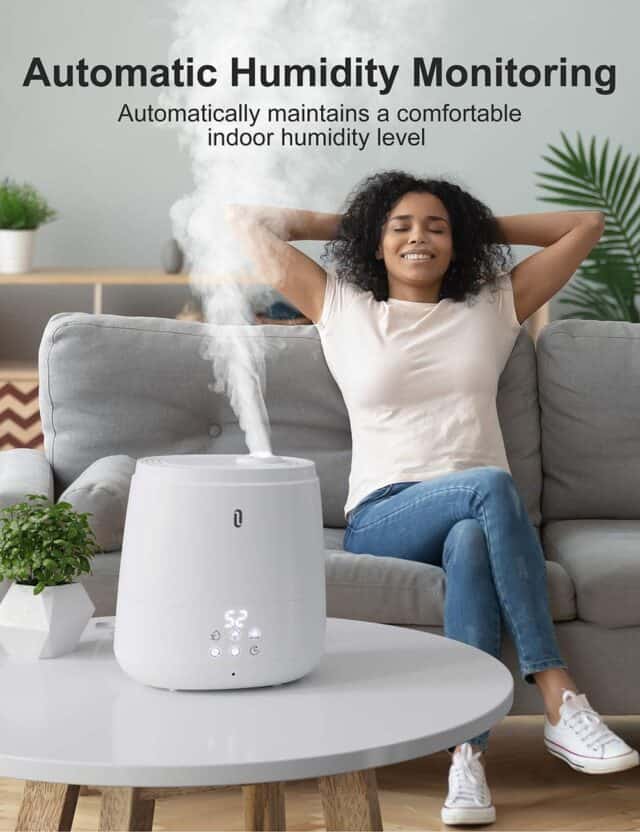 TaoTronics 6L Ultrasonic Warm and Cool Mist Humidifier adds warm moisture to indoor air during the winter, and humidifies dry air indoors in the summer so you can stay relaxed and comfortable all year round. Top-fill design allows you to refill the water tank without any spillage and clean the inside of the humidifier with ease and convenience.
Maintains your desired humidity level (55%-65%) for prolonged comfort. Set a 1-9 hour timer for energy saving efficient use. Nano-coating protects the circuit boards from moisture for dependable use. Plus it comes with an easy to use remote.
Thank you for supporting Steamy Kitchen!
Starting your Amazon shopping at this link helps our small family business! We get a small commission from Amazon and it helps keep this site running free. Thank you! Jaden
TaoTronics Humidifier Review and Giveaway
Enter the giveaway below.