Hey there Steamy Kitchen fans, today we are giving way one Ten-in-One Steam Mop cleaner! This steam mop cleaner has a convenient detachable handle that will help you reach all of those high up places that never get a good cleaning.
Steam Mop Cleaner 10-in-1 with Convenient Detachable Handheld Unit
Premium Quality Components

Imported

Fast & Effective

Cleans Literally Everything! Nobody likes cleaning! But with the help of our 10-in-1 Steam Mop you can clean the whole house more quickly and easily, making it cleaner and fresher than ever! Clean a lot more than floors with the built-in handheld steam cleaner, or use the flexible hose to put the cleaning power of steam in the palm of your hand. Works great as floor Steam Mop, Carpet Cleaner, steam cleaner, handheld garment steamer window, mirror & glass cleaner & much more.

Child & Pet Safe – Provides 99.99% Sanitation With No Harsh Chemicals! Super-heated steam is ready in 30 seconds and kills up to 99.99% of germs without the use of harsh chemicals keeping your loved ones safe. Best steam cleaner for tile & hardwood, cleaning with no chemicals, leaves the floors looking new and really clean. Comes with special surface scrubber, providing versatile cleaning from Top to Bottom. Ideal for Glass, Sealed Stone, Stainless Steel, and Sealed Tile/Grout.

Light And Maneuverable. 3 Adjustable modes help you cater the mop's steam level to your specific needs. That's especially important when you're trying to preserve your hardwood floors finish. The steam cleaner 's 340ml / 11.5Oz reservoir is good for 20-25 minutes of steaming on the lowest setting, or half of that on the maximum setting. One real bonus is that it uses tap water alone to steam off dirt, eliminating the need to buy pricey detergent.

Multifunctional Household Tool – Safe to use on any surface you want to clean and sanitize: hardwood floors, vinyl, tiles, marble, ceramic & porcelain tiles. Not only that, but you can also clean anything around the house with our built-in handheld steam cleaner. Just install the attachment you need and let the steam do all the work for you!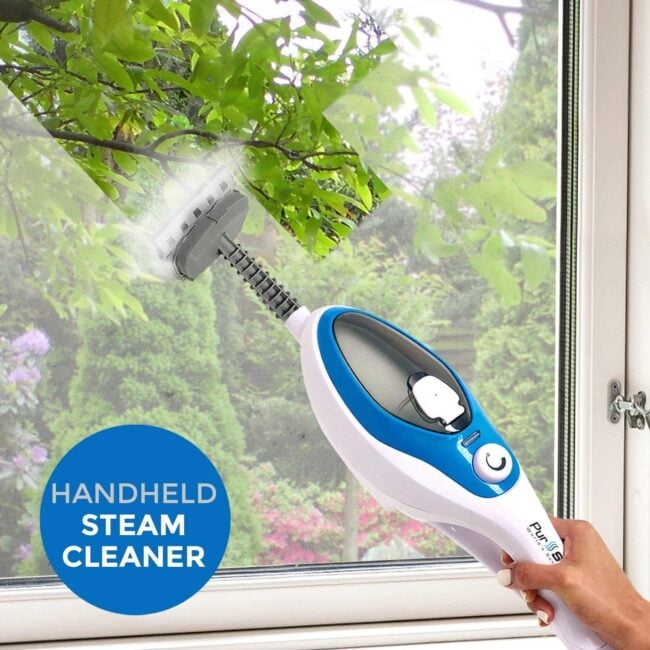 From now on cleaning can be so easy and fun! With our 10 in 1 Steam Mop you can literally clean everything, saving you time and energy. Works great on hardwood and vinyl floors, cleans tiles and freshens carpets. Detachable handheld unit can be used as a steam cleaner, garment steamer, mirror and glass cleaner and much more.
With powerful steam, this Steam Mop eliminates up to 99.99% germs and bacteria from surfaces and fabrics, leaving your home fresh and tidy with no use of harsh chemicals. Without the use of harsh chemicals this Steam Mop is perfect for any household with children and pets keeping your loved ones safe.
Fast preparation will give your floors and carpets that new look immediately. The big reservoir fits up to 340ml/11.5Oz tap water! The Steam Mop comes with many different accessories making hard to reach surfaces easy to clean.
Ten-in-One Steam Mop Cleaner Giveaway
Enter the giveaway below.