Hello Steamy Kitchen, today we are giving away one electric tea kettle plus two boxes of Jaden's favorite teas! This tea kettle will have your tea ready in no time and there is no need to use the stove. Enjoy a relaxing cup of Harney & Sons Loose Leaf Black Tea, Lapsang Souchong or a nice steamy cup of Harney & Sons Japanese Sencha Green Tea.
Electric Tea Kettle
4 Different Temperature Control & 30 Mins Keep Warm – 4 Temperatures control and button design for optimal brewing, the electric tea kettle provides precise temperature control (158°F, 176°F, 194°F, 195°F, 212°F) to get the best, most flavorful teas, coffees or simply boil cooking water. Keep water warm at the set temperature for 120mins, no worries of cooling down quickly.

Maximum Safety – Built with British STRIX thermostat technology, automatically disconnected once water has reached the boiling temperature and selected temperature. Boil dry Protection, boil-dry safety feature where it turns off if it detects there is no water inside, to ensure user safety.

Blue LED Indicator & Quick Boil – The blue LED lights will work when the glass kettle starts heating, it can give you visual enjoyment when it working. With the 1500W, the 1.7L water heater boils quickly in 3-6 minutes, faster than most other kettles on the market.

Superior Materials – This glass electric tea kettle is made the finest quality borosilicate glass, all of its materials are BPA Free, durable design and contaminant-free flavors, it can provide healthy water for your family.

High quality – We are committed to serving customers with reliable quality products, you will get a 12 months support and a 90 days money back. Please contact us if you have any request, we will solve your problem within 24 hours.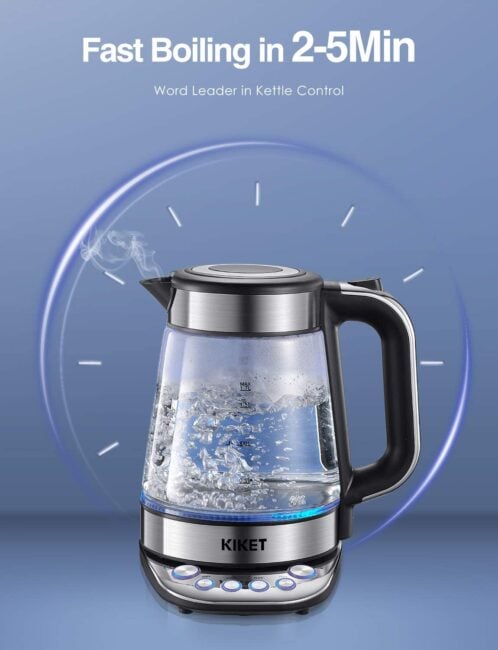 Easy Operation
With the comfortable handle, you can use the electric tea kettle easily.
30 Mins Keep Warm
This electric kettle can keep your water warm for 30 minutes.
Fast Boil
With the 1500W, the water kettle can boil 1.7L water within 6 minutes.
This electric glass tea kettle is super easy to use for anyone who loves tea or coffee. The Kiket Electric Tea Kettle has specific temperature settings for different kinds of tea, which ensures the best flavor possible.
Shop for your very own electric kettle here:
Jaden's Top Two Favorite Types of Tea
1. Harney & Sons Loose Leaf Black Tea, Lapsang Souchong
An ancient and much loved tea from China, large leaves are dried over smoky pine fires. As you might imagine, the tea develops a distinctive smoky flavor. Give it a try when you want a change of pace.
2. Harney & Sons Japanese Sencha Green Tea
This Sencha is a very fine one, and can be found in many homes in Tokyo. It is a very approachable green tea, and a fine choice for everyday. Each tea bag brews a 6 to 8 oz cup of tea.
Tea With Jaden Giveaway
Win an electric tea kettle plus two boxes of Jaden's favorite tea!
Enter the giveaway below.