Happy Monday Steamy Kitchen, today we are giving way one Romali's Family Picnic Backpack for 4! This Picnic backpack is perfect for this beautiful springtime weather. Plus family time is important, you can take your family out for a nice walk and picnic lunch.
Family Picnic Backpack for 4
PREPARING FOR YOUR PICNIC HAS NEVER BEEN EASIER – 'Romali's' brings you the ideal picnic cooler backpack, insulated and waterproof, for your next family outing or romantic get-away. Filled with 4 of everything you need for your best outdoor meal yet, we provide you with real plates, cutlery and stainless steel glasses so that this is not just a picnic but a picnic with style. There's even a wooden tray for a luxurious outdoors experience like never before.

STAY IN TOUCH – A USB PORT and room for your laptop keeps you in touch with the outside world. This picnic set is packed with everything you need, you'll never have to argue about who was supposed to pack the picnic accessories such as salt and pepper, the corkscrew or the cutting board. Whether you're eating al fresco in nature or having a clambake at the beach, you're always prepared with this picnic bag.

NO MORE SPOILED FOOD AND WARM WINE – With ample room in the large, waterproof and insulated pocket – all your meat, fish, fruit or veggies are well protected and will arrive fresh and ready to eat or cook. Even your wine has it's very own insulated pocket the size of a standard bottle of wine so that your favorite meal accompaniment can be served at just the right temperature.

A LITTLE EXTRA COMFORT comes with this picnic basket for 4 in the form of our matching waterproof blanket. The large picnic blanket has its own pocket and is extra warm. Perfect if you get caught out in the rain. It's washable and dries quickly and you won't want to be without it on your next hike or camping trip. Talking of comfort… the bag's straps are heavily padded so you won't even notice you're carrying it.

DON'T SACRIFICE STYLE FOR PRACTICALITY – Beautiful in gray, with matching lining and matching napkins. Your picnic gear has never looked this good. A PREMIUM WEDDING GIFT for your nature loving friends. It will be truly appreciated on birthdays, anniversaries, housewarmings and Christmas. BUY YOURS TODAY and be ready to go at the drop of a hat!
This picnic backpack set for 4 makes it easy to prepare for a fun summer get-together with friends or family, date night, or a day at the park with the kids and the dog.
The ready packed and ready to go, easy to carry and very comfortable picnic backpack with padded shoulder straps, has all the picnic accessories you need for a fun day out.
Plates
Cutlery
Stainless Steel Glasses
Corkscrew
Cutting Board
Salt and Pepper Shakers
Matching fabric Napkins
Large Wooden Tray
Large Size Waterproof Picnic Blanket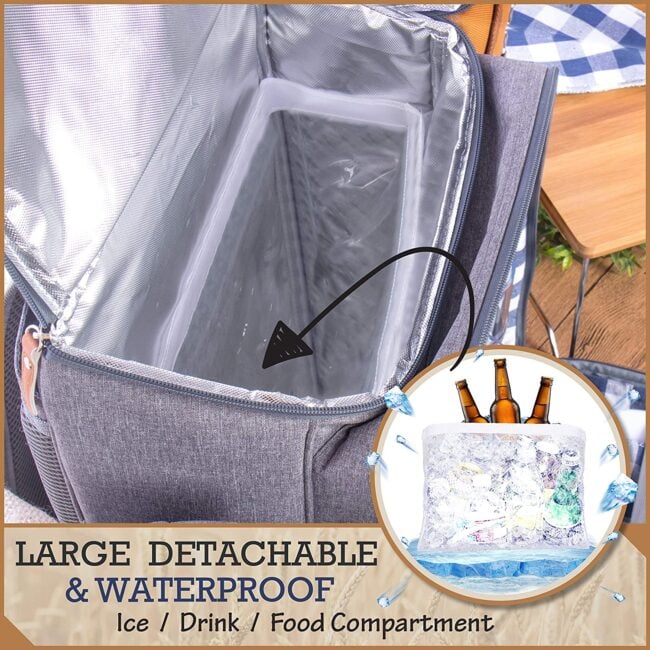 This convenient carry all not only houses all your accessories, it has tons of room for your picnic foods and snacks. Use the cooler divisions to carry your uncooked foods such as meat, poultry and fish as well as fruit and vegetables which you wish to keep cooled. Place your wine or other cold drink in the specially allocated insulated pocket and drink it at just the right temperature.
Romali's Family Picnic Backpack for 4 Giveaway
Enter the giveaway below.