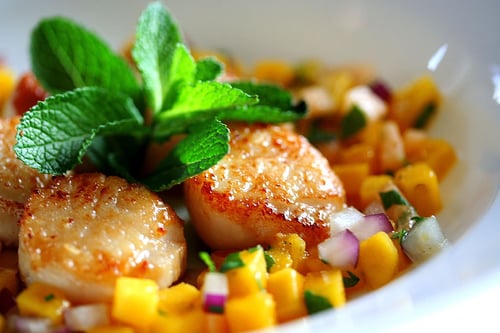 The original text from the food column appears below.
A modified version + coconut rice + an awesome story also published as part of the cover story for Creative Loafing newspaper. Remember when I was disowned by my peeps? Well, here is the article that the food critic wrote.
***
Its summertime! And let me tell you, there is no better way to celebrate the summer season than being seduced by the intoxicating tropical fragrance of mangoes and buttery sweetness of cantelope. Seared Sea Scallops with Mango-Melon Salsa is incredibly healthy, cooling and so simple to make. The key is making sure that you have the best quality ingredients. Here are the secrets:
The secret to buying mangoes
I almost always get my mangoes from Jessica's Organic Farm Stand in Sarasota, right off of University Blvd. Everything they sell there is organic. No chemical pesticides or fertilizers…just good, honest food of the earth. If you think that buying organic means not-so pretty and expensive, then you need to visit Jessica's. Bright crimson globes of radishes, gorgeous heads of lettuce big enough to cradle in both arms, just-picked spinach with the sweet earth still clinging, and the mangoes! Oh the mangoes are heavenly-juice-dribbling-down-your-chin delectable. Need proof? Have owner Bill cut one open for you – the knife easily glides around the pit. There are no fibers to catch in your teeth. Just pure, creamy and smooth, just like summer should taste.
But hurry, Jessica's is only open for a few more weeks before they go on summer vacation. For more information, visit www.jessicasorganicfarm.com or call 351-4121. Jessica's is located off the side streets across from University Parkway Country Club at 4181 47th Street, Sarasota. To get there, take University to Longwood Run Blvd (turn south) pass the Tabernacle Church. Look left and you'll see San Jose Dr (turn left) and go all the way to the end to reach 47th St (turn right). The stand is on the left. They are open Friday 12pm-7pm and Saturday 8am-5pm.
The secret to buying sea scallops
Look for scallops that are labelled "dry packed." Scallops have high water content when they are freshly harvested and dry out very quickly. To combat this, packers soak scallops in saline water, so that when they reach the fish case, they look plump and pretty. Nice to look at, but once it hits a hot pan, water leaches out and you end up with a soggy, tasteless, rubbery scallop. Dry packed scallops are pinker in color, moist but not swimming in solution and smell slightly of the sea. You might pay a little more money for the dry packed, but sometimes you can catch a good sale at Publix or Sweetbay for $8.99 a pound. If you don't see them in the fish case, look for frozen packages. If you are not cooking the scallops the same night, its best to ask your fishmonger for frozen ones and defrost them yourself at home.
Yum
Seared Sea Scallops with Mango-Melon Salsa

Use as much chili powder as you want - I love the tingling sensation after the initial sweetness of the fruit. If you don't care for spice, use a pinch of smoked paprika instead.

Mint is so refreshing. Make sure you use fresh mint leaves, the dried flakes won't do. You can substitute with fresh basil, parsley or cilantro.

The Mango-Melon Salsa is also great with tortilla chips, as a topping to grilled chicken, to serve alongside your favorite fish or shrimp skewers.

Ingredients:

1. Assemble the salsa and set aside to let the flavors meld and mingle while you prepare the scallops.

2. Tap the top and bottom of each scallop gently on the parmesan cheese, shake excess off. Heat 2 tablespoons of olive oil in a large, non-stick skillet over medium-high heat. Once the oil is hot, add the scallops. Make sure the scallops do not touch each other. Fry 2 minutes on each side, timing depends on size of your scallops. They should have a golden brown crust. If you take a peek in the interior, they should be rare-ish. They'll finish cooking on their own from residual heat after you remove them from the pan. Overcooked scallops are a sin! Serve with salsa.

Directions:

20 large, dry-packed scallops, rinsed and patted dry
2 tablespoons parmesan cheese, grated powder-fine with rasp grater

Mango-Melon Salsa
3/4 cup finely diced mango (1 mango should do)
1/2 cup finely diced cantelope
1/4 cup finely diced red onion
2 tablespoons minced mint leaves
big pinch of chili powder (or substitute smoked paprika)
1/2 lime, juiced
salt & freshly ground pepper to taste