I know…you're all wondering….
What an elegant dessert….
a souffle, perhaps?
molten chocolate center?
did it take hours to make?
I am pleased to present to you, my Negative Calorie Chocolate Cake.  Never before in the history of desserts has there ever been such an luscious cake that is this good for your inner chocoholic self.
Yes. you heard me right. Not just "low fat" "low calorie" or even "no calorie"
Its NEGATIVE CALORIE.  Meaning, you earn credits for eating this dessert.
So, what makes this cake negative calorie?  Well first off, I made it with:
and replace the 1/2 cup of oil with this:
and nuke for 5 minutes in one of these:
WTF?!?!?  How dare she post a recipe on a food blog using Betty Crocker and a microwave?!?  Isn't she violating section 4.6.2 of the Food Blog Code of Conduct? 
So, smack me silly with a violation, but I know that one night this week…oh…right around 9:00pm….when no one is watching…you are going to try this cake.  You're asking yourself if this Negative Calorie Chocolate Cake from Betty C. tastes as delicious, luscious, moist and rich as it looks. Here's your answer: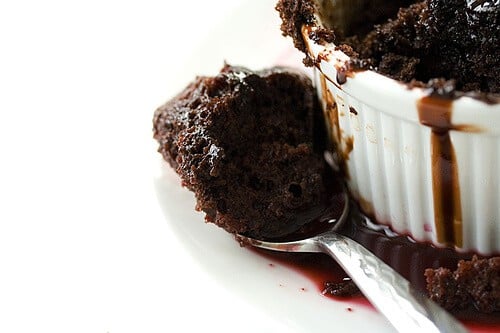 But..but…but….how do you get negative calories with that???
Ok. brace yourselves.  Try to follow along now:
| | |
| --- | --- |
| Betty Crocker Calories per serving | 280 |
| Replace the oil with a banana | -40 |
| Saving oven energy and using microwave instead | -86 |
| Saving time (10 minutes in micro vs. 40 in the oven) | -43 |
| Not having to look up a fancy recipe | -05 |
| For using up the ripe smushy banana – instead of tossing it | -32 |
| For not having to use your electric mixer – mixing by hand burns calories | -47 |
| For pleasing your inner "Instant Grat-Brat" (I want cake NOW!) | -10 |
| For being so clever – who else would combine BettyC+banana+micro ? | -23 |
| For using something very healthy and full of antioxidants (reduced Pomegranate Juice) | -28 |
| For…um….just because I said so | -8 |
| | |
| Grand Total | -32 |
Can you see me on late-night infomercials pushing my Negative Calorie Chocolate Cake Diet???
Move over Atkins…here comes something steamy-er….
In case you don't have ramekins, just pour in a 9×11-ish glass Pyrex pan (something microwave safe please) until batter reaches half way up the sides.  Microwave for 11 minutes medium-high, check for doneness. Cut into nice squares and enjoy.
Yum
Negative Calorie Chocolate Cake

I always make this with Betty Crocker Super Moist Cake Mix Dark Chocolate (the one with a Hershey's logo on it). I'm sure it will taste just as good with other brands of cake mix, but this is my preference. The ingredients below are based on the back of the box (with the exception of the banana) If you use a different brand of cake mix, follow their instructions for ingredients, replacing the banana for the oil or butter. Of course, if you aren't on a diet - ditch the banana idea and just use the oil/butter as the recipe calls for.

Note on the banana: It should be a super-ripe brownish banana...like in the photo above. If you don't have a super ripe banana and can't wait - just use the oil/butter...the recipe just won't work well with a firm, yellow banana.

Note on the microwave times: Each microwave is different. Use the times I have below and test with toothpick. Just note your final time so that you won't have to check for doneness next time.

Ingredients:

1 box Betty Crocker SuperMoist Cake Mix (Dark Chocolate) - or your fav cake mix

1 very ripe banana, smushed well with a fork

3 eggs

1 1/3 cups water

Cooking spray to spray the ramekins

Directions:

In big bowl:  Smushed banana + eggs + water (whisk well)
Stir in cake mix (Stir vigorously for a couple of minutes until well mixed)
Pour into ramekins (sprayed lightly with cooking spray) until filled 2/3 full

Every microwave is different - here are some guidelines:
For 2 ramekins:  microwave on MEDIUM-HIGH (I set my microwave on power strength 8 ) for 5 minutes
For 3-4 ramekins:  6 minutes
For 5-6 ramekins:  7 minutes

Check with toothpick to see if cake is done.  Mushy cake mix stuck to toothpick? Add another 30 seconds.  Cake crumbs on toothpick? Done.

If you'd like, top with warm chocolate sauce and maybe a little drizzle of reduced pomegranate juice:
Other ideas that I haven't tried yet:
-drop a big chunk-o-chocolate in the middle of batter in each ramekin (will it turn into a molten chocolate cake?)
-add raspberries to batter
-applesauce instead of banana? Reader Renee suggested adding 1T oil to applesauce to keep moist