Sous Vide Miso Salmon Recipe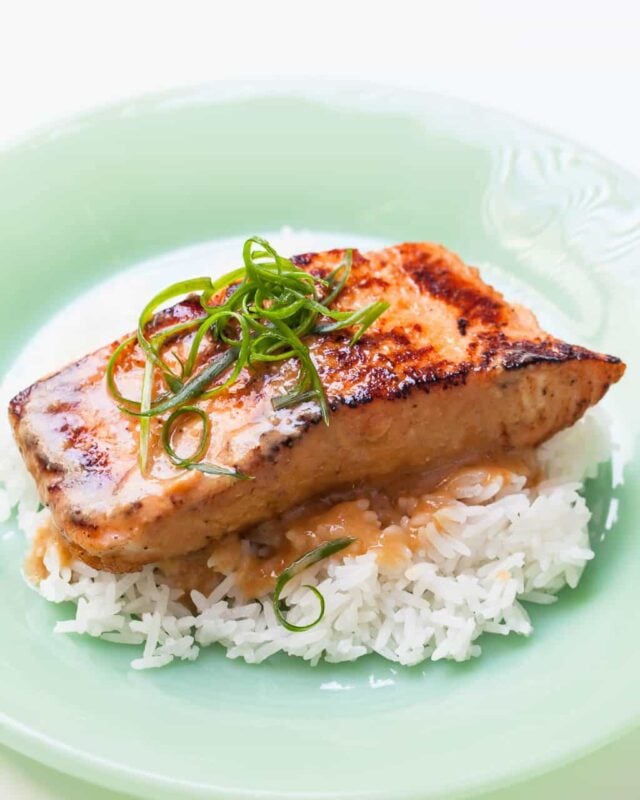 This Sous Vide Miso Salmon Recipe features:
Only 5 ingredients and 5 minutes hands-on.
Instructions for sous vide cooking.
Miso marinated salmon makes an easy, no fuss, full-flavored dish to pair with rice, quinoa or even on top of mashed potatoes. The marinade and sauce for this Miso Salmon dish is made of 3 easy-to-find Japanese ingredients available at most supermarkets: Miso, Mirin, Saké.
Whisk shiro (white) miso paste, Japanese saké and mirin (Japanese sweet cooking wine) together.
Whisk until smooth.
Spread mixture over salmon fillets.
Place in gallon freezer bag, with a couple pats of butter. Not much, just a little.
When cooking seafood or delicate items, I don't like using my vacuum sealer. The vacuum sealer sucks out the air too harshly, which can damage the delicate fish, or just make the fish misshapen during cooking. Instead, I use the water displacement method.
Submerge the bag until just under the seal.
Seal bag. The water will displace the air, resulting in a bag and seal that's good enough for sous vide.
Clip to edge of pot.
Set the sous vide to 104F/40C. Let cook for 30 minutes at temperature.
When Miso Salmon is done, remove salmon fillets (be careful not to break the fish) and reserve the remaining miso sauce in the bag. Pat the fillet with a paper towel and wipe off some of the miso. If you don't the miso will burn in the pan when you sear.
Sear both sides of salmon in a bit of cooking oil.
Serve with the remaining miso sauce, top with sesame seeds or green onion.
Note on the Nomiku Sous Vide
We've been testing out the Nomiku Sous Vide for the past 2 months and love the darling little machine! Here's our full review.
Servings:
Prep Time:
Cook Time:
Ingredients:
Directions: