Sesame Shrimp with Honey Mustard Sauce
from Steamy Kitchen food column in Tampa Tribune
It never fails that at least twice a day, I'm asked, "so when are you gonna start your own restaurant?" My reply is always the same, "only when I have an extra million in the bank and I don't have to worry about making money."
I know a restaurant is just too much for to handle for my delicate psyche. How would I ever explain to the IRS why "weekly psychotherapy" is part of operating expenses? And the only way I'd be able to handle the long hours and hard work is with back to back shots of double espressos followed by a Red Bull chaser. But really, with that regimen, I'd scare off innocent, unsuspecting people with, "DUDE! YOU! NEED! TO! TRY! MY! SESAME! SHRIMP!" leaping out of the doorway and shoving a sample in any open mouth passing by. Yeah, maybe hyperactive, assertive marketing wouldn't work well.
Which is why I have so much respect for anyone working in the industry. I just spent the afternoon at a food and wine festival called Forks and Corks in Sarasota, and I've gotta say, it was simply fantastic. The festival was sponsored by the Sarasota Originals, a group of 50 independently owned restaurants in the area, and held in the exquisite, palatial courtyard of the Ringling Museum of Art. It was very Sarasota-esque, I felt under-accessorized without a boob job and lip plump.
Behind every restaurant's sample booth was the owner, generously dishing out sample portions of their signature menu item. Despite being on their feet with only 4 hours of sleep in 90F heat, they rocked on with graciousness.
Independent restaurant owners: I bow down to you
If I ever find that extra million in the bank, you can bet that I'll be out there thrusting a deep fried sesame shrimp pierced by cocktail sword atcha'. Aya! that sounded naughty.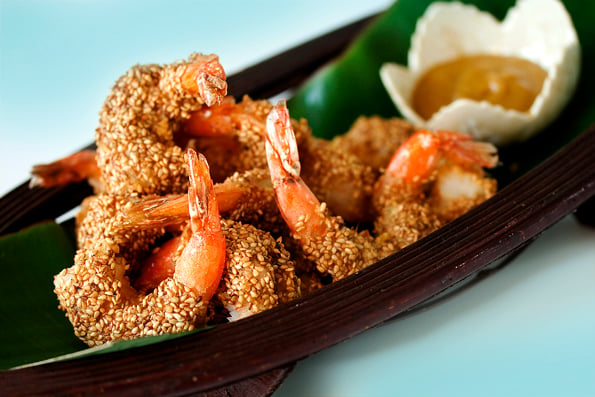 Adapted from
The Seventh Daughter, Cecilia Chiang
Sesame Shrimp with Honey Mustard Dipping Sauce
Serves 6-8
1 pound medium shrimp, shelled and deveined, with tails attached
2 teaspoons kosher salt
1 1/2 cups all-purpose flour
2 cups white sesame seeds
1 teaspoon Asian sesame oil
2 tablespoons Chinese rice wine
2 large eggs
1/2 cup cornstarch
1 teaspoon baking soda
1/2 cup peanut oil, plus additional for deep frying
1 cup water
Chinese Honey-Mustard Dipping Sauce
1/4 cup Dijon mustard
2 tablespoons honey
2 tablespoons peanut oil
2 tablespoons soy sauce
To make sauce – whisk together the mustard, honey, oil and soy sauce until well combined. Set aside until ready to serve.
In a bowl, gently mix the shrimp with salt to coat salt. Cover with cold water, slosh around a few times, drain the shrimp well, and then transfer to a cutting board. Line up 3 shallow bowls and put flour in one, in the second, whisk together sesame oil, wine, eggs, cornstarch, baking soda and the remaining 1/2 cup of flour, 1/2 cup of the peanut oil and the 1 cup of water until well combined. In the third bowl, add sesame seeds.
Heat a wok or large pot with peanut oil for deep frying over high heat until 360F. Work in batches of 4-5 shrimp at a time. For each shrimp, hold by tail, dip in flour, then batter, then sesame seeds. Deep fry in batches of 4-5 shrimp until golden brown, about 2 minutes. Serve with dipping sauce.
***
You might also like these other Chinese dishes: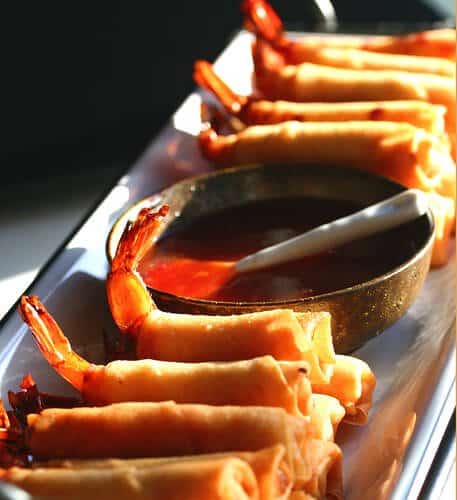 Firecracker Shrimp with Sweet Chili Sauce – Super easy, always a crowd favorite. Here is also a video of me making the Firecracker Shrimp.
Steamed Spareribs in Black Bean Sauce – a dim sum dish! Video here.