Garnish is generally the afterthought for the home cook, a sprinkle of herbs to add a splash of color to the dish, a swirl of sauce for a dramatic, decorative flair or a dribble of brandy in French Onion Soup just before serving. Oh well, I take that last one back — in that particular case, the brandy was the star and I built the soup around a dinner guest who, let's say, really enjoys his booze.
For this Creamy Cauliflower Soup, the garnish was at the forefront of my mind. Anytime I want my kids and husband to try something new, I start with the bacon and the cheese and use that to lure them in.
Evil temptress me.
But it works each and every time. They might not rave on about the dish, might not always eat the entire thing, but I can guarantee that they'll take a few bites. Though, Andrew has been getting really adept at extracting only the bacon from a dish, no matter how finely chopped the bacon is. I swear he has a pair of tweezers hidden up his sleeve.
While this soup is creamy, there's not a drop of cream in the soup. The secret is in steaming the cauliflower and pureeing it with broth. We start with 1/2 head of cauliflower, broth (you can use chicken, vegetable or mushroom), gorgonzola cheese and a couple slices of bacon.
First step is to steam the cauliflower until very tender.
Add in the cauliflower into the blender and pour in broth. If you are using an immersion blender you can do this right in the pot.
Let it rip until it becomes a creamy, pureed soup. Taste and season with salt.
Cook your bacon and finely mince.
Ladle the soup into the bowls and garnish with a bit of bacon and gorgonzola cheese.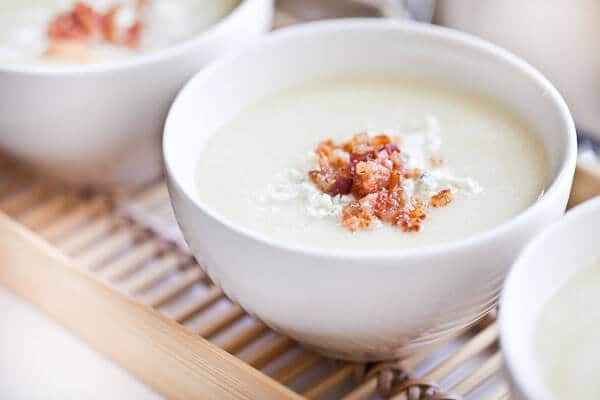 Creamy Cauliflower Soup with Bacon and Gorgonzola Recipe
This same recipe can be used for broccoli as well!
Ingredients
1/2

head

cauliflower

3

cups

broth (vegetable, mushroom or chicken)

salt, to taste

2

slices

bacon

2

tablespoons

crumbled gorgonzola cheese
Instructions
Steam the cauliflower until very tender.

In the meantime, cook the bacon until crisp. (For microwave: place the bacon on a couple layers of paper towels, cover with another paper towel, microwave for 5-7 minutes until crisp). Finely mince cooked bacon.

Heat the broth in the microwave.

Drain the cauliflower and add to blender. Pour in the broth, blend on high until smooth. Season with salt to taste. If the soup is too thick, you can add a bit more broth.

Ladle soup into bowls, garnish with bacon and gorgonzola.