Baked Jalapeno Bacon Poppers
It's taken me thirty-ahem-something years to try a jalapeno popper for the very first time. Poppers have always been one of those things that just didn't seem so appealing – I blame it on bad crab rangoon, which has certain similarities to the popper. Sure, both have qualities that I whole-heartedly embrace in other foods — they're deep fried (hello potato chips!) and made with cream cheese (hello cheesecake!)
But the bad crab rangoon incident that happened waaaay back when we used to live in Nebraska, I was probably 6 years old, will haunt me forever. Let's just call it food trauma. So therefore, I just lumped jalapeno poppers in the same food trauma category.
Just a few months ago, when Elise, Ree and I hosted a little shindig at BlogHer Food at Le Cordon Bleu, the vast buffet included jalapeno poppers, except that I was so preoccupied with hosting duties that I didn't realize what it was when I plopped it on my plate.
Ohhhh… holy hot pepper poppers! Loved it.
So perhaps I need to revisit the list of foods in the "trauma" category, including those damn crab rangoons, because I can't believe that I've been missing out all these years.
My version of poppers are a little different — okay A LOT different. Instead of using jalapenos, I picked up a peck of pickled peppers bag of sweet mini peppers, so that my kids could eat them too. Plus, it was on sale. $2.79 for that entire bag. So sweet, just like red bell peppers.
I added bacon to the cream cheese and cheddar cheese mix….
Instead of breading them in bread crumbs, I used Kellogg's Corn Flake Crumbs.
Lastly, I baked them instead of deep frying. Just a note – the decision to bake rather than fry has nothing to do with less calories — it's stuffed with cream cheese and cheddar cheese for goodness sakes! It was easier for me to pop them in the oven instead of heating up a vat of oil.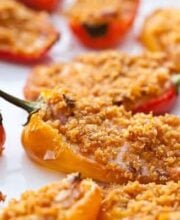 Baked Jalapeno Bacon Poppers
Servings: 6 as appetizer
Prep Time:10
Cook Time:20