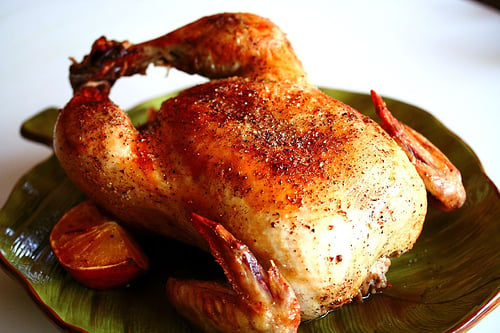 What's better than Asian Flavored Salts? A recipe using a flavored salt + a nice little gift from me to a randomly chosen lucky ducky winner (keep reading!) I am notorious for seeing something on TV, wanting coveting, and then coming up with 101 reasons fo Why I Must Have This Kitchen Gadget. Of course, after explaining to husband reason #79 for the fifth time in a row, he usually gives in….not because he thinks I Must Have This Kitchen Gadget, but because I've nagged him to death. Poor man. He's since banned me from late night television. Something about child-locking any channel above 13 after 1 a.m. Prior to censoring late-night infomercials, I purchased multiple dehydrators, juicers, shark-vacs, chopper-boppers, swirly-twirlies, sucker-puckers, pasta-prestos and the Pocket-Rocket.
Oh wait…that wasn't a kitchen gadget :::blush:::
ANYWAYSSSS…..I would buy these gadgets, rave and rave about them. We'd have fresh fruit juices every single morning for 2 weeks straight. Banana chips and beef jerky for breakfast, snack and lunch for 2 weeks straight. Random items in the household were vacuum sealed. Pureed pea porridge for 2 weeks straight. Verrrrry happy mornings if you know what I mean…2 weeks straight. But after the 2 week honeymoon, I'd bore of the Gadget and it would be moved from Prime Real-Estate on kitchen countertop to Skid Row in the garage.
Well, the other night, I lugged out my Flavorwave Oven Deluxe to make Sichuan or Szechuan Peppercorn Roasted Chicken. OH MY….I suddenly remembered reason #38 – luscious, moist, roasted chicken. I can't even begin to tell you how amazing this chicken tastes. This has become my favorite roast chicken recipe (sorry, Joanne Weir ) and the tingly dipping salt that accompanies the chicken is quite addictive.
If you are tired of your same 'ol chicken dinners, then you simply must try this. Once you cook the Sichuan Peppercorn Salt with the bird, it really does infuse the entire bird with all of its earthy aroma and flavors. Even my little kids loved this chicken and liked having a dipping salt. When you get your package of SZP (either from the store or from winning the contest below) – take a couple pods and chew. The tip of your tongue goes numb!! The peppercorn is not hot-spicy at all. Cooking with the SZP tames the pepperyness.
I almost always buy organic chicken now. It's healthier and the prices have gone way down on organic meats. Usually, I visit my small local butcher, The Chop Shop, where they have birds for $2.19 per pound that are antibiotic and hormone free. If you don't have a local butcher that carries good, healthy chicken, and you are lucky enough to have a Super Target nearby, check out their antibiotic and hormone free chickens – $3.89 for a entire 3.25-lb bird. If you are penny-pinching, you really can't beat that – its cheaper than a chemical-laden chicken! But please support small, local businesses like the butcher if you can.
I stuffed my bird with ginger, scallions and orange. Of course, feel free to substitute….use a few star-anise, cinammon sticks, garlic, lemon, parsley, onion half….basically whatever you have on hand.
My gift to you: In the comments, link to your most favorite recipe on your blog. At the end of the week, I'll draw a random name and the lucky ducky winner will get a HUGE bag of Szechuan Peppercorns sent from me…enough to spice the world and beyond. Go forth and spread the love and joy of Szechuan Peppercorns! Yup. Thats how much I love you.
Sichuan or Szechuan Peppercorn Roasted Chicken
Of course not all of you have the Flavorwave Oven Deluxe, which really is just a convection oven in a plastic dome.
Ingredients
1

chicken, organic (I like using a small 3 1/2 pound bird)

1/2

orange

2-3

stalks

of scallions, cut into 3" sections

4

long, thin slices of ginger

2

tablespoons

Sichuan Peppercorn Salt (see below for more details) + more to serve as dipping salt

2

tablespoons

oil
Instructions
Preheat oven to 400F set for convection.

Wash chicken and pat very dry. Tie legs together with kitchen twine, tuck wings in. Generously season chicken inside and out with the Szechuan Peppercorn Flavored Salt. If you look at my photo, I use quite a bit of seasoning, which I think is one of the secrets to delicious tasting roast chicken. The roasting mellows out the salt - so don't be afraid to have a heavy-hand in seasoning. Stuff bird with ginger, scallions and orange. Place bird breast-side down in roasting pan. Brush 1 tablespoon oil all over the top of the bird (which is the thigh side).

Roast chicken breast-side down for 30 minutes. Turn breast side up. Brush breast side with oil. Continue roasting until thickest part of thigh reaches temperature of 175F and breast is 160F. Generally, this will take another 20 minutes for a 3 1/2 lb bird. If using larger bird, add 7 more minutes for every add'l pound.

Remove from oven and let rest for 10-15 minutes. Carve and serve with more Sichuan Peppercorn Salt on side for dipping.