Grilled Garlic and Rosemary Ribeye Steak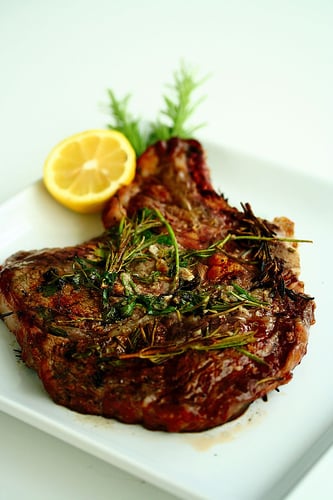 One of the greatest things about July 4th weekend is that ALL THE MEAT IS ON SALE!!! Beautifully marbled Angus ribeye steaks for $5.99 a pound. By the way that I cooked tonight, you would have thought we were celebrating the holiday early!
I have a dilemma. I have about 42 posts that are sitting in the "Drafts" folder. They must have hired someone over at WordPress to do nothing but wait for the moment that I log in. I get a pop-up message that nobody else that I know gets: "ALERT! Steamy Kitchen! You have 42 drafts waiting. Most of them full with incoherent thoughts and incomplete sentences. Are you planning on finishing them?"
I swear, my husband must have said something to WordPress….he's always complaining that I'm a good starter, but a lousy finisher. Especially when it comes to painting a room. About once every 3 months, I get bored of a room's color and shop for a new palette. I start eye-level and methodically paint a perfect 3 foot x 3 foot area on each wall. Because any higher or lower than than would require straining, reaching and grunting. And that's just not lady-like (because….cough….telling the world about my Pocket Rocket is).
Well, good thing husband is a great finisher, and he is so patient too!
Back to the whole subject of 42 drafts….I have A LOT of recipes to share with you. All of them have gorgeous photos ready and waiting. Most of them have the recipes already written out in short-hand that only mutt wearing a pink tutu would understand. They are all realllllly goooood eating and recipes that are either family secrets taught by my Mom or ones that I have been refining over the years. But every time that I want to finish a draft….a shiny, new recipe (usually found on one of your blogs!) comes along and distracts my attention. Off to go experiment and cook something new! Dang….the life of a Flogger is really tough.
As previously mentioned in my post titled
How to Top a Steak Just Like Fancy Restaurants, I am not allowed to go anywhere near the BBQ grill outside. Its just not my area of expertise and my husband is such a pro at grilling that I have given up even trying. Me messing with his grill is like husband coming into my kitchen and messing up my knife drawer. Grounds for divorce. So, in the spirit of a happy, peaceful marriage, I learned to kick-ass in marinating steaks and making steak sauces. The aroma of rosemary, garlic and steak-on-sale grilling outside just makes me giddy warm and happy inside (I'm just not a giddy kind of gal…is that ok?)
Grilled Garlic & Rosemary Ribeye Steak
Servings:
Prep Time:
Cook Time:
Ingredients:
Directions:
Your favorite steaks Rosemary sprigs + any other fresh herb (I used Parsley) Lemon slices Garlic cloves, chopped, smashed or use garlic press Glug of olive oil Salt & Pepper 1. Season each steak, both sides with salt and pepper. I usually use 1/2 teaspoon of kosher salt per side on a large steak. I love salt. 2. In a bag, add all ingredients. Smish and smush a bit.
Get all the air out of the bag so that the herbs are hugging the steak.
Marinate. 1 hour on the countertop worked beautifully, but the longer you marinate, the more flavor you infuse.
Ideally, 4 hours (3 hrs in the refrig, 1 hr on countertop).
Make sure you bring steak to room temperature before you grill. 3. When grill is super-duper hot, Husband usually just takes the steaks out, lets the olive oil drip off and throws the steak on grill with the herbs, lemon and garlic still clinging to it.
Grill.
Serve with the herb/lemon/garlic cling-ons.
***
Here's the rest of our dinner….sitting in Draft mode: two down, 40 to go
Honey Ginger Carrots with Citrus Salt
Garlic Truffle Fries