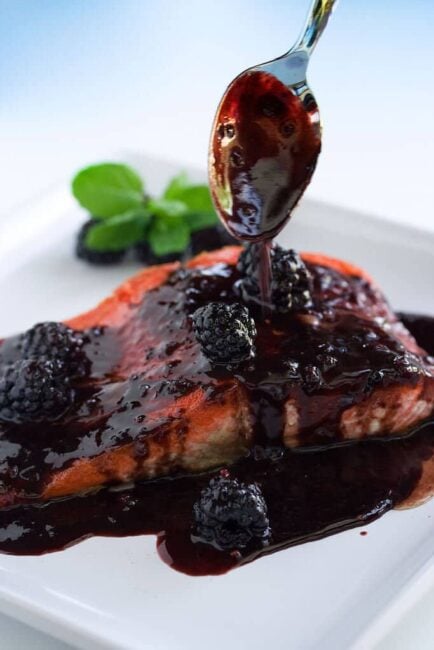 The ebony-blue, bursty blackberry fruit was just too pretty to pass up at the market the other day, so I picked up 2 pints, one for breakfast (plain yogurt with a generous drizzle of honey and then topped with the berries) and the other pint to experiment with. I was thinking: Sauce. Brandy. Salmon.
But that night, disaster. Three times I had failed to concoct a stellar sauce. First, too candy sweet, then too annoyingly seedy and the last attempt, I had accidentally added brandy in twice, way too boozy. With no more blackberries to play with, what's a defeated cook to do, but collapse in a pathetic, wilted heap on the kitchen floor and slam shots of the last tragedy. I gave up.
"Ay ya…young grasshoppa, learn from your mistakes, you will." Okay, so sure, that voice sounded more Yoda than Confucious, but I really did stop and think about what is that one thing that makes someone a great cook. Because it's not culinary education (Me ain't got none), experience in a restaurant (never worked at one before), nor is it the ability to follow recipes to the "T" (can barely color inside the lines, much less follow instructions.)
And then it came to me after trickling down the last bit of blackberry sauce. The element that I was missing was that sour tang, a bright note to cut the sweetness in the sauce and tame the saltiness of the fish. "Ah-ha, grasshoppa! Balance flavors, you must." The reason why Thai and Vietnamese food is so appealing is that every single dish is a harmonious balance of sweet, salty, sour and spicy, or as it's known and easy to remember, the "four S's"
I grabbed the kids and took off to the market to buy more blackberries, returned home and tried again. Pachinko! Sauce, splendidly harmonized in my Salmon with Blackberry Brandy Sauce.
Salmon with Blackberry Brandy Sauce
I like to stir in the fresh blackberries last, to prevent the delicate but seedy fruit from breaking up in the Blackberry Brandy Sauce. This is also a great sauce for pork chops, or if you're vegetarian, try this over thick slices of cauliflower "steak." Slice a head of cauliflower into 3/4 inch thick slices, so that they resemble big, thick, roundish slabs. 1 slab per person. Season and pan fry each side for 2 minutes (you might have to use 2 frying pans) in a bit of olive oil until golden brown. Bake at 250F for 10 minutes until the center can be pierced easily with a fork. Remove, tent and continue on with recipe below to make the Blackberry Brandy Sauce.
Salmon with Blackberry Brandy Sauce
4 salmon fillets, about 1 inch thick and 6 ounces each
kosher salt and freshly ground black pepper
1 tablespoon cooking oil
2 teaspoons Dijon mustard
1/2 teaspoon chili powder
1/4 cup water
2 tablespoons balsamic vinegar
2 tablespoons seedless blackberry preserves
3 tablespoons brandy
1 pint fresh blackberries
1 1/2 tablespoons butter
3/4 teaspoon kosher salt
Lightly season the salmon with a pinch of salt and pepper on each side. In a frying pan over high heat, add the cooking oil. When the oil is very hot, add the salmon fillets, not touching. Fry for 2 minutes, flip the salmon, turn the heat to medium, cover and let cook for an additional 2-3 minutes or until the salmon is just slightly rare in the middle. Cook an additional minute if you like your salmon cooked all the way through. Remember the residual heat will continue to cook the salmon further after you remove from heat. With a spatula, remove the salmon to a plate and tent loosely with tin foil to keep warm while you make the sauce.
Return the same frying pan on medium heat (you should have some juicy bits and oil still clinging to the pan) whisk together the mustard, chili powder, water, vinegar and blackberry preserves. When the sauce is bubbling nicely, pour in the brandy and whisk. Simmer for 3 minutes until the sauce thickens to coat the back of a spoon. Stir in the blackberries and the butter. Stir to melt and incorporate the butter. Taste the sauce, you may want to season with the 1/2 teaspoon of salt if you are using unsalted butter. You can also an additional 1/2 teaspoon blackberry preserves if the blackberries are puckery tart. Too sweet? Add another 1/2 teaspoon of balsamic vinegar. Pour over the salmon and serve.
Serves 4