I developed this recipe for McCormick spice company several years ago. We flew to Baltimore, Maryland to test out the recipe with their team, and this Smoky Sweet Spicy Wings was a winner, featuring chipotle and cinnamon spices.
A lot of recipe developers and chef talk about "balancing flavors" – and these ribs are a perfect example of playing with the powerful punch of spice:
Sweet: brown sugar
Spicy & smoky: chipotle
Warm: cinnamon and cocoa
Salty: garlic salt
Tangy: tomato paste
As for the wings, you can throw them on the grill for more smokiness, or you can simply bake in the oven.

About Chipotle Chile Pepper
Named for its hometown Jalapa in the Mexican state of Veracruz, jalapeño peppers are the raw materials from which chipotle pepper is made.

When green, this Capsicum annum is called jalapeño, a chile with distinctive sweet and acidic notes, along with a moderate level of heat. But when the pod is dried and smoked, it becomes a different animal altogether and is called chipotle. With a strong, smoky aroma and a deep brown color, chipotle pepper is available ground.
Chipotle pepper is the quick way to put a hit of smoky, spicy, "Howdy Pardner!" flavor into anything from prepared mayonnaise, salsa and rubs to cornbread, bean dips, chili con carne and butter for glazing vegetables. Pair it with chili powder and cinnamon as a rub for the most memorable baby back ribs you're likely to taste.
In the United States, the heat of chilies is measured in Scoville Heat Units. Sweet bell peppers score zero on the scale, while jalapenos hit the 2,500 – 4,000 range. Habaneros are reputedly one of the hottest peppers, reaching 100,000 to 300,000 Scoville Units. Some say, however, that certain varieties of African chilies are even hotter, most especially the tiny green gems known as bird's eye peppers.
How to Easily Cut Chicken Wings
To easily cut a chicken wing, here's my method — no wrestling needed.
Prop the wing with the backside facing you. Hold it up so that it forms a "V" on that first joint. Now take your knife and cut straight down that "V"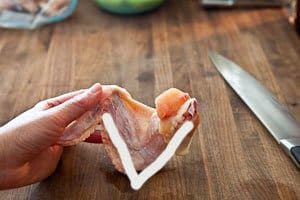 If you cut straight down the "V" you shouldn't meet much resistance at all. It should go through pretty darn smoothly.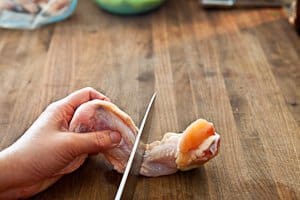 Same thing for the wing tip. Hold the wing to form V and cut straight down the middle.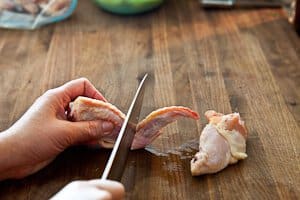 Throw the flappers and the drumsticks in a bag, save the tips for stock. Pour marinade in bag.
Close it up, but keep air in the bag so that the wings can move around. Now SHAKE SHAKE SHAKE! It's a good flabby arm workout. After the wings are all coated, open just a crack of the bag up, squeeze all the air out and seal.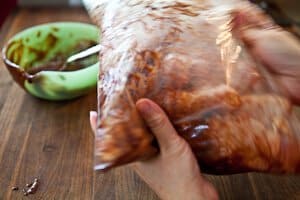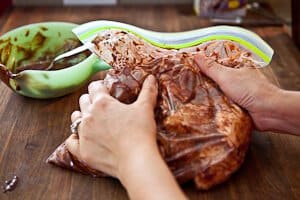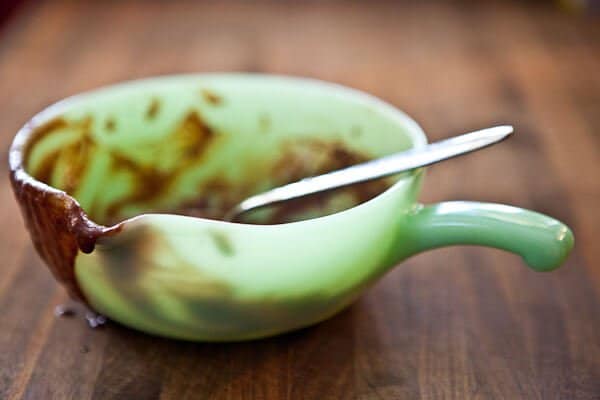 A recipe so easy, that even Andrew made it with me on television last week. That's him right there at the Daytime studio, standing on a box with host Cyndi. We shoot these cooking segments in one take, usually around 4 minutes long.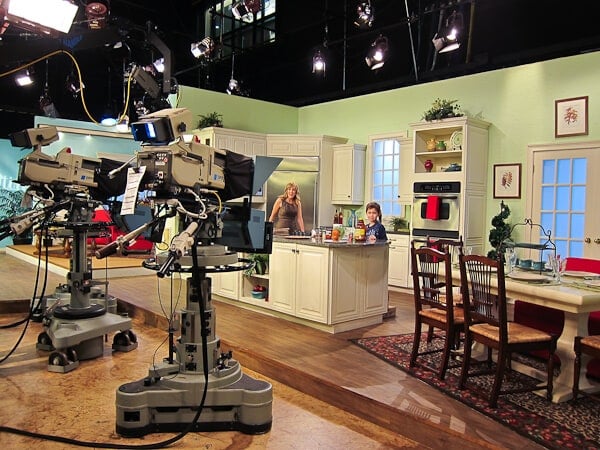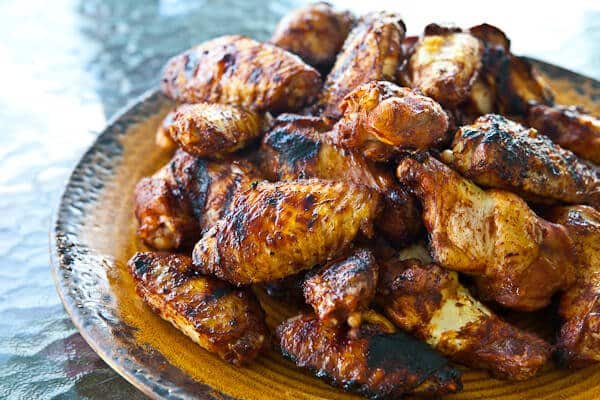 Smoky Sweet Spicy Wings Recipe
a.k.a Warm Sweet & Spicy Wings. If you're interested in using the same McCormick Gourmet Collection spices, here's what I used: McCormick Gourmet Collection Garlic Salt, McCormick Gourmet Collection Chile Pepper, Chipotle, McCormick Gourmet Collection Cinnamon, Saigon
Ingredients
1/4

cup

apple juice

1

tablespoon

tomato paste

2

tablespoons

firmly packed brown sugar

1

tablespoon

unsweetened cocoa powder

1

teaspoon

garlic salt

3/4

teaspoon

chipotle powder

1/2

teaspoon

ground cinnamon

3

pounds

chicken wings, separated, wing tips saved for another use
Instructions
In a bowl, mix together all of the ingredients to form a thick marinade. Place wings and marinade into large sealable plastic bag. Toss to coat evenly. Marinate in refrigerator for 45 minutes up to overnight.

To cook on grill: Preheat grill, Turn one side of the grill to high heat, the other side on medium-low heat. Grill wings on high heat until the wings starts to caramelize and you get some black grill marks, flip the wings and repeat. Move them to the cool side of the grill, cover and cook for 20 minutes until the wings are cooked through.

To cook in oven: In oven: Preheat oven to 400F. Line a baking sheet with parchment paper or tin foil (this is an important step unless you want to spend an hour scrubbing your pan after cooking). Lay wings on parchment paper or tin foil. Bake for 15 minutes, flip the wings and bake for another 15 minutes.

If you want, you can move rack near 8-inches to top and broil the wings for 2 minutes to caramelize even further. Just keep an eye on them to make sure they don't burn.